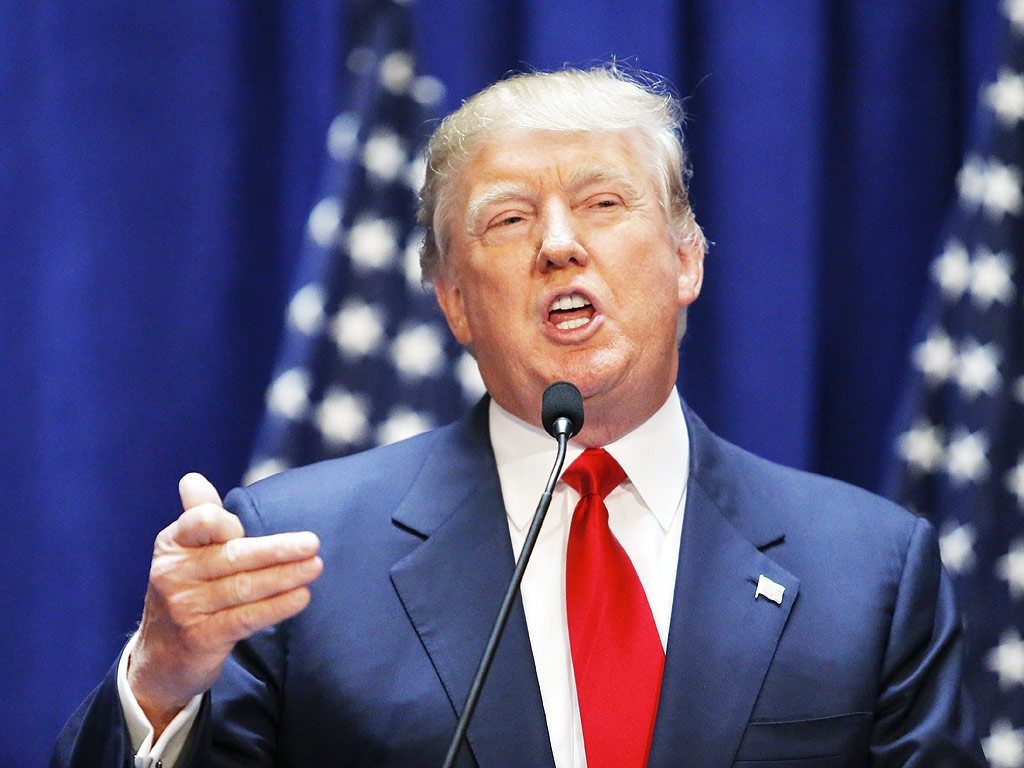 The U.S Presidential candidate and business magnate Donald Trump was credited to have said the words below expressing his deep disgust for African leaders and calling for the continent as a whole to be recolonized.
He reportedly said: "I think there is no shortcut to maturity and in my view, Africa should be recolonized for another 100 years because Africans are still under slavery."
According to reports, Trump made the above statement while addressing reporters in Nebraska last week.  Donald Trump was said to condemned African leaders for having an insatiable desire for power and wealth, while their people are living like slaves.
In response to a question by from South African journalist on African countries considering mass withdrawal from the International Criminal Court (ICC), the Republican Presidential candidate was quoted to have said:
"It is shameful for African leaders to seek an exit from ICC. In my view, these leaders want to have all the freedom to oppress their poor people without anyone asking them a question.
"I think there is no shortcut to maturity and in my view, Africa should be recolonized again for another 100 years  because Africans are still under slavery, they know nothing about leadership and self-governance.
"Look at how those African leaders change constitutions in their favour so that they can be life presidents. They are all greedy and do not care about the common people.
"When I saw them gang up against ICC yet they can't even find an amicable solution for the ongoing quandary in Burundi, I thought to myself these people lack discipline and humane heart
"They can't lead by example. The only thing they are interested in is accumulating wealth from poor taxpayers."
As to whether he made the following statements or not is yet to be confirmed but it is a fact that Donald Trump has met with a lot of criticisms and so many of his political and business opponents believe he is not qualified to be America's next President with such a 'lashing tongue'.
But the Billionaire businessman doesn't seem to care as he pushes forward to the White House with his "Make America Great Again" mantra. Trump is confident about his Presidential nomination and so far his winnings made him the last man standing at the Republican, against Democratic candidate Hilary Clinton.
Another quote credited to Donald Trump is: "Africans are lazy fools only good at eating, lovemaking and thuggery".
According to fact-checking website Snopes, this claim was first posted on Politica, on 25 October 2015  and was later picked up by blogs and other satirical news websites.
The article seems to be satire as the writers used made-up Trump quotes to criticise African governments by using a false quote attributed to Mr Trump is apparently to justify his comments
The quote says:
"These are people who import everything, including matchsticks. In my opinion, most of these African countries ought to be recolonised again for another 100 years because they know nothing about leadership and self-governance".
He was also quoted to have said during his campaign that to make America great again, they need to get rid of the Muslims, Mexicans and Africans, particularly the Nigerians, but all these were obviously taken out of context by some sites to discredit the presidential candidate.
Also See: Meet The 6 World's Youngest Presidents & Leaders Right Now
Involvement of Africa with International Criminal Court ICC
The International Criminal Court (ICC) was set up in 2002 as the last resort to try war criminals and perpetrators of genocide never tried at home.
The African leaders, instigated particularly by Kenya, have accused the Court of unfairly targeting Africans for prosecution as the majority of its cases come from the continent, hence opt for African Union (AU) to exit from ICC.
Countries currently under ICC probes include Kenya, Ivory Coast, Libya, Sudan, Democratic Republic of Congo, Central African Republic, Uganda and Mali.
Chad's President Idriss Deby, elected African Union chairman at a two-day summit, criticised the court for focusing its efforts on African leaders.
He was cited as saying,
"Elsewhere in the world, many things happen — many flagrant violations of human rights — but nobody cares," Deby said at the close of the summit late Sunday, which had an official theme of protecting human rights."