Timini Egbuson is not married, and he has no plans to do so in the near future. The 36 years old Nollywood actor is currently single and not engaged to anyone at the moment, though he's had several ex-girlfriends. He has also been accused of being in a relationship with multiple women at the same time. 
Timini Egbuson is Single and Does Not Have a Girlfriend 
Timini's love life has long been an issue of public discussion. On many occasions, he's been assumed to have been in a serious relationship that may have led to marriage, but he has never gotten married to any woman, and neither has he been engaged.
He was known to be in an intimate relationship with Lydia Agahan Balogun, a young Nigerian model studying International Law and Diplomacy at Babcock University. The Bayelsa state-born actor and presenter's love life with the model came public in 2020, but currently, the two have separated. In a recent interview, the actor reiterated that he is yet to meet a woman he would love to spend the rest of his life with.
Timini has not taken a wife for himself because he is yet to settle for marriage. The actor himself stated that he was not yet ready to be committed to any woman in marriage, possibly because he wanted to pay more attention to his career.
"Marriage is not what I am considering right now. I feel like I need to focus," he said, adding that relationships can be very distracting, considering the level he was trying to get to in his career internationally.
A Sneak Peek into Timini's Love Story with Lydia Agahan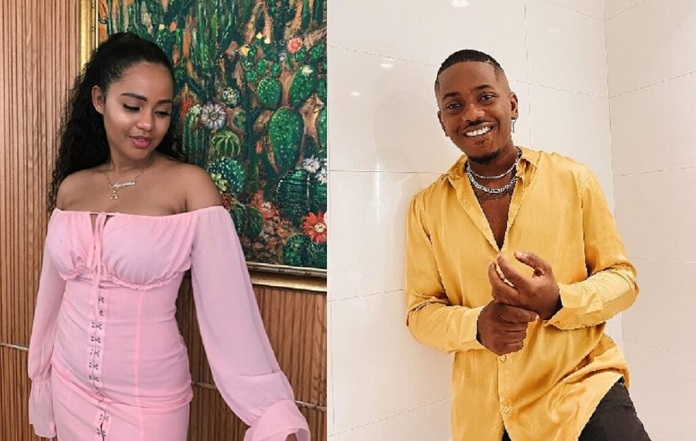 Timini and Lydia's love life was one of the most controversial celebrity love lives that had ever hit the media. Until their separation in late 2020, this two were celebrated, even though their relationship caused a lot of uproar following issues that range from their age difference to cheating scandals that eventually ended their relationship.
Timini's love story with Lydia began in April 2020, and their love life became public as the actor frequently commented on her Instagram posts. There are no details about how Timini and Lydia met, but they both faced public scrutiny following their 12 years age gap. Lydia was, at the time, 20 years (although several media outlets reported her age as 19), and Timini was 32.
The actor further revealed that their relationship was known and accepted by both their parents. Lydia, a model signed to Beth Model Management, was born in Lagos on February 1st, 2000. Apparently, she completed her primary education in the state and is reportedly
studying International Law and Diplomacy at an Ogun State-based private university.
Despite various public scrutiny on their love life, the Tinsel actor and his beautiful girlfriend continued to wax strong together. They even shared more Instagram pictures of themselves loved up together to further fuel the love and hate among their fans and foes alike. However, the news about the pair's sudden separation began to hit the internet in late 2020, and by the following year, they were no longer together.
What Caused Timini and Lydia's Separation?
News about Lydia and Timini Agbuson began to trend for the wrong reasons in late 2020, which is barely one year after they met. It all started when Lydia tweeted about Timini's alleged secrets, hurling multiple allegations against him.
Among the allegations Lydia leveled against her former boyfriend was her claim that he targets young, naive teenage girls to date and that he sleeps with "everything breathing in Lagos and Abuja."
Lydia also tackled her friends Mod Jas and Busola Adejoro, claiming they slept with her ex-boyfriend after he allegedly told her he'd sleep with her friends to hurt her for leaving him. Describing him as a predator, pervert, cradle snatcher, and an "all-around terrible person, the model also claimed that the actor slut-shamed her and that he goes about creating a negative image of her to people.
The Sidechick Scandal
In addition to Lydia's claims of her ex-husband's sexcapades with her close friends and teenagers, Timini was also accused of having an affair with a lady named Toju. This was revealed in a series of Tweets whereby Toju claimed that Lydia threatened to deal with her for flirting and sleeping with her man.
Reacting to Lydia's claims, Toju claimed that she had slept with Egbuson multiple times and that she would do nothing about it. As the claims of Egbuson's cheating deepened further, the pair unfollowed themselves on various social media platforms. The actor also admitted in an interview with a popular news platform that his relationship with Lydia had ended, and they had agreed to part ways.
Are Timini Egbuson and Nancy Isime in a Relationship?
Just while the Timini-Lydia controversies were yet to die down, the Tinsel actor got involved in a relationship saga with yet another famous actress, Nancy Isime. The news about  Timini's affair with nancy first hit the timeline when a viral video had the two spending quality time together.
The trending video shows Nancy having an intimate moment with Timini alone in a room. While Nancy was sitting down on the bed and filming herself, Timini suddenly walked towards her, climbed the bed clad in only a towel, and then kissed her. Whilst many argued that the video could only be a part of a movie they both appeared in, insisting there was nothing serious going on between the two, some fans it could be a plot to taunt Timini's ex-girlfriend, Lydia.
Amid all the controversies and relationship saga circulating the internet, the fact remains that the video was the first time the two stars were spotted together. These two celebrities have never been in any close friendship in the past few months.
Nancy, a [aga dob="19911217″] years old Nigerian actress, model, and media personality from Edo state, has on her path been linked with several handsome young men, including Linda Ikeji's billionaire baby daddy, Sholaye Jeremi, who reportedly founded her trip to Istanbul. But like the rest of her alleged linked-ups, the actress has debunked all rumors, insisting that she doesn't have time for guys and that all the rumors of her dating anybody in the industry are false.
Other Women Timini Egbuson Have Been Linked With
Aside from Lydia and Nancy, the Sugar rush actor has been linked with several beautiful ladies, most of which are his co-stars in the entertainment industry. Although he is yet to confirm being in any relationship with any of the ladies, his close ties with them have continued to fuel more speculation. Check out the beautiful stars the Nollywood actor has been linked with
Dorcas Fapson 
Dorcas and Timini Egbuson's closeness has long drawn the attention of the public. They share pictures of each other on their social media platforms, and on many occasions, they let the world know that they are together.
In 2021, they both fueled rumors about them either being secret lovers or sleeping with each other when Dorcas organized a surprise birthday party for Timini.
Ms. DSF was, however, quick to debunk the rumor about her being intimate with her Shugar Rush co-star, adding that they are just best of friends. Using her social media handle, the beautiful actress and model claimed that men were scared to approach her
because of him and that people of the opposite sex can be best friends without having to sleep with each other.
She also threw shades that people who don't understand that a man and woman can be friends without sleeping together and have no self-control.
Sharon Ooja
Despite carefully keeping his love life away from the media, Timini Egbuson was in been connected to another female colleague named Sharon Ooja. The two were spotted together on many occasions, and rumors about them being in a relationship began to spread in 2017
Sharon, who is from the Idoma tribe of Benue state, was Timini's co-star in the comedy web series Skinny Girl in Transit, where she acted as "Shalewa". She also co-hosted GTBank's Fashion Week red carpet with Timini in 2017.
In January 2019, the actress debunked the rumor about her being in a relationship with the Tinsel actor, adding that she wasn't dating Timini Egbuson and had never been in a romantic relationship with him.
Cee-c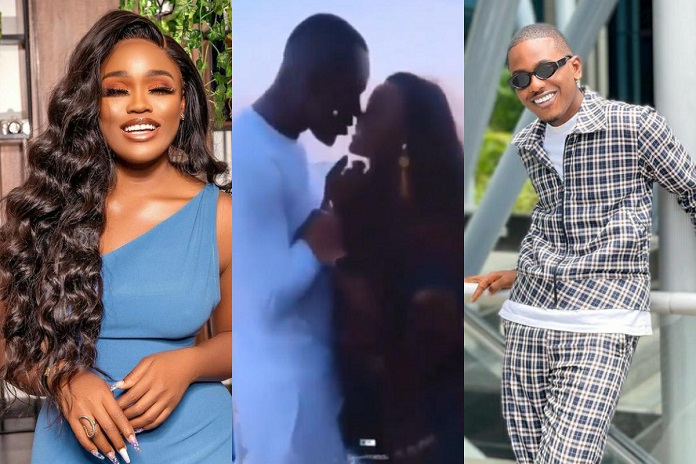 In 2021, Nollywood Actor Timini Egbuson and Big brother Naija Star Cee-c were spotted locking lips, and it sparked rumors about them being in an intimate relationship. Though neither CeeC nor the Tinsel actor has come to confirm or debunk the rumors, their alleged relationship has continued to cause a lot of stair, with many of their fans wishing them a better life together.