Maria Chike Benjamin, who is mostly referred to as Maria BBNaija is not married. However, she is in a relationship with Kelvin Anene, a businessman. 
31 years old Maria came to the spotlight after participating in the reality TV series known as BBNaija. She made waves for her talents, skills, and astonishing beauty. That astonishing beauty has naturally led to an interest in her love life, and she has been romantically linked with several fellows. It is, however, known that she is dating a businessman named Kelvin Anene.
Maria BBNaija has Never Been Married  
Maria BBNaija is not married and has never been married in the past. It also appears that the mixed-race reality TV star is not overly enthused about the institution of marriage. She made this known via Twitter when a fan asked her if her current boyfriend, Anene, would propose.
Instead of giving the feedback the fan was hoping for, Maria responded that she didn't want to get married. She described marriage as a scam but revealed that she would like to have children at the right time. With these words, perhaps there wouldn't be marriage anytime soon for the realtor, except if she changed her ideologies about the institution.
I don't want to get married though. That's the thruth! Marriage is a Scam. i DO WANT BABIES SOON THOUGH WHEN I AM READY.
She is Currently Dating Kelvin Anene
Maria BBnaija is currently dating Kelvin Anene, a Nigerian businessman. Anene is a rich Dubai-based Nigerian entrepreneur. He lives a very private life and only gained fame through his relationship with Maria.
There are allegations on the internet that Maria's boyfriend was the one who sponsored her on Big Brother Naija. It might also interest you that his name first came up while Maria was still in the Big Brother House. At the time, she mistakenly referred to another male housemate named Pere as Kelvin.
The incident went unnoticed at the time, but fans were quick to dig up a video of Maria referring to Pere with her lover's name after the news of her relationship hit the internet.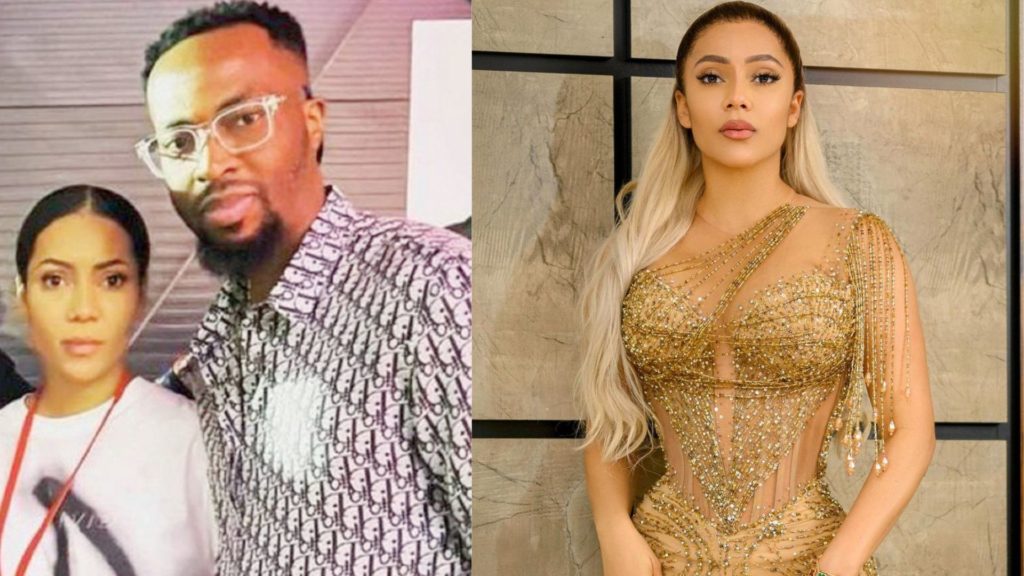 Maria BBNaija has Faced Allegations of being a Homewrecker 
Maria's relationship with Kelvin Anene has seen its fair share of controversies as she has been accused of snatching Kelvin from his wife. In 2021, celebrity barman Cubana Chief Priest called out Maria BBNaija for dating a married Kelvin. Things became even more heated when he claimed that Kelvin was not just a random guy but was actually married to his sister, Onyinyechi Maryanne Obi Anene.
He added that his sister has two children with Kelvin, but the wealthy businessman couldn't treat her well. These revelations generated a lot of reactions on social media with opinions evenly split. There were those who condemned Maria for trying to break Kelvin's marriage, while others thought that Cubana Chief Priest could be blowing things out of proportion.
Cubana Chief Priest also made another revelation that left people astonished. He claimed Kelvin had disrespected his legal wife so much and that Maria had the effrontery to threaten her. He then publicly warned Anene that he would have him to contend with if anything ever happened to the woman he was legally married to.
She has, however, Denied These Allegations 
Maria initially kept mum about the rumors accusing her of being a home wrecker. She finally broke the silence in 2022 and maintained that she did not come in between Kelvin and Onyinyechi. The reality TV star received some support from a man identified as Kelvin's brother.
The man, known as Energy Bank, revealed that Kelvin's marriage to Cubana Chief Priest's sister had crashed in 2018, well before Maria even came into the picture. He further claimed that Kelvin had long suffered in the marriage and was dying in silence but only stayed for the sake of his children.
As you can expect, these revelations elicited a response from Cubana Chief Priest. The celebrity barman shared another message debunking the revelation that his sister and Kelvin had been separated since 2018. He posted court documents and pointed out that the divorce only started in September 2021. He also made it known that his sister filed for the divorce, not Kelvin.
Cubana Chief Priest further revealed that his sister once went to Dubai to visit her then-husband and was surprised when Maria opened the door. According to him, the reality TV star was even wearing Kelvin's shirt on that occasion.
It is difficult to tell who is lying and who is telling the truth in this whole controversy, but one thing that is for sure is that Kelvin's marriage is over, and he and Maria BBNaija are now dating.
Maria has been romantically linked with fellow BBNaija Housemate, Pere
Maria has been linked to Pere, another housemate of the 2021 Big Brother reality show. Although the two have never dated, it has been noticed and documented through several channels that they had chemistry. Pere had even reported that he dreamt that he and Maria had six children.
Also, while they were housemates, there were controversies when Maria asked Pere to remove his microphone because she needed to tell him something. She later told another housemate, Cross, that what she told Pere may have damaged her relationship outside the house.
Moreover, one of their BBN housemates, Queen, reported that she had bumped into them while they were trying to kiss. According to her, they only held back their feelings for each other because of the cameras.
It was not only Pere that Maria was interested in while on BBNaija. She also revealed that she had tried to stay away from Michael Ngene because he was her type of man, and she would blush anytime she was around him.
She is also Alleged to have Dated Controversial Cleric Apostle Johnson Suleiman 
In 2022, Maria was accused of dating controversial Nigerian pastor Apostle Johnson Suleman. A blogger, Cutie Jules, claimed that Maria was dating the Apostle, Kelvin, and an unnamed celebrity. The reality star took the allegations in stride. She even commented on a post by another preacher, Apostle Joshua Selman, asking him if he was the one that people said she was dating.
Apostle Selman, on his own part, clarified that he did not have any social media account in his name. This made Maria delete her comment, and she also apologized to Selman for mixing him up with Apostle Suleman.
Moreover, Maria described the allegation that she was sleeping around as funny to her and Kelvin. She revealed that they are honest in their relationship and shared how the businessman cares and provides for her.