DJ Sose (Real Name: Thomas " Soseneyayi" Amar-Aigbe, born: June 5, 1981; Age: 42 years old) is a Nigerian-Hungarian disc jockey and fashion designer known for his unique facial tattoos and bald head. DJ Sose's net worth is estimated at $550,000. 
DJ Sose is among the many disc jockeys in the world who have gained immense popularity through their profession. The disc jockey profession does require passion and talent and Sose has made the job quite an enviable one as he smiles home with fat salaries and a large crowd of followers to go with it.
His jaw-dropping net worth now lists him among the richest DJs in Nigeria and Africa at large. To know more about DJ Sose's biography and how he accumulates his wealth, here are facts we have to share with you.
DJ Sose's Biography Summary
Full name: Thomas " Soseneyayi" Amar-Aigbe
Nickname: DJ Sose
Gender: Male
Date of birth: June 5, 1981
DJ Sose's Age: 42 years old
Ethnicity: Mixed
Nationality: Nigerian, Hungarian
Sexual Orientation: Straight
Marital Status: Married
DJ Sose's Wife: Olamide Amar-Aigbe
DJ Sose's Children: 1
DJ Sose's Net worth: $550,0000
Famous for: Natasha and Arike
DJ Sose's Instagram: @DjSoseOfficial
Twitter: @dj.sose
Where Is DJ Sose From?
DJ Sose is from Edo State, South-South Nigeria. He was born on June 5, 1981, and his parents named him Thomas Soseneyayi, Amar-Aigbe. He has a Nigerian father from Edo State and a Hungarian mother. Further details about his parents and siblings are not known but we know that he was born in Ibadan, Oyo State, and he spent some time there before leaving the country with his parents.
Sose got his monicker from 'Soseneyayi' which means 'Bear Witness To the Believer'. The name was given to him by his father and it became a household brand within the entertainment industry. In most cases, Sose uses the name as an acronym, 'Smile Over Sorrow Everyday' which is his life motto.
After having his primary and secondary education in Ibadan, Oyo state capital, DJ Sose left Nigeria to pursue his academic career further. He obtained a Diploma in Film & Video Production from Cavendish College and a BSc degree in Business Information Systems from the University of Hertfordshire, United Kingdom.
How DJ Sose Began His Career in the Music Industry 
Growing up in a family that is dedicated to a diversity of musical sounds, Sose became drawn to the sounds of various genres – from Afro beats to classical, jazz, hip-hop, rock, and EDM. During his years in Europe, he continued to develop a keen interest in music.
While he worked briefly with an IT company in the UK, just after his University education, Amar-Aigbe's interest in being a DJ never dwindled. He even had to resign from his job to pursue his long-nurtured passion for music. The Oyo state-born music artist revealed that his decision to become a DJ was neither because of the money nor fame, but because of his passion for music.
In 1998, Sose began his career as a disc jockey but it never matured into a full-time profession until November 2007. Apparently, he witnessed his field in the music industry develop from the analogue age to the digital age. His experience in the music industry has seen him perform at major events, corporate concerts, nightclubs, and many others. One notable place he is known to perform is at the yearly Big Brother Naija reality show.
In 2015, he performed at the African Magic Original Blockbuster Festival as well as the Tinsel Charity Ball, and the British Council Nigeria UK/NG launch. At the time of writing this piece, Sose is famous as the official DJ of  Africa's 1st Saturday Late Night TV Show "Highlites With IK".
His career as a DJ has also helped him produce his own song as well. As a DJ, Sose own two songs – Natasha and Arike – which though are yet to win any musical awards, are  still being well-appreciated in the music market
What is DJ Sose's Net Worth?
DJ Sose's net worth is estimated at $550 000, making him one of the wealthiest DJs across Nigeria and even in the entire African continent. The Edo-born DJ accumulates much of his income from his DJ career which has seen him perform at important events and shows.
In addition to the ones previously noted, Sose is also known to be part of the host of the seasonal show named the Nigerian Idol. The artist was one of the three judges in the show's sixth season. Although it is not revealed how much he made from the show, there is no doubt that the one-year contract he signed with the local version of the Idol series franchise was huge enough to boost his income.
Another good source of Thomas Amar-Aigbe's wealth is his music career. He may not have achieved much as a singer when compared with his career as a DJ, but his two songs (Natasha and Arike) which are making great hits on various music platforms are sure to bring him some meaningful financial support as well.
Sose is yet to sign any brand endorsement with any known company but it is believed that he owns a couple of businesses where he invests his money and makes huge income as well.
DJ Sose Awards and Nominations
DJ Sose has won a good number of awards in his music career, some and most recent of them are:
2008/2009 Best World DJ Nominee at the Nigerian Entertainment Awards.
2009 Nominee for Best Male DJ Of The Year at BEFFTA Awards.
Performing Arts at the Creative Industry Awards 2011
FAB Awards DJ Of The Yr Nominee (2011)
The 9th position by Channel O in the "Top Ten This Week" for the "Top 10 Most Turnt Up DJs in Africa"
2012 Nominee for Best DJ at the Nigerian Radio Awards.
Who Is DJ Sose's Wife?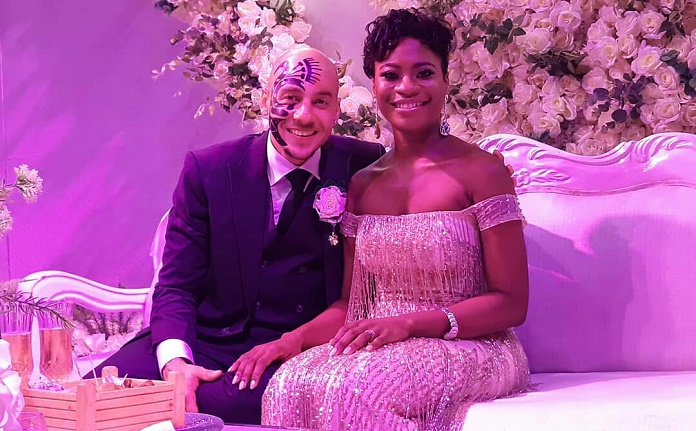 Sose got married to his long-time girlfriend Olamide in May 2018. Though quite popular in the entertainment industry, Sose remains one among many celebrities who prefers keeping details about his family life away from the media. This is perhaps why further information about his wife cannot be found. However, it is also clear that Sose's wife is less-famous than he is.
The talented DJ and his wife had both traditional and church weddings and as would be expected, the traditional marriage was well-attended by family members, colleagues and friends. Even Ik Osakioduwa, former Big Brother Africa host, was notably one of his groomsmen.
During his traditional marriage, Sose removed his facial tattoo for the first time only to have it back during the white wedding. Gratefully, the couple's 5 years of marriage is blessed with a daughter. They welcomed the new addition to their family in February 2021.
Is DJ Sose's Tattoo Real?
DJ Sose's facial tattoos are not temporal but permanent and real. The music DJ revealed so during an interview with a news media where he said the facial ink is now part of his life. "I wake up in the morning, and I have it on my face, and when I go to bed, it is still on my face, so I assume that it is permanent," he said.
The DJ further revealed that he decided to ink his face for the purpose of branding. This, according to him, would make him stand out in the competitive profession and also for people to easily associate with him.