Folarin Falana, famously known as Falz, is a Nigerian singer-songwriter, rapper, and actor with an estimated net worth of $5 million.
While it is apparent that his songs have struck chords in the hearts of his listeners, given his unique rap talents, Falz kicked off his music career way back during his secondary school days. Today, he has become of the most sought-after musicians in the Nigerian entertainment industry. Falz has remained notable in the Nigerian entertainment industry through his music and acting career, with some of his famous songs and movies such as Marry Me, Wahz Up Guy, Jenifa's diary, New Money, 10 Days in Suncity, and many others.
Music is the Major Contributor to Falz Net Worth
One of the most successful Nigerian hitmakers, Falz has amassed a satisfactory wealth and fame for himself, majorly from music and other sources, including acting, music record label, film production company, endorsements, and a few other businesses.
How Falz Successfully Switched From Law to Music
Born Folarin Falana in Mushin, Lagos State of the South-Western region of Nigeria. While growing up, Falz developed a passion for music, nurtured the passion, and in his high school days formed a music group, The School Boys, together with his friends. After completing his primary and secondary school in Lagos, Falz moved to England, where he attended the University of Reading, Berkshire.
He graduated with an LLB honors degree in Law. Recall that he started singing in his secondary school; Falz, throughout his days as a Law student in England, still had an eye for music, even though he was unsure how he would make it a career. He later revealed that he studied Law because his father, a human rights activist, wanted him to follow in his footsteps in the legal profession. However, Falz did not practice the profession for a day but only returned to Nigeria to concentrate on his music career.
Meanwhile, the rap master in an interview expressed how some of the skills he learned as a lawyer now help him in his musical career. He said that as a lawyer, one has to analyze things critically, so he does not just make music but ensures it has a lot of meaning. Upon his return to Nigeria, Falz kicked off his music career in 2009.
Wahz Up Guy, High Class, and Currency Gave Him a Place in the Music Industry
Falz has remained active in the music front ever since he broke out of The School Boys. His debut in the industry was a collection of some of his previous recordings, which he released as a mixed tape titled Shakara; The Mixtape. With the song, he started gaining more recognition and grounds in the music industry. Yet, he saw a new dawn in his music career in 2011 following the release of his hit singles Wahz Up Guy, Currency, and High Class.
The success of the singles launched him into the Nigerian music scene. He went on releasing new music consistently as his career continues to grow. Besides his music career, Falz is also into acting, through which he has become well-known and established within the country.
A Look at Falz' Most Famous Songs To Date
Falz had described his music style as Wahzup music. With his unique skills, he distinctively combines Afro-pop with old-school sound and comedic flair. In 2014, he released a hit song titled Marry Me, featuring famous singer Yemi Alade and American poet Poe. The music made him exceptionally popular and fetched him big sums, resulting in his impressive net worth running in millions of dollars.
Marry Me is produced by Spax, and it talks about the struggle women go through to get a man for themselves fit for marriage. With over 5 million views on YouTube, the song has enjoyed a good play on many TV and Radio stations across the country.
Another Falz song that helped him gain more public attention and incredibly established him as one of the most successful musicians with a commendable fan base is titled This is Nigeria. The song released in May 2018 topped the #1 position and kept 120 weeks on Popnable charts. He indeed fired up the internet with the song, which exposes the vices in the country, including bribery and corruption.
The song was later banned by National Broadcasting Commission because it was termed a vulgar song. Afterward, Falz put on his lawyer hat and sued NBC N100 million. His official first solo single, released on 31st January 2015, also boosted his fame and establishment in the music industry. The song, which was launched before the year's valentine, won him several awards.
Below are other interesting and famous songs of Falz that have gone ahead to catapult him into a higher level of fame, contributed to his net worth, and as well won him notable awards.
Bop Daddy
Bahd Baddo Baddest
Something Light
Chemistry
Alakori ft Dice Ailes
The Bahd Guy
Too Many Women
Karashika
Wehdone Sir
Wahzup Guy
Welcome To The Jungle
Pound Cake ft Chyn
Walk-In The Sky ft Chyn
Love & Liquor ft Chyn
Child of the World
So Far, Falz Has Released Four Studio Albums and One EP
The Nigerian rap boss has dropped one EP, four studio albums, and numerous hit singles. They have undoubtedly gone a long way to establishing him in the music industry and earning him the level of fame he commands today. Falz impressive net worth was highly boosted through the sale of these albums and his other countless singles and collaborations.
0n 30th May 2014, Falz released his first studio album titled Wazup Guy. The album comprises 18 hit tracks, including See Me, Toyin Tomato, Jessica, High Class, Senator, Right Now, Marry Me, Oh God, Cool Parry, and The Advice. It features guest appearances like Olamide, Show Dem Camp, Phenom, and Yemi Alade.
Stories That Touch (2015)
He dropped his second album, Stories That Touch, in November 2015, and it contained 16 hit songs and 1 bonus single. The album singles include Kabiyesi, Soft Work, My People, Karishika, Soldier, Workaholic, Soupe, Time Difference, Mid-Flight, and Announcements. He featured artists like Chigurl, Oyinkansola, Simi, Reminisce, Sess, Reekado Banks, M.I., Shaydee, and Show Dem Camp.
Produced by Sess in October 2016, Chemistry EP turned out to be one of Falz's most successful works. It is a collaborative effort of Falz and Simi, and it contains seven songs as foreign, Want To, Show You Pepper, Cinderella, Shake Your Body, and Enough.
To celebrate his 27th birthday in grand style, Falz released a surprise album titled 27 on the 27th day of October 2017. The album produced by Sess as an in-house producer contained 17 hit singles. It featured prominent music stars such as Davido, Olamide, Wande Coal, Burna Boy, Maleek Berry, Sir Dauda, Terry Apala, Ycee, to mention a few. The album was a success as it earned him several top awards, more wealth, and fame.
Moral Instruction (2019)
The Nigerian hitmaker hit the music industry with his fourth and most recent studio album titled Moral Instruction in 2019. The album contained nine energetic singles with guest appearances like Demmie Vee, Chillz, and Sees. The tracks include Johnny, Follow Follow, Hypocrite, Talk, Amen, Brother's Keeper, E No Finish, and After All Said and Done.
He Earns Decently From His Acting Career
The Marry Me singer also has a career in acting and has made appearances in some top Nollywood movies. Combining music and acting, Falz still does amazingly well in both. He has undoubtedly become a popular name in the Nigerian film industry. His debut in the industry was in Funke Akindele's TV comedy show, Jenifa's Diary, where he acted as Segun. While making waves in the music industry, Falz is breaking more into Nollywod as fans are still looking for more of him on their TV screens. Recently, in 2020, he launched his film production company called Falz Floats Films.
Some of his movie appearances include:
Segun in Jenifa's Diary
Gateman in Couple of Days
Kayode Beko-Williams in Tinsel
Seyi in 10 Days in Sun City
Quam in New Money
Remi Martin in Merry Men: The Real Yoruba Demons
Femi 'Famzy' Beecroft in Chief Daddy
Merry Men (2019) as Remi Martins
Endorsements and Other Businesses That Add to Falz Net Worth
Even though Falz may have a few other businesses he runs by the side, the most recognized is his music record label. He is the founder and CEO of Bahd Guys Records. Falz's label has signed some notable artists such as Sir Dauda, Terry Apala, among others. Exactly how much he makes from the label is not certain; regardless, a music label in Nigerian today generates millions of Naira annually.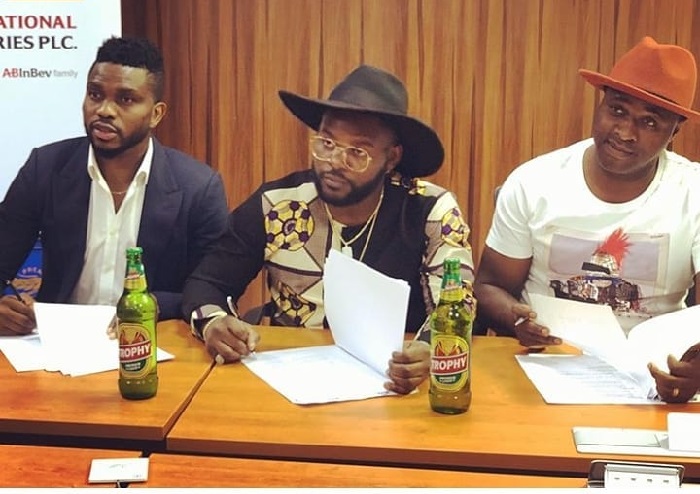 In addition, he makes money from royalties, album sales, touring, merchandise, gigs, concerts, etc., and also earns from his YouTube channel, which has over 341k subscribers and 90 million views. Admittedly, he earns largely from his music career, yet, it goes without saying that Falz net worth was achievable through the million naira endorsement deals he continually signs.
Here are some Brands He Endorses:
He has an endorsement deal with a car sales site, Cheki.
In February 2015, he signed a deal with an online fashion retailer, Jay Osibe.
He is a brand ambassador of WebMALLNG, an online shopping store specializing in clothes, footwear, toys, books, laptops, mobile phones, and other electronics.
He also has an endorsement deal with Hennessy, Trophy Larger, Origin, and Merry Bet.
In 2016, he bagged a multimillion naira deal with MTN Pulse.
Falz Has Several Awards to His Name
Through his diverse endeavors as a musician, actor, and entrepreneur, Falz has been recognized and awarded for his successes and efforts, especially in the entertainment industry, among other things.
Awards from His Music Career
2015 – Best Collaboration of the year by Nigeria Entertainment Awards, Marry Me 
2015 – Best Street Hop Artiste of the Year by The Headies, Ello Bae
2016 – City People Entertainment Awards, Stories That Touch, Album of the Year
2016 – Nigeria Entertainment Awards, Karashika, Best Music Video
2017 – WatsUp TV Africa Music Video Awards, 'Bahd Baddo Baddest,' Best African Newcomer Video
2017 – Nigeria Entertainment Award, Chemistry, Best Rap Act of the Year
2018 – 9th Nigeria Music Video Awards, Karashika, Best Afro Hip Hop Video
2018 – Nigeria Entertainment Awards, Stories that Touch, Album of the Year
2019 – WatsUp TV Africa Music Video Awards, Bahd Baddo Baddest, Best African Hip Hop Video
2019 – The Headies Award, Something Light, Best Rap Single
2020 – The Headies Award, 27 Best Rap Album
His Acting Career Awards
2014 – Scream Awards, Best New Act of the Year
2015 – Best Rap Act of the Year and Best New Act to Watch, Nigeria Entertainment Awards
2016 – Best Actor in a Comedy Movie/Series by Africa Magic Viewers Choice Awards, Jenifa's Diary 
2016 – BET Awards, Viewers Choice Best New International Act
2017 – City People Music Award, Alternative Artist of the Year
2018 – Best Performer by The Headies Award
2018 – Africa Magic Viewers Choice Awards, New Money, Best Supporting Actor
Inside His Luxurious Lifestyle and the Cars He Drives
Falz has quite done and achieved a lot for himself. Despite his busy schedule via his two major careers and other businesses he is into, Falz knows how to enjoy himself. While he is not someone that loves to show off his wealth on social media, we know that he has a high taste for luxuries. Talk about a smart rapper with a smart dress sense, Falz The Bahd Guy comes to mind.
He loves to dress up in luxurious designers and the latest trends, combined with a dapper sense of style, swags. He always keeps it simple and classy with his suit. His significant fashion items are his big hat and frameless glasses. As part of his endorsement with Cheki, Falz was gifted a car whose model and worth are unknown. It is also reported that he has a vintage Mercedes-Benz, which is barely seen in the public. Below are his two major cars:
Rolls Royce Phantom (N145 million)
After he bagged the endorsement deal with MTN Pulse, Falz decided to congratulate himself with this palatable Rolls Roys Phantom. Even though the exact amount he was paid on the deal is not mentioned, it is said to be more than N100 million.
Special Features
Digital signal processor
Horsepower: 563 hp
MPG: 12 City / 20 highway
Voice command system
Dimensions: 227″ L x 79″ W x 65″ H
Voice control for the navigation and other comfortable features
Lexus LX570 (Est. $86,480)
Falz bought himself a magnificent Lexus LX 570 sport utility vehicle, which stands out for its luxury accommodations and off-road proficiency. It has a six-speed automatic transmission, powered by a 5.7-liter V8 engine rated at 383 horsepower and 403 pound-feet of torque. It is unknown when and how much he purchased the car, but one has to cough out a decent $86,480 (around 62 million Naira) or more to own the same car today.
Special Features
Electronic parking brake
Towing capacity: 7,000 lbs
Steering wheels for extra comfort
MPG: 12 City / 16 highway
Dimensions: 200″ L x 78″ W x 75″ H
Horsepower: 383 hp