Didier Drogba who has gained world recognition through his career as a footballer stands at an impressive height of 6 feet 2 (1.88m) inches tall, weighs 85kg.
Drogba played as a striker for his nation Ivory Coast and the Chelsea Football Club, where he made a great impact. The footballer who made his professional debut at 18 years for Ligue 2 Club Le Mans has become a household name when it comes to football owing to his great skills though he has retired. Before he retired from active playing, Didier Drogba made a name for himself internationally for his established and successful career at Chelsea Football Club.
In his heydays, the striker was one of the highest goal scorers and won many awards for his outstanding skills. He remained the all-time top scorer of the Ivory Coast national team. Besides carving a niche in the sports sector, there are other facts about the ex-striker that one would love to know. Below are other interesting facts about the football legend.
Biography Summary of Didier Drogba
Full name: Didier Yves Drogba Tébily
Nickname: The African King, Tupac, Tito
Gender: Male
Date of birth: 11th March 1978
Didier Drogba's Age: 45 years old
Ethnicity: African
Nationality: Ivorian
Birth Place: Abidjan, Ivory Coast
Zodiac Sign: Pieces
Sexual Orientation: Straight
Religion: Christianity
Marital Status: Married
Didier Drogba's Wife: Diakite Lalla
Drogba's Children: Isaac (son), Kieran (son), and Iman (daughter) Drogba
Didier Drogba's Parents: Albert and Clotilde Drogba
Siblings: Joel and Freddy Drogba
Didier Drogba's Height in Inches: 6 feet 2 inches
Drogba's Height in Centimetres: 188cm
Didier Drogba's Weight: 85kg (176 lb)
Didier Drogba's Net worth: $90 Million
Famous for: Career As  A Footballer
Didier Drogba's Instagram: @didierdrogba
Twitter: @didierdrogba
Facebook: @didier.drogba
How Tall is Didier Drogba?
At the age of 45, Didier Drogba stands at 6 feet 2 inches, equivalent to 188cm. Meanwhile, a study, though yet to be proven, showed that footballers had been steadily getting taller with an average height increase of a centimeter per decade. Yet, this has been the recorded height of the player ever since he hit the spotlight.
His Weight and Other Body Statistics
In terms of weight, Drogba has done well to keep fit and maintain a healthy body weight. It is unarguable that footballers generally burn much calories due to staying active for long during matches. Even though he looks healthy and muscular, Drogba can be characterized as lean and slender with a weight of 85kg (176 lb), which is moderate for a footballer.
His height and weight are simply moderate in line with his age and also in consideration to his profession as a footballer. Football is a very dynamic sport that requires a very strong physical body to allow you to endure 90 minutes of a taxing game. His other body statistics are chest: 42 inches, waist: 32 inches, and hips: 38 inches.
5 Interesting Facts You Should Know About The Footballer
Below are other interesting facts you should know about the career success of the internationally acclaimed football player, including his personal and family life.
1. Didier Drogba is a Native of Abidjan, Ivory Coast
He was born Didier Yves Drogba Tébily in Abidjan, on 11th March 1978. His parents, Albert and Clotilde Drogba, are Ivorians working as junior bankers in the mid-1970s. They, however, lost their jobs during the time Ivory Coast had a heating economic downtime. The situation made many Ivorians flee their country to France for greener pastures.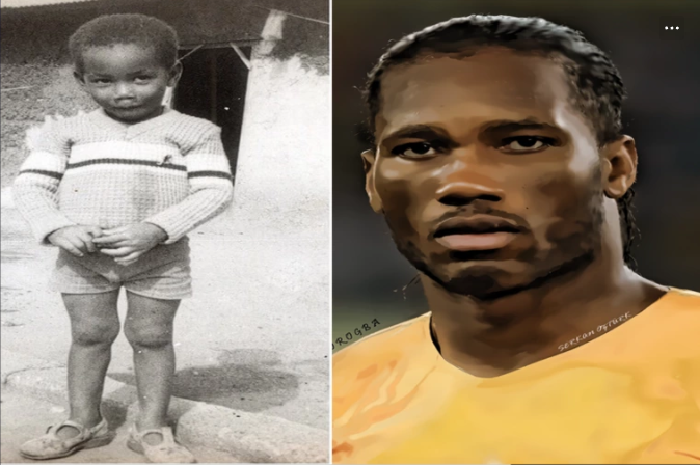 So, at the youngDidier'sfive, Didier's parents sent him to France to live with his uncle, Michel Goba, who at the time was also a professional footballer. After a few years, Drogba returned home to his parents but was later sent back to France after his parents both lost their jobs. A few years later, following the harsh conditions the family found themselves in, Drogba's parents and his siblings moved to France to find greener pastures.
At this point, a young Drogba reunited with them. Also following in the Chelsea striker's footsteps are his younger brothers, Joel and Freddy, who are professional footballers, even though you might not have heard as much about them as you have about Didier Drogba himself. Freddy started with French Ligue 1 side Dijon FCO, playing for the youth team.
He used to play as a midfielder but ended his career after an unsuccessful stint with Le Mans. On the other hand, Joel made a major appearance in the former Ukrainian club Metalurh Donetsk shirt. He also has retired as a player.
2. He Had a Successful Active Football Career and Retired at the age of 40
When he was in France, Micheal Goba had taught his young nephew Drogba the necessary things he should know to become a successful professional footballer. Interestingly, Drogba did not hesitate to put all those things he learned from his uncle into good use from the start of his football career. That helped him greatly as he was always impressing his coaches with his professional attitude at the local youth side, Levallois, where he was playing at the time.
His performances for the youth team earned him a place in the senior squad. Drogba knew better than to put all his eggs in one basket. He was more like a part-time footballer at that time, thereby receiving his high school education at the same time. When he finished secondary school, he moved to the city of Le Mans to study accountancy at a university. While in the city, Drogba became an apprentice at the local club, which played in France's second division.
His first two years were a nightmare as he suffered from too many injuries and could not balance classes and training/match schedules. In 1999, the 21-year-old signed his first professional contract and established himself in the team, scoring a few mark goals that put scouts on alert. After three years at the first division club, he joined top-division Guingamp. His goals helped save the club from relegation in the first season.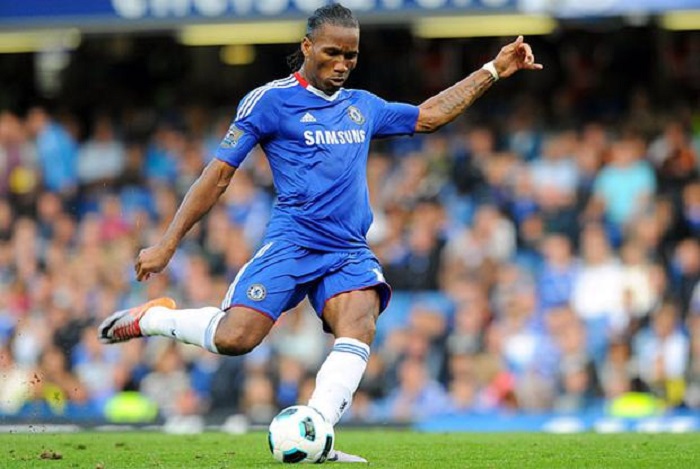 His second season with the team was the one that made his career blossom. He scored 17 goals in 34 appearances, helping Guingamp record a seventh league finish. After that season, Olympique de Marseille came calling. Drogba spent a single season at the club but made a huge success. By scoring 19 goals by the end of the season, he won the National Union of Professional Footballers (UNFP) Player of the Year award.
He Joined Chelsea Football Club in 2004 and Left in 2012
In a trade from Marseille, England'sined England's Chelsea FC in July 2004 for a then club-record fee of £24 million. The rest, as they say, is history as Drogba turned the English Premier League into his playground. During the 2006/07 season, Didier Drogba was in Chelsea's winning team for the FA Cup and Carling Cup trophies. He scored the club's only goals in the finals of two tournaments.
In 2010, with Drogba leading the league in goals, Chelsea won the FA Cup and Premier League. During his stints at the club, he scored 164 goals in 381 appearances. He also won four Premier League titles, four FA Cups, three League Cups, two FA Community Shield titles, and the UEFA Champions League.
Drogba left Chelsea in June 2012 and signed with the Chinese club Shanghai Shenhua. There, he played only 11 matches and returned to the European football club of Istanbul's Galatasaray SK in the following year. However, in 2014, he returned to Chelsea on a one-year contract.
At the end of the contract, he signed with the Montreal Impact of Major League Soccer in North America. Drogba also played for Phoenix Rising before his retirement in November 2018.
He Also Played for the Ivorian National Team
Didier Drogba made his first international appearance for Côte d'Ivoire in 2002. His excellent performance in the qualifying matches for the 2006 World Cup was salient to his winning the year's African Footballer of the Year award. He scored nine goals in eight preliminary matches, which catapulted the Ivorians into the World Cup for the first time.
In the 2008 African Cup of Nations, Drogba led Ivory Coast to the fourth-place final, and they qualified for the second World Cup in 2010. He announced his retirement from the Ivorian national team in 2014.
3. Drogba Married Diakite Lalla in 2011, and They Had Three Kids
Behind the scenes of football playing, Didier Drogba is a married man and a doting father. He married his longtime lover Diakite Lalla. Diakité Lalla is a Malian whom he met in Paris while playing for Le Mans. The couple met and began dating in January 2000 when Lalla was still a university student in Paris, studying to become a nurse. She later abandoned her studies and became a full-time housewife.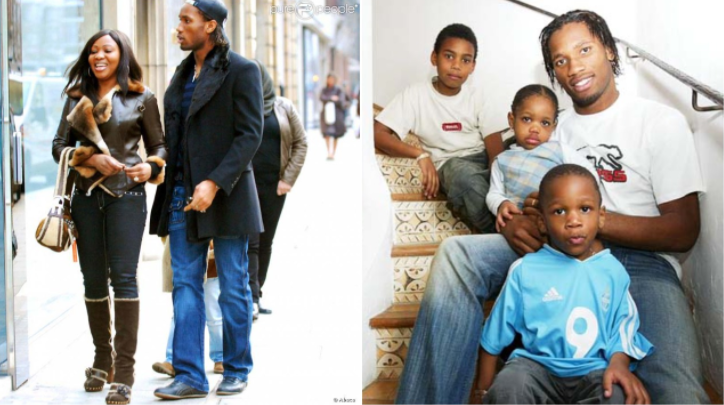 Drogba and Lalla tied the knot in 2011 in a private wedding ceremony in Monaco that had only family members and a few close friends in attendance. Meanwhile, following their wedding ceremony, rumors went around that Drogba went below people's expectations by settling for a lady from his native Ivory Coast. However, the criticism didn't last long as the couple stayed strong and happy together.
From the marriage, the couple shares three children; 2 sons and a daughter. His eldest son, Isaac, born in 2000, looks to be following his father's footsteps by taking up professional football and playing as a striker like his father. He has played for Guingamp, a club his father also played for at the start of his career. There is no information about the career path their daughter, Iman, and her last son, Kieran, have taken.
Drogba and His Wife Separated in 2020
The couple ended their two decades of relationship in 2020. The ex Chelsea striker took to his social media page to publicize their separation to clear the false media speculation. The reason behind their split is unknown, but according to Drogba, it was a difficult decision for both parties. However, he maintained that they are still very close and are both looking out for their children.
4. What Has Didier Drogba Been Upto Since His Retirement? 
The legendary Chelsea striker called his football career quits and delved fully into philanthropic works. All along, Didier Drogba has had a strong passion for charitable activities and, upon retirement, began to put in the more significant part of his time into it. He established a foundation in 2007 known as Didier Drogba Foundation (DDF).
The DDF focuses on providing material and financial support in education and health to people in Africa. Through the foundation, Drogba has engaged in such activities as the building of hospitals, provision of modern sports facilities for the benefit of the local community, donation of a huge amount of money, among other things.
Also, Drogba remains a part-owner of the club Phoenix Rising, from where he carves a niche for himself. He became part of the club's ownership after he signed up for the club in 2017. In 2020, he launched a campaign to become Ivory Coast's FA President, but unfortunately, he lost because he did not receive any vote from ex-players. Nevertheless, Drogba still enjoys the fruit of his hard work from his many years of active football.
He has, over time, secured many lucrative commercial and sponsorship deals with international brands such as Samsung, Pepsi, Adidas, Nike, and Konami. All these have afforded the Drogbas to live lavishly as he reportedly paid $21 million for his England home. The home is said to be 8,600 square feet with seven bedrooms and eight bathrooms and has a trophy room explicitly made to suit the striker's taste.
5. Drogba Has Recorded Many Achievements and Won Several Awards
The Ivorian international striker has achieved a lot of success in his career as a footballer. Below are some notable ones.
Didier Drogba is a certified accountant, following in his parents' footsteps.
After joining Chelsea in 2004, he helped the club win the Premier League after 50 years.
He is a Goodwill Ambassador for United Nations Development Programme (UNDP).
Alongside Muhammad Ali and Michael Jordan, he was named one of Time magazine's 100 most influential people.
Shortly after his retirement in 2018, Drogba was appointed the Vice President of Peace and Sports, an independent organization based in Monaco, Europe.
In June 2021, he was awarded an honorary degree from RUSTA, given his contributions to the growth and development of football and the restoration of stability in his home country.
In October 2021, Mr. Drogba was announced as a WHO Goodwill Ambassador in a ceremony to launch the Healthy 2022 World Cup that creates a Legacy for Sports and Health.
Drogba finished fourth in the Ballon d'Or voting in 2007.