Through struggle and hard work, Ivorian professional footballer and legendary Chelsea Football Club striker, Didier Drogba, who is one of the most decorated players in the history of Premier League, has become a household name following his many achievements both on and off the field of play.
In his prime, the 6 feet 2 inches striker was one to fear. A mention of his name would send shivers down the spine of the best of defenders. He was also very respected outside the football world, most especially in his home country. Combatants in his country, who had been fighting for more than five years, lay down their arms and called a cease-fire following a plea from their starman who had just qualified the country for the 2006 World Cup.
Here is a brief look at the living legend.
Age and Biography
Didier Drogba was born in Abidjan, Ivory Coast, on the 11th of March 1978. At the young age of five, he was sent to France to live with his uncle, Michel Goba, who at the time was also a professional footballer.
After a few years, Drogba returned home to his parents but was later sent back to France after his parents both lost their jobs. A few years later, following the harsh conditions the family found themselves in, Drogba's parents and his siblings moved to France in an effort to find greener pastures. At this point, a young Drogba reunited with them.
Goba had at this point taught his young nephew the necessary things to know to become a successful professional footballer. Drogba put the things his uncle taught him to good use as he impressed his coaches with his professional attitude at the local youth side, Levallois, where he was playing at the time. His performances for the youth team earned him a place in the senior squad.
Drogba knew better than to put all his eggs in one basket by forcing a professional football career which could end in the split of a second due to injury. When he finished school, he moved to the city of Le Mans to study accountancy at a university. While in the city, he became an apprentice at the local club which was at the time playing in France's second division. His first two years was a nightmare as he suffered from too many injuries and was unable to balance classes and training/match schedules.
In 1999, the 21-year-old signed his first professional contract and was able to establish himself in the team, scoring a few markee goals that put scouts on alert. After 3 years at the club, first division club, Guingamp came calling. His goals helped save the club from relegation in the first season. His second full season with the team was the one that made his career. Drogba scored 17 goals in 34 appearances, helping Guingamp to a record seventh league finish.
After that season, Olympique de Marseille came calling. His single season at the club was a huge success, as he scored 19 goals and won the National Union of Professional Footballers (UNFP) Player of the Year award.
He joined Chelsea the following year for a then club record fee of £24 million. The rest, as they say, is history as Drogba turned the English Premier League to his playground. During his stints at the club, he scored a total of 164 goals in 381 appearances. He also won four Premier League titles, four FA Cups, three League Cups, two FA Community Shield titles and the UEFA Champions League.
Drogba also played for Shanghai Shenhua, Galatasaray, Montreal Impact and Phoenix Rising.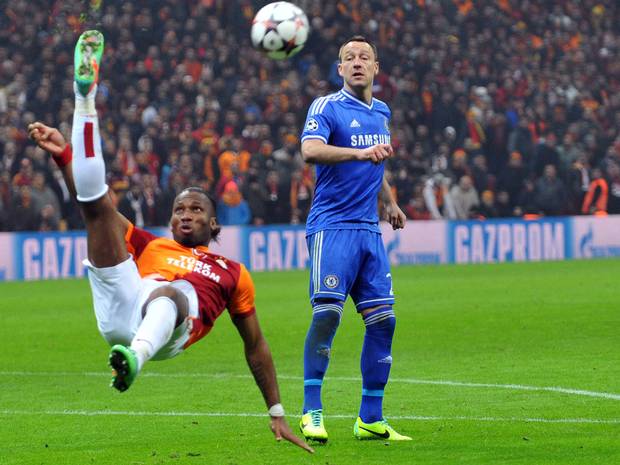 What to Know About His Wife and Siblings
Didier Drogba is married to a Malian woman, Diakité Lalla, whom he met in Paris while playing for Le Mans. The couple got married in 2011 in a private ceremony in Monaco and have three children together. His eldest son, Isaac, looks to be following in his father's footsteps by taking up professional football. He also has a daughter called Iman, and another son named Kieran.
Also following in the former Chelsea striker's footsteps are his younger brothers, Joel and Freddy, who are professional footballers. You might not have heard as much about them as you have about Didier Drogba himself.
Didier Drogba's Net Worth
Didier Drogba is estimated to be worth around $90 million. That figure has come through his many lucrative contracts which started at Chelsea where he earned a whopping £105,000 a week. After Chelsea, he got an even bigger payday when he signed a two and a half year-deal worth £200,000 a week with Chinese Super League club Shanghai Shenhua F.C.
Add all that to his also lucrative commercial and sponsorship deals with international brands such as Samsung, Pepsi, Adidas, Nike, and Konami.
That has afforded the Drogbas to live lavishly as he reportedly paid $21 million for his England home. It is an 8,600 square fit home with seven bedrooms and eight bathrooms. The house also has a trophy room specifically made to the Ivorian striker's taste.
Height, Weight, and Other Facts
Birth Name: Didier Yves Drogba Tébily
Birth Place: Abidjan, Ivory Coast
Date of Birth: 11 March 1978
Profession: Footballer
Height: 1.88 m (6 ft 2 in)
Weight: 200 lb (91 kg)
Notable Achievements
1. Didier Drogba is a certified accountant, following in the footsteps of his parents.
2. He is also a Goodwill Ambassador for United Nations Development Programme (UNDP). In 2010, he joined iconic figures such as Muhammad Ali and Michael Jordan as sportsmen to be named in the world's 100 most influential people by Time magazine.
3. He is a devout Roman Catholic.
4. Drogba finished fourth in the Ballon d'Or voting in 2007.