Cossy Orjiakor (born on 16th October 1985; Age: 37 years old) is a Nigerian actress with a net worth estimated at $1 million. She is known for her roles in the movies like Pure Honey and Anini.
Cossy first came into the limelight in 2002 as a video vixen before she subsequently ventured into acting. In addition to acting, she is also a singer and movie producer. Through these and other businesses she runs, the bootylicious actress has carved a niche for herself which affords her the good life.
Summary of Cossy Orjiakor's Bio
Full name: Cossy Orjiakor
Gender: Female
Date of birth: 16th October 1985
Cossy Orjiakor's Age: 37 years old
Ethnicity: Igbo
Nationality: Nigerian
Zodiac Sign: Libra
Sexual Orientation: Straight
Religion: Christianity
Marital Status: Single
Cossy Orjiakor's Parents: Mr. and Mrs. Orjiakor
Cossy Orjiakor's Height in Inches: 5 feet 7 inches
Cossy Orjiakor's Height in Centimetres: 170 cm
Cossy Orjiakor's Weight: 77 kg
Cossy Orjiakor's Net worth: $1 Million
Famous for: Being an actress
How Old is Cossy Orjiakor?
Cossy Orjiakor is currently 37 years old. She was born on the 16th of October 1985 in her hometown in Anambra State, the eastern part of Nigeria. Nothing much is known about Cossy's family background, parents and siblings.
She was raised in Anambra State, where she also received her primary and secondary education. After that, she proceeded to the University of Nigeria Nsukka (UNN) and graduated with a Second Class Upper Degree in Accounting and Management. Cossy also furthered her education and obtained a Master's Degree from Lagos State University (LASU).
Cossy is single and has never been married before. In August 2020, the actress announced via her Instagram page her engagement with a German-based Nigerian fashion model, Abel Jurgen Wilhelm. However, four months later, Abel called off the engagement, citing domestic violence. According to the model, he had been physically attacked (bitten) by Cossy.
Cossy Orjiakor Came into Limelight in 2002 as a Video Vixen
Cossy's entertainment career took off when she was still an undergraduate and she has since remained relevant in various aspects of entertainment. She first started by featuring in music videos and came to the limelight after the famous fuji artist, Obesere featured her in one of his music videos.
With the recognition she had already gained as a video vixen, Cossy did not find it difficult to venture into the film industry. She acted in her first film in 2012, and since then, Cossy has featured in numerous Nollywood successful movies. Some of her movies include Itohan, Amobi, Anini, Ara, Saraphina, One million boys, Papa Ajasco, and many others.
Meanwhile, Cossy Orjiakor's rise to fame in the movie industry was bolstered by her significant large boobs, which she frequently shows off.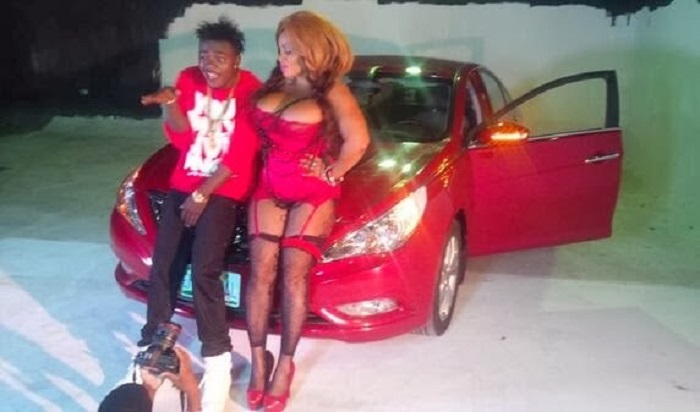 According to Daily Post, Cossy is the "boob star" of Nollywood, while Vanguard describes her as a "boobs toting" actress and singer. With her endowed body assets alongside her talents, Cossy was able to find her way to the top in the entertainment industry at large and has since maintained relevance. She produced her first film, Power Girls, in 2015 under her production company, Playgirl Picture.
Actress Cossy is a beautiful woman endowed with remarkably large boobs. This prompted musicians to start featuring her in their music videos, and by that, she developed a passion for music. Though not very active in the music industry, the actress has done a couple of successful songs, including Me & You, You Want Me, etc. She also has one album, Nutty Queen, to her credit.
Cossy describes her boobs as "a great gift from God" and said that she would not breastfeed her children directly in order to keep them firm. She noted the exposure of her physic as a major part of her trademark and branding as an entertainer. However, when asked in an interview if she could go completely naked for a movie role, she dismissed the possibility and said it is based on moral grounds.
Actress Cossy Orjiakor is still active as an actress in the film industry, but it seems she is putting a reasonable amount of her time into her personal business and so is not frequently seen on our screens.
How Much is Cossy Orjiakor's Net Worth?
As an entertainer and businesswoman, Cossy Orjiakor is rated one of the most influential actresses in Nigeria, with a net worth estimated at $1 million. Her income comes primarily from her acting career. However, she also makes decent money from being a video vixen and from her singing career.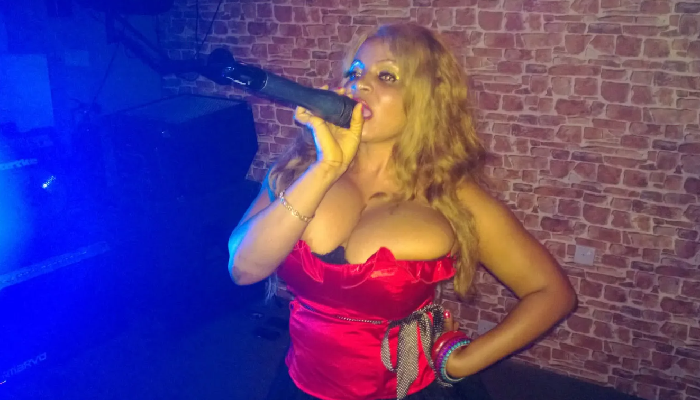 What's more, in 2013, Cossy Orjiakor became a full-time businesswoman by launching her own fashion line named Playgirl Fashion. She is the founder and CEO of the movie production company Playgirl Pictures. The busty actress is definitely trying to explore diverse areas of endeavors available to her in order to carve a niche for herself.
Cossy Orjiakor Has Courted Some Controversies in the Past
The Queen of boobs has been tagged controversial, especially for always showing off her big boobs, but she seems not to be bothered about it but continues to display them. In 2012, Cossy Orjiakor starred in a movie titled Itohan, wherein her role required that she sleep with a dog.
Following the production of the movie, footage went viral on the internet where she was seen having sex with a dog, and a journalist reported that she indeed slept with the dog.  According to the actress, the scandal made her a subject of ridicule, and she had to go into hiding for some years.
She also said that the speculation almost ruined her career, and it was so bad that even churches used her to preach, and some became scared of her because they thought she had HIV/AIDS. According to Cossy, she reported the matter to the police, but they didn't do anything, and according to her, she couldn't afford a lawyer back then.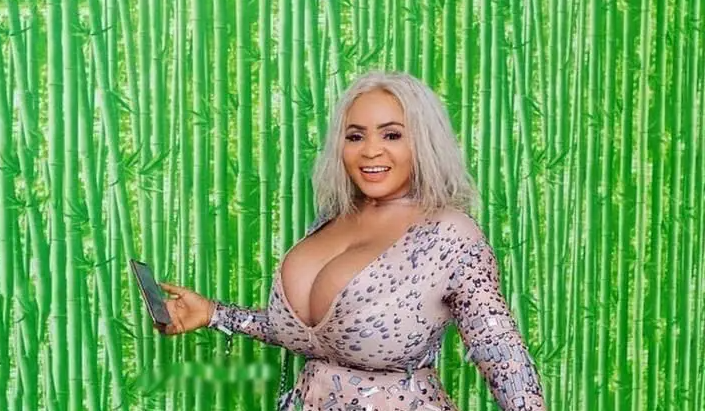 She revisited the matter just recently after a girl on Tiktok claimed that she slept with a dog and the police came after her. "It's really an insult to me when the Nigeria Police went after the girl on TikTok that jokingly said she slept with a dog. What about me that was in the magazine headline. Am I invisible? she lamented.
Sometime in 2016, a man was arrested by the Nigerian Police for naming his dog Buhari. On the heels of that, actress Cossy took to social media and revealed that she named her two cats Goodluck and Buhari and dared the police to also arrest her. Going further, she expressed her dissatisfaction with the present state of the nation.
In 2013, a female Nigerian blogger took to social media to advise Cossy Orjiakor to adjust her lifestyle of going naked, thereby creating a negative perception about Igbo girls. Replying to the blogger, actress Cossy simply said that her post was an act of "Joblessness." She further stated that she has, through her career, brought recognition to her country both locally and internationally.