Opeyemi Babatunde Rahim, popularly known as Lyta, is a Nigerian singer and songwriter who has a net worth of N22 million, this ranks him among the wealthiest Nigerian musicians.
He came to the limelight with the hit song Time, which captivated many people and has remained in the limelight turning out one song after the other. For now, music remains his main and only known source of income.
Music is the Major Source of Lyta's N22 Million Net Worth
From Lyta to Rema to Joeboy, etc., the Nigerian entertainment industry is saturated with many promising acts taking the music scene by storm. With an upsurge in the number of fast-rising talents, it's ascertained that the entertainment industry is witnessing a revolution. Lyta is undoubtedly in the lead of this musical revolution, having made no less than N22 million in the few years he has been around.
His blend of afrobeat and pop, songwriting prowess, and vocal dexterity have kept him on the ladder of success. He has performed at various events, collaborated with prominent artists like Davido, Olamide, etc. The superstar has also been nominated for several awards like the Next Rated, Best Street-Hop Artiste, Most Promising Act of the Year, and Best New Act of 2019.
Though Lyta is still young in the industry, he's made a couple of millions for himself through his music career. The Afrobeat singer is estimated to be worth millions of naira. While there are differing reports about his net worth, it's believed that Lyta's net worth is no less than N20 million by a conservative estimate. 
Olamide was Instrumental in His Early Success as a Musician
As a music enthusiast, he was encouraged by friends to tread the path of entertainment. While Lyta didn't earn much in his early career, he maximized every opportunity to hone and harness his musical skills. This saw him performing at musical concerts. It was in one of these concerts that fortune smiled on him, and he met with Olamide. Thrilled by his performance, the Wo crooner signed him to his record label, Yahoo Boy, No Laptop (YBNL). This marked the beginning of his professional music career. 
On 3rd February 2018, Lyta became the new signee to YBNL. Two weeks later, he rose to prominence after releasing his debut single Time, featuring the Baddo Boss. The 24-year old musician went ahead to drop bangers like Self-made and Do you, which his fans warmly received.
He had a fall out with the Baddo Boss
However, due to contractual and personal issues, Lyta left the notable YBNL record label in 2019. This caused an uproar on social media as rumors circulated on the internet about the split. It was glaring that the news was true as Olamide unfollowed the singer on Instagram. Lyta divulged that there was no contract between himself and the record label. He further stated that he was paid between N50,000 and N80,000 for shows.
According to his former boss, Olamide, Lyta didn't agree to the promotional conditions, hence his exit from the record label. In addition, the young musician claimed some other label wanted to sign him, but  Olamide contradicted him that it isn't true. He stated that Lyta's exit from YBNL might be borne out of jealousy for the success of his label mate, Fireboy DML.
Lyta was Signed to Doro Musik Gang but now with Marlian Records
Shortly after he left the popular record label, the sensational musician got signed to Doro Musik Gang. While the contract with the record label was short-lived, his music career took a great turn as he released a smash hit, Monalisa, on the 12th of October, 2019. The visuals for Monalisa garnered over 500,000 views after its release. The critically acclaimed single caught the renowned afrobeat singer, Davido, who collaborated with Lyta on the remix, shot in Dakar, Senegal. The video had millions of views on YouTube. The song's virality propelled Lyta's music career.
Lyta is currently signed to Naira Marley's Malian Records. Under the record label, he released another single, Hold me down, which enjoyed massive airplay. The song's visuals, inspired by the South Korean Kpop boy band GOT7, stirred up controversy on social media. Fans of the band accused the media personality of plagiarizing GOT7's music video content.
Lyta's Net Worth Compared to Other Young Artists
Compared to other fast-rising new stars in his cadre like Omah Lay, Rema, and Fireboy DML, Lyta's net worth of N22 million shows he has been making some cool cash. He earns a considerable income from his shows and deals. However, Rema tops the wealthiest promising artists with an estimated net worth of N411 million from what we gathered. Coming in next after Rema is Naira Marley, with a net worth of N255 million. Omah Lay and Fireboy DML are worth N164 million and N20 million, respectively.
While Lyta might not be the most influential, he's worthy of applause as he's been able to accomplish so much within a short time. The Time crooner, who kick-started his music career performing at concerts earning as low as N50,000 and N80,000, has achieved incredible feats sooner than most people expected. He's now a household name in the Nigerian music industry.
| | |
| --- | --- |
| Rema | N411 million |
| Naira Marley | N255 million |
| Omah Lay | N164 million |
| Lyta | N22 million |
| Fireboy DML | N20 million |
What Song is Lyta Best Known For?
Lyta rose to stardom with the hit single Worry. The street buzz was released on the 6th of December, 2019, four months after dropping the banger, Monalisa. Worry gained popularity and accrued financial benefits to the songster.
The promising artist has released several songs in the course of his music career. Though the income earned from each piece of work isn't known, it's believed that Lyta has made a lot of money from his hits Monalisa, Worry, and Time. Below are some of his popular songs:
Save me

Are you ready

Self-made

Hold me down

Maybe

If it's only me

For my hood

Loke loke

Jezebel

Birthday wish

Flavor

Ori

Pure water

Ramadan

Everybody

Mama

Sade
His Other Income Sources
For now, Lyta is still building his career one step at a time. He has not been signed any brand endorsement deal, which is typical of many established Nigerian musicians. Be that as it may, the young lad still has a lot of growing up to do and a lot of grounds to cover in the Nigerian music industry.
On the other hand, Lyta's net worth of N22 million did not come from any business or investment proceeds. But all the same, it is believed that with time, he will start investing his music earnings into other streams of income.
With his new signing with Marlian records, his fans are eager to hear what tune he will release next and see how much it will add to his fat bank account.
Lyta's Net Worth of N22 Million Affords Him a Car and Possibly a House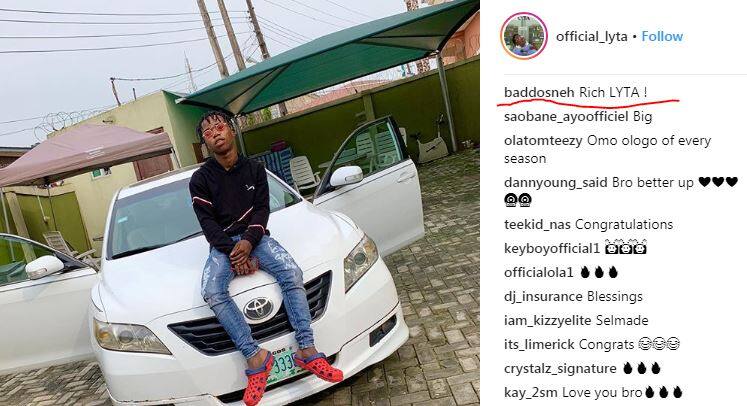 The emerging talent bought his first car at age 18. In February 2018, he took to his social media page to announce the purchase of his new car, a Toyota Camry, also known as Camry Muscle. Many flooded his timeline to congratulate him on acquiring a car. His former boss expressed his goodwill message as well. The news of his achievement spread like wildfire, considering how luxurious the car is.
The 2009 Toyota Camry model is energy-efficient, quite spacious, and low-maintenance. It offers lots of passenger room and has 16-inch steel wheels. It also features a six-speaker CD audio system and telescoping steering wheel. Having cutting-edge technology and features, the cost of the 2009 Toyota Camry ranges from N6,000,000 to N10,000,000.
Besides his car, not much is known about what other cherished possessions Lyta's net worth of N22 million has got him; however, it's speculated that he owns a house, but there is no hard evidence to prove where the said house is.