CKay's net worth is estimated at $2 million. The Nigerian singer and songwriter primarily made his wealth from his career as a musician; selling records, performing at shows and producing songs for other artists.
CKay began singing in 2014 and is among the artists in the music industry that achieved fame and success quite early. He has been active in the industry for 9 years and has become a force to be reckoned with. His 2019 song, Love Nwantinti, became an international hit, earning him not only massive global recognition but also his keep.
How Music Boosted CKay's Net Worth to $2 Million
CKay's net worth is said to be $2 million, which is equal to about N1 billion. Even though this amount is countered by some sources who claimed that the singer is worth more than $2 million, this happened to be the most popular amount on the internet.
The singer's real name is Chukwuka Ekweani, and he is 28 years old. He was born in a Christian family where all the members are actively involved in one church activity or the other. His father, who is a member of the choir, also holds the position of a choir conductor and was where CKay began to pick an interest in music.
He started trying his hands on the church musical instruments. So, it is safe to say that CKay's love for music was inspired by his father. Before CKay started singing professionally, he had become versed in playing several musical instruments. By then, he was also serving as one of his church's instrumentalists.
By the time he turned 13, he was already writing songs for a few Christian music groups. CKay eventually had his way into the music industry when a friend informed him of Fruity Loops, a production software. Having got access to the software, he began teaching himself how to use it and produce beats.
To add to his budding career, CKay decided to join a three-man music band that was made up of him and two other bandmates. This is when his stage name was birthed. After pruning his sounds and making music behind the scenes for a while, CKay decided to move to Lagos, where he professionally took off his music career.
He Started Singing Professionally in 2017
In Lagos, CKay got signed to M.I Abaga's label, Loopy Music, in 2014. Loopy Music had a collaboration with Chocolate City Music Group but later merged with the latter in 2016. Prior to that, CKay did a number of works under Loopy Music, one of which included a promotional single titled Bad Musician Bad Producer, released in May 2016. He officially joined Chocolate City on 31st August 2017.
Then, following the merger, he made his official debut by releasing the EP Who the Fuck is Ckay?. He dropped the project on 11th September 2017. The EP was massively successful in the music market and was the work that introduced him to undeniable fame. It also set the pace for the success of the lead single Container released in March 2018.
The song, which was influenced by the South African gwara gwara dance style, garnered massive airplay across digital channels, and helped establish him in the industry. It also won him more fans. He released the music video on 6th July 2018, which gathered millions of views on the streaming platform YouTube.
His Music Style
CKay is well known for combining different music genres. He personally termed his music as "Emo-afrobeat in order to portray the focus on romantic and emotional lyricism in his sounds. His tracks come in a variety of genres, including fusing afrobeat, Afropop music, R&B, Dancehall, electronic sound, and interpolating classical music.
In an interview he granted with Vanguard Nigeria, CKay described his music style as Afro-pop from the future -2056 A.D specifically. His first EP was more of an experiment in the contemporary arts of Afropop, while he stepped into his own style with his second and third EP.
Songs That Contributed to CKay's Net Worth and Consequently Made Him Famous
Love Nwantinti was a Big Hit For Him, Gained Him International Recognition
On 30th August 2019, CKay dropped his second Extended Play titled CKay The First. The project released through Chocolate City spawned a single Love Nwantiti, which became a hit record not only in Nigeria but all over the world.
The single did great in the music market and was credited for giving CKay the global fame he enjoys today. It was listed as one of the major hits of 2020 and 2021 and earned him an entry on the US Billboard Hot 100.
This milestone was made possible after he released a remix of the song in February 2021 titled Love Nwantiti (Ah Ah Ah), featuring Joeboy and Kuami Eugene. The remix went viral on TikTok, became an international hit, reaching number 23 on the UK Billboard, and charting across countries in Europe, Africa, and Oceania.
A North African remix of the song featured ElGrande Toto became popular in Germany and in the Maghreb countries. The French version of it had Franglish as the guest artiste, the Spanish version featured De La Ghetto, the East African remix brought on board Rayvanny, the German remix featured Frizzo, Joeboy, and Kuami Eugene, while the South African version featured Tshego and Gemini Major.
In March 2022, following the launch of the Billboard Afrobeats chart, Love Nwantinti debuted at number one and became the first African song in history to exceed one billion streams on Spotify.
His Third EP, Boyfriend Earned Him More Prominence
In May 2021, CKay called it quits with Chocolate City Music Group and signed a record deal with Waner Music South Africa. He announced his departure from the group on Twitter, saying: I'm NOT signed to Chocolate City. I'm signed to Warner Music South Africa.
CKay dropped his third and most recent EP on 11th February 2021, Boyfriend. It contains seven tracks; Felony, Jeje de Whine, Skoin Skoin, Kiss Me Like You Miss Me, Show My SIde, Isabella, and Mezebu.
The project was released through Warner Music South Africa. Despite his previous smash hits, Boyfriend turned out to be the birth of CKay. In the EP, CKay embodies seven different boyfriend characters portraying different love stories, both pleasant and unpleasant. It tells the story of a young woman, Isabella with Skoin Skoin but whom CKay's character is in love with. Felony made the major breakthrough for the project and gave him more prominence launched him to a higher level of fame.
Meanwhile, in November 2020, CKay was seen as a guest artist in the song, La La, a hit track from Davido's studio album A Better Time. He also appeared as a guest artist on the song Beggie Beggie from Ayra Starr's debut studio album 19 & Dangerous, released under Mavin Records.
Emiliana and Watawi are His Latest Works
He released another banger, Emiliana on 3rd December 2021 and featured South African rapper Blxckie. The music video directed by Mosh was released on 1st April 2022 and has amassed over 31 million views on YouTube just within its few months of release.
The song charted across Africa and Europe and reached number 9 in France. It was certified platinum in France on 26 May 2022 and also earned CKay his first top 5 ranking on the Nigeria TurnTable Top 50 chart.
CKay dropped his latest work in June 2020, titled Watawi. The song, which featured Davido, Abidoza, and Focalistic, was accompanied by a music video directed by Dalia Dias. It peaked at number 13 on Nigeria's TurnTable Top 50
His Achievements and Recognitions in Music
Even though Ckay has yet not won an award, the artist is simply well in his music career as an award is not a primary measure for success. He has made notable achievements and earned recognitions over the course of his career. Ayra Starr's "Beggie Beggie" earned him special recognition at The Headies in May 2022. He received a plaque in the UK after Love Nwantinti hit over 200,000 sales in the country.
His promotional single Bad Musician Bad Producer earned him special recognition and was nominated by TNMA. CKay hit the milestone of being the first African artist to reach 20 million Spotify listeners after recording 21 million monthly listeners on his Spotify page. At 100k subscribers, he received a Silver Creator Award from YouTube.
Furthermore, CKay was recognized by TikTok after Love Nwantinti was used over 15 billion times to recreate videos in the short form video app by people across the world. It became an international sensation for being one of the most remixed songs on TikTok. The 28-year-old sensational singer has achieved great milestones in music, having impacted many countries across the world.
Other Sources That Contributed to CKay's Net Worth
CKay has a few other income sources that enable him to skyrocket his net worth to over $2 million as of the 2022. The music maker earns most of his money from his professional career; selling concerts and records, show performances, social media promotions, and other businesses.
Even though the exact amount he makes from these ends is not revealed, it is safe to say that they make pillars of his net worth.
After Loopy Music was merged with Chocolate City Music, CKay became the official in-house producer for the label. Before his exit in 2021, he produced music for artists like MI Abaga, Ice Prince, Jesse Jagz, Dice Ailes, Victoria Kimani, DJ Lambo, Koker, Barry Jhay, Blaqbonez, and many others. He produced Chocolate City's debut album project titled TICBN Vol 1. All these contributed to his impressive net worth.
He Earns Significantly From Shows and Concerts
In addition to building a lot of fame and fortune for himself, CKay has considerably influenced the music industry both within and outside the country. The music maker does not only enjoy massive airplay. Besides the money he makes from the sales of his tracks, CKay's net worth was achievable through several live performances, thanks to his lively on-stage personality.
Since hitting the limelight, the Watawi crooner has made numerous shows and concerts within and all around the world, promoting his songs. He had his last live performance at Plaza Stogi in Gdansk, Poland, on 10th July 2022. His next concert will be on the 23rd July 2022 at Forest Hills Stadium in Queens, New York, United States of America.
He has collaborated with international music stars like Payal Dev and David Guetta. Though he is yet to get to the peak of his career, it is an undeniable fact that CKay has found his feet as one of the most successful artists in Nigeria. Actually, after the huge success he recorded with Love Nwantinti, the singer has definitely stepped up his game via the amount he charges per show.
Though how much he charges for these live shows is not revealed, he is in no doubt among the high-paid musicians in the country. He has continued to increase his fees as his fame and popularity grow in the industry. CKay might also have other personal investments and a few businesses which are behind the scenes.
A Chunk of CKay's Net Worth Came From Digital Streaming Platforms
CKay has built quite a fortune in a short while from performances and royalties generated by his discography. His global hit Love Nwantinti made him the best-selling African artist who amassed N2.6 billion in streaming royalties. The song has 6 official versions of the original audios, videos, and remixes which have accumulated more than 1.5 billion streams from streaming platforms such as Apple Music, Spotify, Boomplay, Audiomack, and YouTube.
On Spotify, the versions of the song have over 1 billion streams which is the biggest number. A number of reliable streaming royalty calculator sites brought the average earnings of the song at an estimated $250,000, which is equal to N1.2 million. On Apple Music, it recorded a total number of 100.08 million streams which converts to $125,000 (N53 million).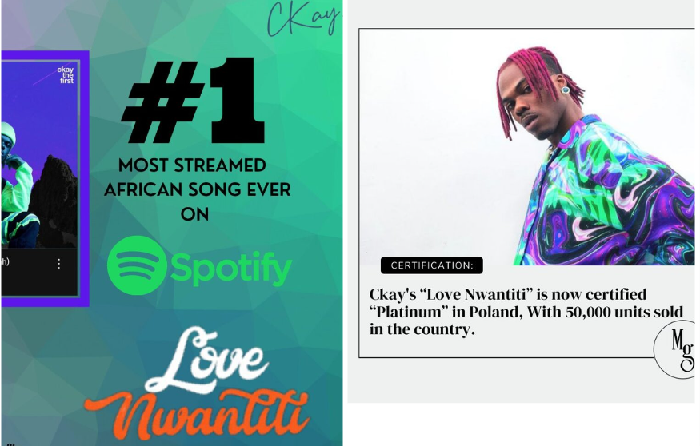 Also, on Boomplay, the song has accumulated over 25 million streams, and the platform pays under $10 for 5,000 streams. So, CKay is expected to earn around $50,000. On Audiomack, the hit has smashed over 9 million streams, and with an average pay of between $1 and $5 per 1000 streams, CKay will be earning between $900 and $4,500.
More so, the video versions of Love Nwantinti on YouTube have altogether amassed more than 700 million streams which have also earned the singer a cut. In fact, the success of CKay's Love Nwantinti is huge. Among other global certifications, it was certified gold in the United Kingdom. It further saw a ripple effect on his subsequent works like Emeliana which already has 26 million streams on Spotify alone.
Some of CKay's Most Famous Song
Asides from the already discussed songs which gave him huge success as a musician, there are also other select few that helped him maintain a good spot in the industry.
Emiliana

Givenchy

The Recipe

Dreams

Ramen

Workin

Nightmare

Ski Ski

Way Ft. DJ Lambo

Oliver Khan Ft. BOJ

Davido – La La Ft Ckay

Winner

Love Nwantiti
Chinekeme
Gaddemit
Last Call
Gmail
Love Nwantiti
Felony
Beni
Ckay The First
Love Nwantiti remix
Nkechi Turn Up
Container Don Land

Beeni Ft. Barry Jhay

Like To Party Ft. Blaqbonez
EPs
Who The F*ck is Ckay (2017)
Ckay The First (2019)
Boyfriend (2021)