Chinenye Ubah (born: 29 June 1989; Age: 34) is a Nollywood actress, model, and TV star, famous for her roles in films such as Don't Leave Me (2022), Agony of a Sister (2018), Pretty Little Thing (2017), and To Hell With Love (2022). 
Chinenye's clear and great interpretations of roles in Nigerian films have earned her plaudits since she began her career 20 years. Despite the fame that comes with being active in Nollywood, the actress is known as one of the few in her field to stay as private as possible. Regardless, here are facts that have been gathered about her.
Summary of Chinenye Ubah's Biography
Full name: Chinenye Ubah
Nickname: Nenye
Gender: Female
Date of birth: 29 June 1989
Chinenye Ubah's Age: 34 years old
Ethnicity: Igbo
Nationality: Nigeria
Zodiac Sign:  Cancer
Sexual Orientation: Straight
Religion: Christianity
Marital Status: Single
Chinenye Ubah's Net worth: Above $100,000 (Estimated)
Famous for: Acting
Education: Delta State University, Abraka
Where is Chinenye Ubah From?
Chinenye Ubah was born on 29 June 1989 and hails from Anambra State in the southeastern part of Nigeria. However, she lived in different parts of Nigeria, including Delta State in the south-south region as well as Lagos State in the southwest.
Her exact place of birth has been controversial as some reports claim that she was born in Delta while others maintain that she was born in Anambra. Whatever the case, she reportedly graduated from Delta State University, Abraka, where she studied Theatre Arts.
The actress supposedly moved to Lagos shortly before the covid-19 pandemic to seek out a better platform to expand her movie skills and prowess from what she has been used to in the movie scenes of Asaba, Onitsha, and Enugu.
Does Chinenye Ubah Have a Twin Sister?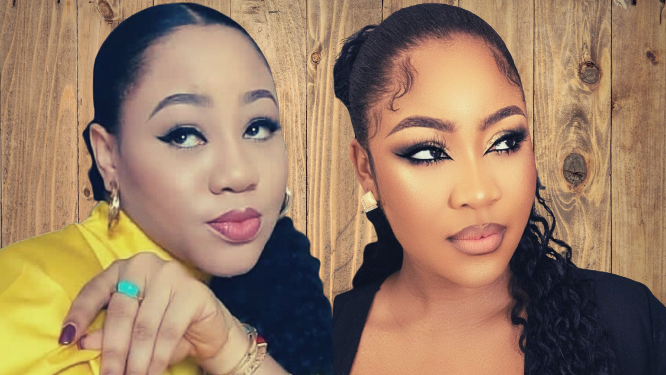 As far as we know, Chinenye Ubah does not have a twin, and very little is known of her family and personal life. Regardless, the light-skinned screen diva may be mixed up with Chinenye Nnebe – also a Nollywood actress. This is due to the similarity in their first names.
The confusion between the two actresses is extended to their private lives, as some sources interchange their birth dates, family members, and even the schools they attended. From our findings, nonetheless, the women have some things in common. Some of the similarities are names, careers in acting, and having lived in Delta and Lagos States.
There are further assertions that Chinenye Ubah is supposedly from Anambra. As regards their families, Chinenye Ubah lives her family out of the limelight, while Chinenye Nnebe's family is famous in the movie industry. Nnebe's mother, Uche Nancy, is a producer and director, while her sister Sonia Uche is a renowned Nigerian actress.
Chinenye Ubah has also been linked to the reality star Erica Nlewedim of Big Brother Naija. They're said to share an uncanny resemblance. She is also said to have some form of resemblance with Bollywood actress Reyhna Malhotra.
Ubah Started Her Acting Career at 14
Chinenye Ubah was featured in her first movie in 2003 during her secondary school years, where she played Grace, a child character in Selfish Desires 1&2. The movie featured leading stars such as Pete Edochie, Clarion Chukwura-Abiola, Muna Obiekwe, and many others. Selfish desire was produced by Onyeka Okeke and directed by the late veteran movie director Ndubisi Okoh.
Nevertheless, she later returned to the movie scenes in 2016 and starred as one of the lead actresses in the movie, The Eyes of Love after being absent from the scenes for a while.
According to one of the very few interviews she granted, the actress said she aspires to become a movie producer eventually and is taking her time to build and learn better acting skills. Chinenye Ubah is also a Big Brother Naija enthusiast and hopes to gain entrance into the competition someday as it will boost her fame, career, and fortune.
She has featured in movies with notable stars like Mercy Johnson, Mike Godson Chioma Chukwuka-Akpotha, Ken Erics, Destiny Etiko, Yul Edochie, Daniel K. Daniel, and Patience Ozokwor, amongst several others.
The introverted personality has also worked with directors and producers such as Ugezu J Ugezu, Andy Amenechi, Chibuike Chukwujimbe, Dennis Chinasa Aragbu, Bobmanuel Anosike, Ify Anekwe, John Okoroafor, Emeka Ferdinand Anene to name a few.
In her career, she has been able to interpret her versatile roles so well that it did not take time for her to be compared to Patience Ozokwor.
Chinenye Ubah's Movies
Don't Leave Me (2022)
Innocent Mind (2022)
Twist of Love (2022)
Ashawo Kobo Kobo (2022)
Izuogu Kingdom (2022)
Emela (2022)
Love Me (2021)
Clash of Royalty (2021)
The House Chef and The Rich Princess (2021)
Maidens of the Sun (2021)
The Humble Housewife (2021)
The Royal Crash (2021)
Hour of Tears (2021)
Avenue of Love (2021)
Love Poison (2021)
The Man is Mine (2021)
My Ghost Wives (2020)
Burning Desires (2020)
The Chosen Maiden (2020)
The Plate of Riches (2020)
Seed of Love (2020)
Wedding Trauma (2020)
Royal Benefit (2019)
Pains of Muna (2019)
Love and Fate (2019)
Cracked Shadow (2019)
Beautiful Sisters (2019)
My Husband To Be (2019)
Daughter of the Moon (2018)
The Agony of a Sister (2018)
Wasted Blood (2018)
The Access Code (2018)
Ten years Later (2018)
Sorrows of a king (2018)
Circle of Fire (2017)
Pretty Little Thing (2017)
The Eyes of Love (2016)
Chinenye Ubah's Awards and Nominations
City People Movie Award for Most Promising Actress of the Year (English) (Nomination, 2019)
City People Movie Award for Revelation of the Year(English) (Nomination 2018)
Is Chinenye Ubah Married?
There is no exact certainty as regards the marital life of the Anambra native. Her relationship life is kept a secret. With her absence on social media, it is even harder to tell as the actress has not been seen to share photos of someone that might mean the world to her. Nevertheless, she shares a close relationship with Chinedu Arinze, a film producer, consultant, and artist manager.
While there is no in-depth to the type of relationship the celebrities share, Arinze eulogizes Chinenye on social media. The most recent was on her birthday on 29th June 2022, when he praised her personality and work ethic. Chinenye has also featured in a number of Arinze's works, such as To Hell with Love. Regardless, this is not a final judgment that the stars may be having any relationship beyond platonic.