Charles Inojie (born: 4 March 1970; Age: 53 years old) is a Nigerian actor, film writer, director, and producer famous for his numerous comedic roles. He is an ace veteran in Nollywood with an estimated net worth of $1.5 million dollars.
Popular for his role in the Nigerian TV series, The Johnsons, Charles Inojie has set a pedestal of success not just as a comedian but even as a filmmaker and family man. Through decades of work, many now recognize him as a mentor and model in the entertainment industry. He has starred in over a hundred movies with other comic actors such as Osita Iheme, Sam Loco Efe, Chiwetalu Agu, Chinedu Ikedieze and a host of others.
 Summary of Charles Inojie's Biography
Full name: Charles Inojie
Nickname: Na Them Dey Rush Us
Gender: Male
Date of birth: 4 March 1970
Charles Inojie's Age:53 years old
Ethnicity: Esan
Nationality: Nigerian
Zodiac Sign:  Pisces
Sexual Orientation: Straight
Religion: Christianity
Marital Status: Married
Charles Inojie's  (Wife): Obehi Obhiseh Inojie
Charles Inojie's Children: Obehi (Daughter) and Onoseta (Daughter)
Charles Inojie's Height in Inches:  5 feet 10 inches
Charles Inojie's Height in Centimetres: 177.8cm
Charles Inojie's Weight: 85kg (Estimated)
Charles Inojie's Net worth: $1.5 million
Famous for: Acting, Script writing, producer, director and master of ceremony
Charles Inojie's Instagram: @Charlesinojie
Twitter: @CharlesInojie1
Facebook: Charles Inojie
Charles Inojie's Education: Eguari Primary School; Ohordua Mixed Secondary school, Edo; Iganmode Grammar School, Otta, Ogun State; University of Port Harcourt, Rivers State
How Old is Charles Inojie and Where Is He From?
Charles Inojie is 53 years old and he is from a small village called Urowa in Edo State, Nigeria. The filmmaker was born on 4 March 1970 into a royal family where his grandfather was King.
He was raised by his grandmother, Imaguelo Ifake, who had a fallout with the King and later remarried in Ohordua, a town in Esan South-East LGA. Charles Inojie lived most of his life without his parents as his father was living in Lagos at the time.
Charles Inojie was Encouraged to Pursue Theatre Arts by Ken Saro Wiwa
Growing up, Charles' grandmother emphasized strong Christian morals while he pursued the western education. He attended Eguari Primary School and subsequently Ohordua Mixed Secondary school, Edo, around 1985. However, he did not stay much longer in Edo State as he later moved to attend Iganmode Grammar School, Otta in Ogun State from where he graduated in 1987.
The comic actor whose dream was to study law had to wait for a few years as his efforts to gain admission to study his desired course were not yielding positive results. In the process, he declined an admission to study Mass Communication in the university.
As fate would have it, in 1992 he was fortunate to be in attendance at Prof. Bode Osoyin's writer's resort at Ijoko-Otta in Ogun State. Inojie acted out a role in a play in honor of Ken Saro Wiwa's presence at the writer's resort. He was noticed for his good acting skills by the late activist and environmentalist, Ken Saro Wiwa who encouraged him to seek for admission into the University of Port Harcourt to study Dramatic Arts.
Soon enough, the Edo State native was awarded a professional certificate in acting in 1993 after a one year course. He later graduated from the University of Port Harcourt, Choba, Rivers State, in 1999 from the department of Theatre Arts. He currently lives in Lagos and commutes to Maryland USA to be with his family.
Charles Inojie Career Paths
With a mindset to succeed, Charles moved to Lagos soon after graduating from the university. He got in touch with his childhood friend, Lancelot Oduwa Imaseun, who was already established in filmmaking. Prior to this, the duo were together while at the university for a movie gig in 1997 titled Year 2000.
Charled' first job was as an assistant director for an epic movie called Louis Merchandise in 2000 under his friend Lancelot. As an actor, one of his first few roles was as Suraju in the movie Sinners in the House which was directed by Lancelot Oduwa Imaseun and produced by Isaac Izoya. He eventually gained public attention for his work in the movie, Last Burial.
Not long after he ventured into Nollywood, he developed into a full fledged director. Charles Inojie has directed movies such as Reggae Boys, Tow Bad Boys, Cat and Rat, Spirit of Life, Johnny Just Come, and Police Recruit. Most recently, until 2019, he was a director in the sitcom, The Johnsons.
Following his years in the Nollywood industry, the comedy actor has acted alongside popular Nigerian actors like Nkem Owoh, Osita Iheme, Chinedu Ikedieze, Toyin Abraham, MC Lively, Ali Baba, Okey Bakasi, and John Okafor among others.
He is Known With The Name 'Na Them Dey Rush Us'
Part of being a comic character is adopting a name that best suit ones image. Although Charles Inojie was known widely with his formal name, it was not until August 2018, that he adopted the name, "Na Them Dey Rush Us" from a movie he acted.
Overnight, the popular slang was adopted and soon was heard resonating from the lips of both the young and old in Nigeria and internationally. One would find it hard to believe that an uneventful comment passed by Charles Inojie in a 2008 movie scene would end up becoming an anthem 10 years later.
His nickname has since been found labelled on T-shirts, and as movie and music titles. It has also become a popular saying on several social media pages
Charles Inojie's Movies and TV Series 
The Johnsons (as Lucky Johnson 2012-2022)
The Order of Things (as Pato 2022)
Aki and Pawpaw (as Mazi Uche 2021)
Badamasi- Portrait of a General (as Barrister Clement Akpamgo 2021)
My Village People (Uncle Jakpa 2021)
Suga Suga (as Banabas 2021)
Deep Cover (as Police Chief 2020)
Sanitation Day (as Mazi Okeke 2020)
Nneka the Pretty Serpent (as Landlord 2020)
Social Media 101 (as Doctor Ayo 2019)
The Royal Hibiscus Hotel (as Chef 2017)
Dinner (as Airport Guard 2016)
Broken Soul (as Chijoke 2015)
Native Fowl (as Ebuka 2014)
 Doctor Bello (as Constable Obahiagbon 2013)
August Meeting (as Medical  Doctor 2012)
Open & Close (as Agwu 2011)
Plane Crash (as Edwin 2008)
Corporate Maid (as Dombra 2008)
Keep My Will (as Samuel 2007)
Onitemi (2007)
Silent Burner (2006)
Sound of Love (as Pako 2006)
A Million Madness (as Barrister 2004)
Police Recruit (2003)
Charles Inojie's Awards Nominations and Recognitions
With over 20 years in the industry, he has earned respect and prestige among colleagues and in the nation as a whole. Here are some of the awards and nominations he has received;
He was nominated for an Institut Universitaire Du Benin Awards for Leading Family Life Movies Veteran of the Year in 2021
In 2020, he won Esan Man of the Year at the Esan Megan Forum Awards
Charles won the Nelas Academy Awards for Director of the Year and also Most Outstanding Entertainer of the Year in 2018
He was named City People Entertainment Awards' Best Comic Act of the Year in 2018
The Edo State native was awarded the Social Media Awards for Social Trendsetter of the Year in 2018
He won an Africa Goodwill Icon Awards in 2017
Charles Inojie Became the 2010 Best Actor for ZAFAA Awards
He received the Distinguished Alumnus Awards by the University of Port Harcourt, Rivers State.
The "Na Dem Dey Rush Us" comic won an Africa Magic Viewers Choice Awards for Best Comic Actor of the Year
He was named Best Actor in a Leading Role at Afican Movie Academy Awards
Some of Charles Inojie's Achievements from the Past Decades in Nollywood
Past National President of Screen Writers Guild of Nigeria (SWGN) (2016)
Director Actors Guild of Nigeria (AGN) Film Projects (2023)
He was honored with the African Heritage Ambassador position by the African Union Agenda2063 Ambassadorial Assembly of the AU
He is an Associate Member of The Chartered Institute of Management and Leadership (CIML) USA
Charles Inojie was appointed an ambassador for Global Peace & SDG by the Arise O Nigeria Empowerment Initiative.
He is also a fellow of The Institute of Management Consultants (IMC)-Nigeria.
Not in the least, Charles Inojie also owns a foundation called Charles Inojie Foundation which seeks to impact positively on individuals and communities alike. Through this foundation, Charles provided community borehole for the people of Eguare-Ohordua in Edo State in 2021.
What Is Charles Inojie's Net Worth?
At present, the estimated net worth of Charles Inojie is $1.5 million which is equivalent to ₦690,780,000. He amassed his wealth through his over 20 active years as an actor and filmmaker.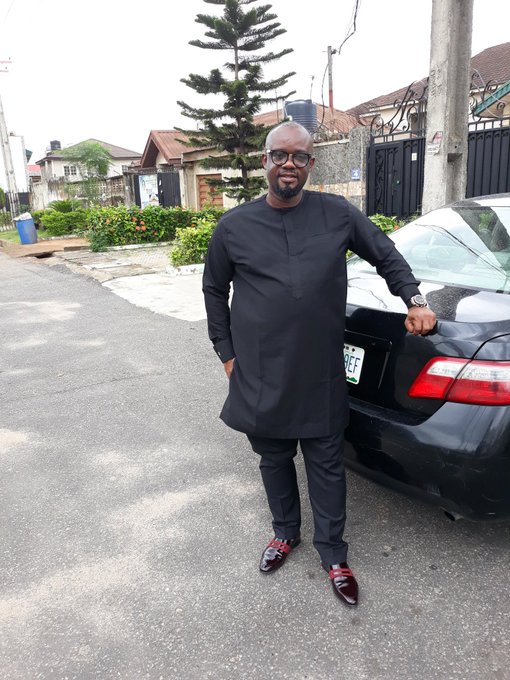 How Charles Inojie's Net Worth Accrued
Being an actor, film writer, director, and producer, it's already settled that he makes good money from his career in the entertainment industry. However, the amount of money he is paid for his appearance in movies and other on-screen jobs is not known.
As a popular celebrity, several brands have knocked on Inojie's door with offers of endorsement and promotion deals. Some of the endorsement deals he has been awarded in recent times are the Mega Millions Naija alongside another comic artist, Funnybone. The actor has also promoted several brands like Checkers Custard and Profragrance Nigeria.
Who Are Charles Inojie's Wife and Children?
Charles Inojie got married to Obehi Obhiseh at the age of 42 and they have two daughters. The couple met in Europe and got talking when they realized they were both from Edo State.
At the time, it was difficult to convince his now wife of his affection because of his reputation as a comedian. Nonetheless, Charles and Obehi dated for three years before he eventually proposed to her although it was in an unconventional manner-  through a phone call- whilst she was out of the country. They eventually got married in 2012.
Obehi Obhiseh is a beautician and make-up artist who commutes between Lagos, Nigeria and Largo, Maryland, US, where she currently runs her business. The business woman manages as both a career woman, mother and wife to a renowned celebrity successfully.
He May Have Another Child Out of Wedlock
The comedian has two children with his wife who were born to them in the course their marriage. The first child was born on 28 February 2013 and shares the same name as her mother, Obehi. The second child, Onoseta Inojie, was born on 25 May 2016 in Georgia, USA. Onoseta came three years after her elder sister as the circumstances behind her conception was a difficult one.
In 2013,  a certain lady called Lynn Nguseer Adi from Abuja accused Charles Inojie of  impregnating her. She claimed having had a relationship with the actor for 10 months in 2011 before his marriage to Obehi. The supposed estranged lover of Charles Inojie claimed the comedian dumped her after she confessed that she was pregnant for him. According to her, he requested she aborted the baby and upon her refusal, he stopped all forms of communication with her.