Caroline Danjuma (born June 26, 1987) is a 36-year-old former Nollywood actress better known as the billionaire wife of Musa Danjuma, the rich and illustrious Nigerian businessman. The couple tied the knot in 2007.
Her life story would make for a rather dramatic read because, even though she stepped back from acting after her marriage to Danjuma, she has not been far from controversy or two over the years. Danjuma also recently starred in the drama-packed Real Housewives of Lagos, which created a whole new round of buzz about her life and some of the choices she has had to make.
Summary of Caroline Danjuma's Biography
Full Name: Caroline Danjuma (born: Caroline Uduak Abasi Ekanem)
Stage Name: Carolyna Hutchings
Gender: Female
Date of birth: June 26, 1987
Birth Place: Maiduguri
Caroline Danjuma's Age: 36 Years Old
Ethnicity:
State: Akwa Ibom
Nationality: Scottish-Nigerian
Zodiac Sign:  Cancer
Sexual Orientation: Straight
Religion: Christianity
Marital Status: Divorced
Caroline Danjuma's Husband: Musa Danjuma (2007 – 2016)
Children: 3
Parents: Jennifer Afolabi and Julian David Hollinwarth Hornelin
Siblings: 2
Caroline Danjuma's Height in Inches: 5 feet 5 Inches
Body measurements in inches: 37-25-39
Famous for: Being a billionaire wife
Instagram: @Carolynahutchings
Twitter: @HrmCarolyna
How Old Is Caroline Danjuma?
Carolyna Hutchings was born on June 26, 1987, in her home state of Akwa Ibom and, for all intents and purposes, maintains that her current age is 36 years old. This has raised many eyebrows over the years, especially from certain quarters of people who knew her long before she hit the spotlight as an actress.
According to the arguments, considering the period when Carolyna became a well-known name and the set of actresses she began with, the former actress should be well in her 40s. More so, certain people have come out to state that they were secondary schoolmates with her and believe she is much older than she is letting on.
In response to the constant criticism, Hutchings, after celebrating her 35th birthday in 2022, responded to her detractors with proof that she did not change her age. She shared a rare picture with her mother and daughter, explaining that there is no way she could be 46 because her mother is still very young, in her 50s.
She further gave other reasons why people falsify their ages and stated that she does not need that because she is done with school, owns her own business, and is not bothered by anyone's opinions.
Is Caroline Danjuma Nigerian?
Yes, Caroline is half Nigerian. The subject of her ethnicity has been pretty easy for most Nigerians to guess because even though she is a Nigerian actress, her looks and skin color say she is not fully Nigerian. The beauty was born to an Akwa Ibom mother, Jennifer Afolabi, and a Scottish father, Julian David Hollinwarth Hornelin.
Her father is the son of mine workers in Spain, and this is where he was born and raised. Her mother,r on the other hand, is a fashion designer whose lineage has been traced back to the family of the former paramount ruler of Eket, His Royal Majesty, Edidem William Esiet Ekwere.
In her Hay days, Jennifer participated in different pageants and once got to the first runner-up position in the Miss Uyo Pageant. Her ethnicity mix might be Scottish-Nigeria, but the former actress is every bit Nigerian as a Nigerian can be.
Her Parents' Marriage Did not Last
Caroline's parents met in Uyo, where her mother was raised. At the time, Julian David was visiting his uncle, who lived in Nigeria. After they met, Julian took Jennifer back to Spain with him and put her through Fashion School. Shortly after they left Nigeria, the couple got married and had Carol.
However, their union did not last, and they soon got divorced. While theirs was not a messy divorce, they had a turbulent relationship many years after, with Jennifer refusing David access to Caroline. This apparently went on well into her teenage years when her mother refused all of her father's efforts to have Carol visit him in Spain. Consequently, Caroline was solely raised by her mother and grandmother in Akwa Ibom, and from all indications, she does not seem to have a working relationship with her father.
She once mentioned that they talk on the phone from time to time. However, she has a beautiful relationship with her mother, whom she celebrates as often as possible on her social media handles. She is the first of the three children of her mother, but she has done her best to keep her private life private. Hence, it is not certain if her siblings are from the same parents or if they are her half-siblings.
What Schools Did Caroline Danjuma Attend?
There is no doubt that Carolyna is well educated and schooled. This is one of the things that has never been in doubt about her. From the graceful and classy way she carries herself to the many businesses she runs, her educational history is worth looking into.
She had her early primary education in her home state of Akwa Ibom, after which she went on to Federal Government Girls College Oyo. Per her revelation, she was not such a big fan of the chores she had to do in school. She would later transfer to the African Church Model College, where her grandmother was the Principal.
Here, she received much more attention and responsibility as the sanitary prefect. She went further to the University of Calabar to study Environmental Protection Management, Geography, and Regional Planning. After her first degree, she went further to the University of Lagos, where she got a master's in International Law and Diplomacy (MILD). The actress also obtained an MBA from the Edinburgh Business School.
She Started Acting as Carol Ekanem in 2004
From her secondary school days, Caroline has been a very self-sufficient and independent young lady with a clear vision of what she wanted to do with her life. She first had her eyes on modeling just like her mother did but could not pursue it fully at first because her grandmother did not support the idea.
She would eventually give it a good turn after secondary school and went as far as having an agent who managed her. This did not go so well because, true to her grandmother's predictions, her agent was more interested in having a relationship with her rather than promoting her career.
By 2004, she got her debut role in the movie Deadly Care through the influence of the more established actress Rita Dominic and the famous Nollywood filmmaker Chico Ejiro. The success of this first attempt had Chico Ejiro star her in the blockbuster Deadly Kiss, for which she scored the Best Actress Nomination at the Africa Movie Academy Awards.
Following her rise to prominence, more roles poured in, and soon, she became one of the most in-demand actresses in the Nollywood circle at the time. At the height of fame and before choosing family over her career, Caroline Danjuma starred in a massive number of movies numbering close to a hundred and fifty. As an actress, she went by the name Carol Ekanem which is her mother's maiden surname.
List of Caroline Danjuma's Movies
Deadly Care
Deadly Kiss
Missing Angel
Foreign Affairs
The Captor
Real Love
A Second Time
The Twist
The Angel
The Beast
Stalker
Carol Ekanem Took a Break From Acting in 2007 for Personal Reasons
Between when her acting career kicked off in 2004 and the height of fame and acclaim in 2007, Caroline had attracted so much attention and received enough roles to make her stand out. Therefore, it shocked many when her appearances started dwindling until she eventually stopped acting. In response to the many questions her fans had at the time, she said she had to take some time off to focus on her personal life.
Fans did not fail to notice that she went off the air shortly after her marriage to billionaire entrepreneur Musa Danjuma. Although she stopped acting, she did not leave entertainment entirely at first. She went into music and founded a label of her own, Guepard, through which she successfully produced and managed two artists before she abandoned the idea.
Next, she went into movie production and released In the Cupboard through the production company she had founded. In her attempt to make it as a producer, she took a certification course and was trained in design and makeup in London. This did not last either, and soon enough, she announced that she had left the entertainment scene altogether. Her announcement on her official Instagram handle at the time said she was a realtor who also works in the oil and gas sector. Many took this to mean that she had joined her husband's chain of businesses.
Many years later, in 2016, she would attempt a comeback to the movie scene with her appearance in the movie Stalker. This was also followed by her appearance in the Real Housewives of Lagos. During an episode of RHOL, it was revealed that her ex-husband had forbidden her from acting, hence her return to the entertainment scene shortly after her divorce.
Carolyna Hutchings Married Billionaire Musa Danjuma in 2007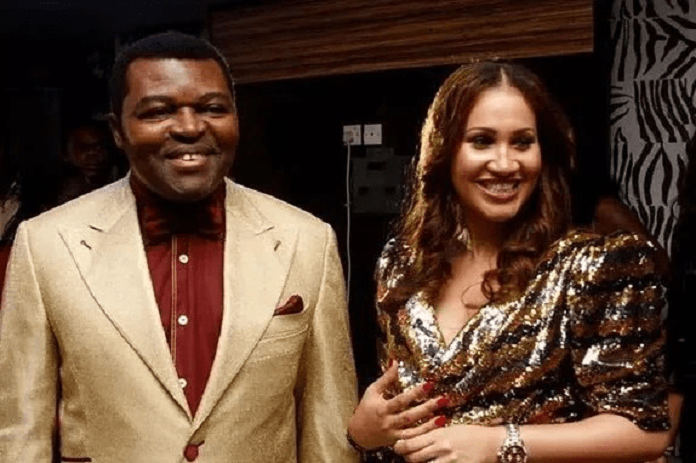 At the height of fame in 2007, Caroline met and married Billionaire businessman Musa Danjuma who was also well known as the younger brother of Retired politician and former Chief of Army staff Theophilus Danjuma.
In his own rights, Musa is a very successful lawyer who runs many businesses and sits as the chairman of different corporations at the time, including Five Star Logistics Ltd, Comet Shipping Agency, Best Trade Nigeria Ltd, and Nigerian American Line Ltd. Their union received some criticism because of the massive age difference between the two.
Born on November 4, 1954, Danjuma is currently 68 years old, and going by Caroline's legal age of 36 years old, that would make him a whopping 33 years older than her. Being green-eyed and pretty new to fame and the finer things of life, many concluded that Caroline had married Danjuma for his money.
This was also bolstered by the fact that she once mentioned in an interview that her partner must not be rich but must be wealthy. He certainly fits the description. To make matters worse, even though it was her first marriage, caroline was Musa Danjuma's fifth wife. This notwithstanding, caroline defended her decision saying she loved her husband and that was the only reason she married him.
Her Marriage to Danjuma Ended in 2016 after 9 Years
Caroline Danjuma's marriage to her billionaire husband ended in 2016. Even though she had done her best to stay off the limelight, their divorce made headlines, with each tabloid giving its version of what truly transpired. While their separation and eventual divorce were not in the least bit messy, they came with many accusations of cheating. Rumor had it that Danjuma was up to his old ways with the ladies.
The actress would later take to her Instagram to set the record straight on the true state of things. She explained that the accusations of her breaking up Danjuma's fourth marriage was not true because he had been divorced for four years before they got married. She further said the union lasted as long as it did because she loved her husband and did her best to make things work.
This was despite the rumors and messages she received regarding her husband's philandering ways. But she could not endure it any longer. She maintained that she still respects Danjuma because he is a good man who cares for their children and supports her financially. In all, Caroline Danjuma's marriage to Musa Danjuma lasted nine years and produced three children.
She Has Three Children With Her Estranged Husband
Caroline Danjuma and her ex-husband may not be best friends at the moment, but they will remain forever connected by the three children their union produced before it packed up. She has done her best to keep her children well and away from the glare of the spotlight on herself and her ex-husband, so very little is known about them. We do know they are two boys and a baby girl.
Although she does not say much about them, she once revealed that she had a difficult pregnancy with her last child and daughter because she was battling fibroids growing alongside the baby. The situation had been so complex that she thought she would not survive childbirth, and as such, she elected to have the doctors prioritize her daughter over herself. They would eventually both survive the experience.
From her revelations since the end of her marriage, her co-parenting plan with her ex-husband is working out just fine. There are no details on who has primary custody of the children.
In 2018, she took the bold step of adopting her fourth child from an orphanage. She had fallen in love with the child on a visit there and had gone ahead to adopt the baby girl. She did not reveal the name or identity of the child, only that she was utterly in love.
Carolyna Hutchings and the Drama on Real Housewives of Lagos
When the Real Housewives franchise announced its Lagos edition, many were not surprised to see Caroline on the list of wives to star in the show. This is one of her major entertainment works since her return to acting in 2016. She had been well-known as the billionaire wife for such a long time, and her divorce notwithstanding, many were eager to see what she had to offer.
Her fans were indeed not disappointed because she brought many different faces to the show. She was classy when it was needed but was also ready to keep finesse aside and throw it down when provoked. She would later reveal that she was not paid for her being on the show as the producers had clearly stated that they could not afford her. Hence, she spent over N30 million of her money buying designer items and styling herself for the show.
Her appearance in the show did uncan a tin of worms, but she gave back as good as she got with every beef. Some unsavory revelations about her include the allegations that she cheated on her ex-husband with her friend Tiannah's ex, accusations of being pimped, how Caroline destroyed Tiannah's engagement, and more.
To her credit, she stayed resilient through it all so that, in the end, she had gained back a whole lot of the attention she lost in her nine years away from the spotlight. She gained more massive followership due to the show, and many have their fingers crossed at seeing her make another appearance in the next season.
Is The Actress Engaged?
Six years after her divorce, Caroline Danjuma sparked engagement rumors in June 2022 when she posted a picture on her Instagram handle and captioned it "I said Yes to him" with an emoji of a diamond. Although she was not wearing any ring and there was no one else in the picture, the congratulatory messages poured in. But the question remains, is the actress engaged?
To the best of our knowledge, Caroline has not dated anyone else since her divorce from Musa Danjuma. However, given her penchant for keeping her personal life to herself, many believe that she is engaged but has just kept his identity a secret.
Why Did Caroline Danjuma Change her Surname?
Since her rise to fame in 2004, Caroline has had three known surnames, which has been somewhat confusing for many, especially considering that she was only married once. Here's a more detailed explanation. At the beginning of her career, she went by Carol Ekanem, which is her mother's maiden name. Considering that her relationship with her father was nonexistent, it explains why she took her mother's surname from the beginning.
In 2007 after her marriage, she changed her name to Caroline Danjuma, which is her husband's surname. This one is pretty straightforward, considering who she married and how influential the family is. Moreover, she had no need to maintain the name she rose to fame with because she retired from acting the same year.
Finally, after her divorce in 2016, she changed both the spelling of her name and her surname to Carolyna Hutchings. At first, many thought Hutchings was her Scottish father's surname, but that seems not to be the case since his full name is Julian David Hollinwarth Hornelin.
But it is important to note that this new name is her social media moniker and has no bearing on the fact that her name remains Caroline Danjuma. On her different social media handles, you will notice that her about and description still list her name as Caroline Danjuma.
A Peek Into Carolyna Hutchings' Body and Beauty Secrets
It takes only one look to confirm that Caroline is as curvy as she is beautiful. Having been an entertainer from way back, it is not surprising that she has been able to maintain her good looks to date. The actress stands tall at 5 feet 5 inches but has firmly kept the figure of her weight to herself. Her other body measurements are 37-25-39 for bust, waist, and hips, respectively.
After the sizzling hot picture she released for the announcement of her role on the Real Housewives of Lagos show, the debate has been ongoing regarding whether she went under the knife to achieve her currently very curvy figure. While some think it was the function of age, others argue that she most certainly had done liposuction at the very least.
The actress has decidedly kept mum on the rumors and has not said anything about whether she works out or not. She did say she inherited good genes from her mother, who still looks amazing in her fifties. She has also mentioned that she loves to drink water and smoothies.
She Recently Unveiled Her Political Ambitions 
In what seems to be the trending move for actors and actresses, Caroline Danjuma recently unveiled her political ambition as the running mate of Akwa Ibom Governorship candidate Iboro Otu under the African Action Congress (AAC).
The announcement, which was also made on the party's official website, praises her many accomplishments and her love for humanity. She has since embarked on certain humanitarian projects to prove her willingness to do her best if elected.