Carlos Slim Helu is a Mexican business mogul, investor, and philanthropist with an estimated net worth of 83.6 billion USD.
Mexico may not be one of the top ten richest nations globally, but the North American country sure boasts some of the richest men in the world whose names and worth are known all over the world. One of them is none other than Carlos Slim whose net worth is in billions, makings him one of the wealthiest men in the world.
Though a Mexican entrepreneur, Carlos Slim Helu is of Lebanese origin. He made most of his fortune through various investments and activities that have helped him garner immense wealth. Carlos is also known as a great philanthropist who has made sizeable donations to numerous causes in his country and abroad. His investments in people's lives have made many people wonder how he began his career and what it was that earned him this much wealth. To get a deeper view of how this Mexican business mogul made his wealth, here are some interesting facts we have to share with you.
Summary of Carlos Slim's Biography 
Full name: Carlos Slim Helú
Gender: Male
Date of birth: January 28, 1940
Place of Birth: Mexico City, Mexico
Carlos Slim's Age: 83 Years Old
Nationality: Mexican
Zodiac Sign: Aquarius
Sexual Orientation: Straight
Religion: Christianity
Marital Status: Married
Carlos Slim's Wife:

: 

Soumaya Domit Gemayel ​(m. 1967; died 1999)

Carlos Slim's Children: Carlos, Marco Antonio, Patrick, Soumaya, Vanessa, and Johanna.
Carlos Slim's Parents: 

Julián Slim Haddad and Linda Helú Atta

Carlos Slim's Height in Inches: 68
Carlos Slim's Height in Centimetres: 173
Carlos Slim's Weight: 90 kg or 198.5 lbs
Carlos Slim'sNet worth: 83.6 billion USD
Famous for: Being one of the richest men in the world
Carlos Slim's Instagram: oficialcarlosslim
Twitter: Carlos Slim Helu
How Carlos Slim's Net Worth of $62.8 Billion Came About
Millionaires are known to acquire their wealth through various means, including shares, real estate, inheritance, or as entrepreneurs. However, as the world advances, many in this category have found more viable ways to increase their wealth with much ease than before. One of such people is the 83-year-old Carlos Slim Helú, who now rob shoulders with some of the wealthiest in the world. Check out how Carlos Slim's net worth grew over the years.
Carlos Began Building his wealth at the Young Age of 11
Being a billionaire has nothing to do with one's age, which is why today, the world boasts of many young billionaires below the age of 30. But unlike the Andresen sisters or Kevin Lehmann, who inherited the majority of what makes them wealthy today, Carlos Slim inherited business ideas that helped him begin his journey.
Born in Mexico City to parents of Lebanese origin, Slim grew an interest in the business after receiving lessons on everything about finances and how to manage it from his father. His father, who was a very successful businessman himself, gave Slim the blueprint in which he was able to build what he built. Carlos Slim began his journey as an investor at the age of eleven. Through the help of his parents, he was able to raise and invest little money in banks.
Unfortunately, when he was 13 years old, his father died, but that did not deter the youngster from putting to good use all that he had learned from his father's business teachings. Before Slim was a teenager, he gained considerable knowledge in finance and made his first stock purchase in a Mexican bank. By the time he was 15, he was a shareholder in the country's largest bank.
Even with no Formal Education in Finance-related Courses, He was Best in the Field
It will blow your mind to discover that Slim did not study anything finance-related in the university. He instead chose to study Civil Engineering at the National Autonomous University of Mexico. After that, he did a few courses in economics. Slim credits his ability to read financial statements and the edge he has in the business world to all the knowledge he gathered, especially in Civil Engineering.
Upon completing his education, Slim began working as a stock trader. Before he turned 25 in 1965, he had saved up to $400,000 as his private profit, and that was enough to start his stock brokerage business, called Inversora Bursátil. He also began laying the financial groundwork for his Grupo Carso and was buying several turn-down companies to rebuild them and sell off again: He was able to buy Jarritos del Sur in 1965, and in 1966, he founded Inmobiliaria Carso worth $40 million. Today, his businesses incorporate various industries and are in different countries across multiple continents.
Carlos Slim's Investments Span Across Many Sectors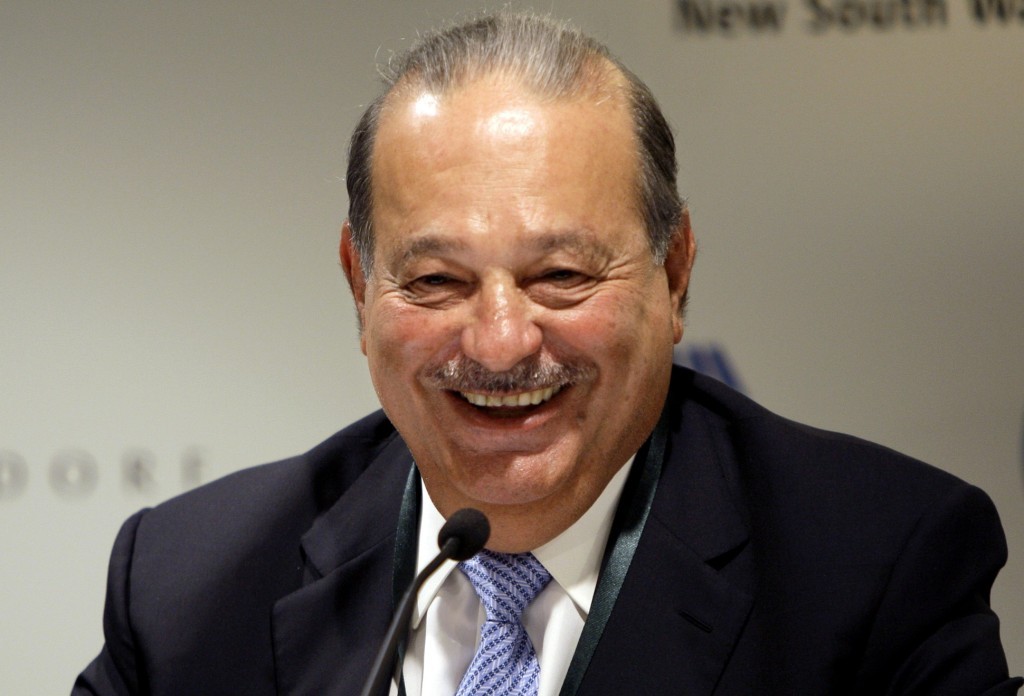 Carlos Slim is not the type who would focus all his time and finances on one particular business sector. Instead, he would spread his plans and strategies into numerous industries, including the automotive industry, airlines, tobacco, cement, hotels, telecommunications, and financial services, and in no tie, he was able to establish or acquire several businesses in these categories.
By the age of 40, in 1980, he was able to form Grupo Galas as the parent company of a conglomerate that had interests in industry, construction, mining, retail, food, and tobacco. Slim's biggest hits happened in the 1980s and early 1990s when Mexico's currency Peso was in crisis and oil prices declined. While the capital was fleeing the country, Slim seized the opportunity to buy several companies at depressed valuations. Some of the companies he bought at the time include:
Cigatam (the country's second-largest cigarette maker),
Reynolds Aluminum, General Tire, and the Sanborns chain of stores;
Empresas Frisco, a mining and chemicals company;
Industrias Nacobre, a copper manufacturer;
Reynolds Aluminio, Compañía Hulera Euzkadi (Mexico's largest tire maker);
Bimex hotels,
 Seguros de México (insurance company)
A Large Portion of Carlos Slim's Net worth Comes from the Telcom Industry 
When Mexico privatized its telecom industry Telmax in early 1990, Slim's Grupo Carso acquired the industry from the Mexican government at the price of $1.8 billion, half of which was put up by Grupo Carso, for a 20% stake. The company, now renamed América Movil, has more than 50.000 employees. Grupo Carso, in 1990, also acquired majority ownership of Porcelanite, a tile-making company. 40% and 50% interest in the Mexican arms of British American Tobacco and The Hershey Company, respectively, were also acquired by the business mogul.
As an early investor in Mexico's telecommunication industry, Slim soon began to reap the benefit of his investment when Telmex raked 90 percent of the telephone lines in Mexico and his mobile telephone company, Telcel, which was created out of the Radiomóvil Dipsa company, was in charge of almost 80 percent of all the country's cellphones. So in all, the business mogul is in charge of the 7th largest mobile network operator in terms of equity subscribers and one of the largest corporations in the world.
América Movil has a market share approaching 70% of the mobile phone line market and 80% of the landlines in Mexico. It also has its tentacles spread in countries like the USA, Australia, and almost all countries in Latin America..
His Next Income Port Was Real Estate
Carlos Slim's net worth also comes from his investment in real estate. After making his fortune in telecommunications, Slim turned to construction. Aside from his "modest" 6-bedroom home in the Lomas de Chapultepec district of Mexico City, close to where he grew up and his residence for over 40 years, Carlos also owns over 20 shopping centers in his home country Mexico. More than ten of those shopping centers are located in Mexico City, and he operates stores in the country under U.S. brands, including Saks Fifth Avenue, Sears, and the Coffee Factory.
In 2010, he bought one of the largest private residences in Manhattan. The mansion, known as the Duke Semans mansion or the Benjamin N. and Sarah Duke House, is located on Fifth Avenue in New York City. The son of Lebanese immigrants to Mexico, Slim, reportedly paid about $44 million for the property of over 19,000 square feet, including 14 bathrooms and 12 bedrooms, covering eight stories. In 2015, he sold the mansion for $80 million, making nearly twice the amount he bought it five years earlier. Not willing to relent on his effort to expand his investments in commercial real estate, particularly in the U.S, Carlos, through companies associated with him, is known to acquire large portions of the country's expensive private homes and commercial buildings.
For instance, in March 2015, a company linked to Slim bought 'PepsiCo Americas Beverages,' which has its headquarters in Somers, north of New York City. Grupo Carso reportedly paid nearly $87 million for the nine-story, 540,000-square-foot building on a 200-acre campus. A year before Grupo Carso's purchase of the PepsiCo Americas Beverages, a company also linked to Slim bought a 10-story, 162,780-square-foot structure known as the Marquette Building, a notable piece of real estate downtown Detroit which was built in 1905. The building, which housed retail, offices, and restaurants, was reportedly bought for $5.7 million.
A similar purchase was made in 2011 when he bought a famous limestone mansion at 10 W. 56th St, in New York City, for $15.5 million a Plaza Carson, a private mansion on Fifth Avenue, a century-old Beaux-Arts townhouse. As of 2015, he was named The New York Times' largest individual investor after exercising warrants that more than doubled his stake in the media company to nearly 17%. In Mexico, Slim's Plaza Carso, which includes the Museo Soumaya, Museo Jumex, the Plaza Carso Shopping center, three residential towers, and three commercial office buildings, costs roughly $1.4 billion.
 His Forey into Oil and Gas
Carlos Slim founded Carso Oil and Gas Company in 2015. The company is an affiliate of Grupo Carso, established as part of the conglomerate's efforts to diversify its activities. The company operates in rig (jack-ups) leasing, exploration, and production. Carso Oil had its first enrollment in the Round One auctions for shallow-water production sharing contracts in 2015, and though it failed to win, it succeeded in 2017 when it won its first Onshore Oil.
Through the oil company, Grupo Carso built about nine drilling rigs, three production rigs including the Independencia 1 jack-up, one telecom rig, and one housing rig. It also has two fabrication docks, both in Veracruz. In 2013, the Mexican mogul reportedly pumped billions of dollars of investment into Saudi Arabia's petrochemical projects and other projects. As of 2015, Slim's Carso oil has its assets listed at 230 million dollars. The same year he also invested at a technology start-up, the IMatchative.
He Owns a Mining Company
As has already been noted, Carlos Slim is such kind of a man who would invest in great net profiting businesses, and one of such is the mining sector.  The Mexican billionaire owns a mining company called Minera Frisco. The company, which is based in Mexico, is a subsidiary of Grupo Carso SAB de CV, a conglomerate that operates in nearly every business, including the industrial, commercial, infrastructure, and construction industries and the automotive sector.
It has its operations focused on the location of minerals in three basic stages for the production and commercialization of lead-silver concentrates, zinc concentrates, copper concentrates, copper in the cathode, gold and silver rods, etc. Frisco owns nine mines in Zacatecas, Sonora, Chihuahua and Puebla. In 2010, the Mexican magnate opened two new mining companies worth $367 million in his country's northern state of Chihuahua. Although the company faced mounting challenges, including a massive output drop, there is no doubt that Slim is making a huge income from the business.
He has Stakes in the Music Industry
For someone who has a sight for fast-growing businesses, it is not surprising to have the likes of Carlos plunging billions of their wealth into the entertainment industry, particularly the music world. Obviously, the rapid transformation of the music industry in an age of digital distribution has seen many earn massively from the industry. January 2015 saw Carlos' Grupo Carso publicly launching its Claro Musica, an online music streaming platform with playlists, radios, podcasts, and other divisions in its interface by musical genres.
A Latin American equivalent of iTunes and Spotify, Slim and his son used their music streaming platform to increase their presence in Mexico's music industry, particularly in the retail music industry. The platform offers services in countries like  Ecuador, Argentina, Brazil, Chile, Colombia, Costa Rica, Panama, El Salvador, Guatemala, Honduras, Mexico, Dominican Republic, Nicaragua, Paraguay, Peru, and Uruguay, where the Claro telephone platform exists.
It is known to provide its over 5 million users with the successes of international music and local artists from every region where it has services. As a part of its promotional strategy, Claro Musica makes arrangements with artists or segments of the musical environment, organizes events such as Claro Música fest, and conducts exclusive concerts such as the reunion of the RBD group in 2020. Slim has had an interest in the music world since 2013, when through his self-controlled Mexican retail department store chain, Sanborn's, controlled a majority stake in Mixup, the largest music and video retailer in Mexico.
His Investments in 

Planes and Automobiles
A portion of Carlos Slim's net worth also comes from his airline investments. The Mexican billionaire had, in 2005, through his investment units Sinca Inbursa, invested in low-cost airlines as the Mexican government tried to sell off its largest carriers and open the industry to a competitive market after several years of inefficiency and virtual monopoly.
Carlos Slim's net worth is generated from various sources, including:
Telcom industry,
Real Estate,
Oil and Gas,
Gold Mining,
Music streaming
Investments in Public and private companies
Instead of building an empire on a few great innovations in a particular field, Carlos Slim garnered his wealth through acquisitions and building a nearly unassailable market share. His earnings and massive investment in Telecommunication and construction helped earn him to top Forbes magazine's list of the world's richest billionaires for four years. In 2007, his group of companies was valued at $ 150 billion, and by 2010, he had been ranked as the richest person in the world by Forbes.
Here is a breakdown of Carlos Slim's net worth progression over the years:
March 2007 –  Slim was named the second richest man in the world with a net worth of US$53.1

 

billion.
August 2007 – He surpassed Bill Gates as the world richest man with a net worth of US$59

 

billion
March 2008 –  He dropped to the second richest man in the world with a net worth of $60 billion as against Warren Buffett's $62 billion.
March 2010 – Although his fortune dropped, he topped his game yet again to become the richest man in the world with a net worth of $53.5 billion.
March 2011 – Carlos Slim's net worth grew further with an addition of $20.5 billion to his fortune. he maintained his position as the richest man in the worth with his  $74 billion net worth.
March 2013 – Slim, according to Forbes, maintains his first-place position as the wealthiest person in the world, with an estimated net worth of US$73

 

billion.
July 2014 – Slim's wealth soared to US$79.6

 

billion, maintaining his first position on Forbes' rich list.
December 2016 – Volatile stock markets, among many other factors, saw Carlos Slim's net worth drop from $27.1 billion to $50 billion, making him the 4th richest man in the world.
March 2017 – Carlos Slim Helu fell to number six on Forbes rich list, although his net worth grew to $54.5 billion.
March 2019 –  Slims maintained his position as the richest man in Mexico but lost his place among the world rich list with his net worth of at least $58.1 billion.
October 2020 – Carlos Slim's net with further dropped $7 billion to $53.7 million following a further drop in the stock market caused by the Covid-19 pandemic.
March 2021 – Carlos Slim dropped to the 16th richest man globally with his net worth of $62.8 billion. His increased fortune helped him maintain his position as Mexico's richest.
 How Carlos Slim Spends His Much-Garnered Wealth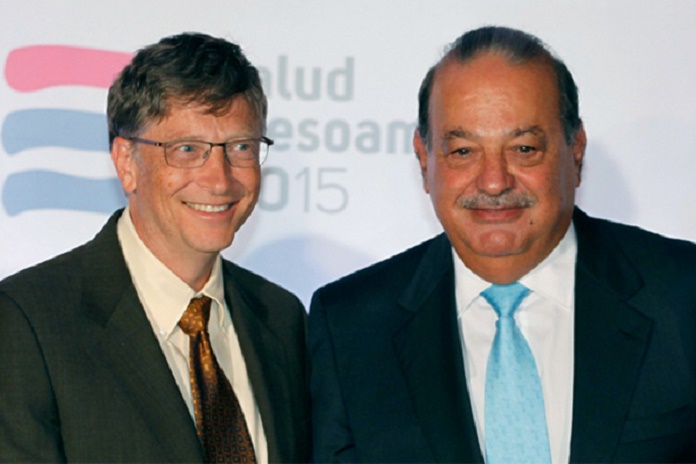 As Latin America's richest person for several years, one would hope to see Carlos spend so much money to buy all the luxuries money could buy. Unfortunately, Carlos is famously frugal from a young age. He practiced financial restraint and lived a very simple and modest life. For several decades, this Mexican magnet lived in a modest 6-bedroom home with his bedroom reportedly "the size of a Manhattan hotel room." Let's take a look at some of the things Slim buys with his fortune.
Carlos Slim's Houses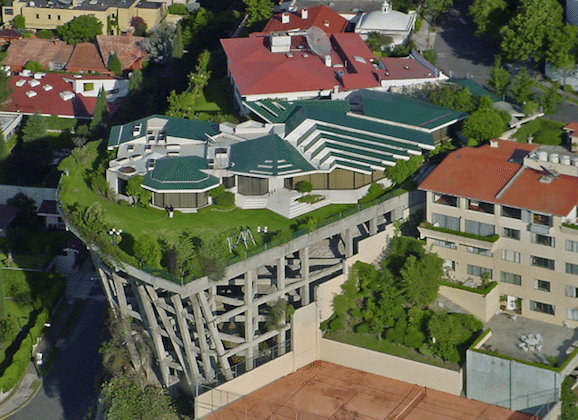 Slim leads a lifestyle that deviates from that of mainstream billionaires. Instead of lavish spending and flashy purchases of homes, he has lived in one private home for four decades and counting. The mansion is located in Lomas de Chapultepec, an area of Mexico City that is a reserve for the financial elites of Mexico. His workplace is a mere 3 miles away from the house. And, despite the prevalence of kidnappings in Mexico, Carlos Slim still drives himself to work.
Slim's six-bedroom building has an interior design that features simplistic nuances, with bright colors adorning the walls and the doors. There is a beige hue that is accentuated by light from the charming chandeliers. In the same manner, the outer walls are also painted with bright colors.
The landscaping design was made to accommodate the tastes of the mogul. He prefers extra-wide spaces; hence, there are beautiful gardens in the compound, which also serve as the source of flowers for the interior ambient atmosphere. Reverting back indoors, the furnishings are all elegant and tasteful, but surprisingly not a testimony of the vast wealth of the owners. There are the usual religious relics adorning various parts of the walls and desks.
He Owns a Museum
As someone who loves relics and artifacts, Carlos Slim reportedly spent about $34 million to build a museum he named Museo Soumaya. The private museum, which is located in Nuevo Polanco, Mexico City, was designed by Fernando Romero, Carlos Slim's son-in-law. It was named after Soumaya Domit, Slim's wife, who died in 1999. The Museum houses Slim's collection of more than 65,000 pieces, and it is where he keeps his collection of rare coins, historical documents, and religious relics.
The artwork and artifacts inside are worth almost a billion dollars. Distributed between six main exhibition rooms, it is one of the largest museums of its kind in Latin America. The Soumaya Museum is largely dominated by works from European and Mexican artists. An entire section in the museum is dedicated to religious arts, including a Mexican portrait of the Virgin of Guadalupe and a Spanish painting of the Virgin of Toledo.
Carlos Slim's Car Collection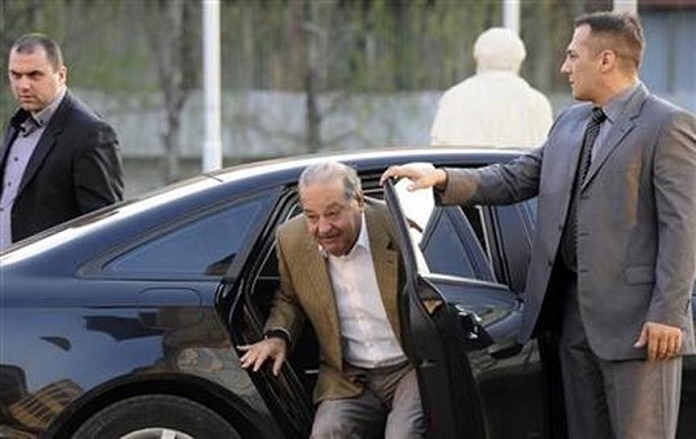 Carlos Slim's everyday car is a custom Mercedes 4×4, which he likes to drive by himself even through heavy Mexico City traffic. He, however, owns several other luxury rides, including a beefed-up Chevy Suburban, which he drives for more rugged occasions. Although he dislikes using private jets, Slim occasionally flies on commercial airplanes, and sometimes he rides in the Telmex helicopter.
His car collection includes:
An auto Bentley Continental Flying Spur,
A luxury Navy Mercedes 4×4
A Maybach Guard,
A Cadillac 1941
He is a renowned Philanthropist 
Apart from spending his money buying luxury houses and automobiles, Carlos also spends his fortune on good deeds. One of such ways he gives back to his society is through philanthropy. In 1995 he established Fundacion Telmex, a broad-ranging philanthropic foundation regarded as one of the largest philanthropic institutions in Latin America.
The foundation's activities cut across health, nutrition, conservation, disaster relief, and the provision of university scholarships for thousands of students who would otherwise be unable to pursue higher education.
In May 2011, Slim was mentioned in Forbes World's biggest givers after donating $ 4 billion to his foundation. In 2019, he was again listed as one of the world's most generous philanthropists outside of the United States of America.
Aside from establishing Fundacion Telmex, Slim is also known for establishing Fundación Carlos Slim which sponsors his private museum, and for funding the Fundación del Centro Histórico de la Ciudad de México A.C. a complex that includes an evangelization center, museum, columbarium, health center, and market.