Bukola Saraki, a current member of the All Progressive Congress (APC), who was the governor of Kwara State from 2003 to 2011, became the Senate President of the Federal Republic of Nigeria after the March 2015 elections. Before he emerged as the Senate President, he represented the Kwara Central Senatorial District.
Bukola Saraki's Biography, Education
Bukola Saraki was born on December 19, 1962, to Abubakar Olusola Saraki and Florence Morenike Saraki. His father Olusola, was a member of the National Party of Nigeria (NPA) and a one-time Senate President (1979–1983) of Nigeria. Born on May 17, 1933, in Ilorin, Olusola died November 14, 2012, in Ikoyi, Lagos.
Bukola Saraki has a sister called Gbemisola Ruqayyah Saraki. She is a senator and also into Insurance. She had her college education at the University of Sussex in the United Kingdom, where she obtained a bachelor's degree in Economics.
Gbemisola began her political career in 1999 as a member of the House of Representatives under the All People's Party (APP). In 2003, she ran for senate under the umbrella of the People's Democratic Party, (PDP), winning a seat in the House. In 2007, she re-contested and won again. At the expiration of her tenure in 2011, just a few hours to presidential elections (which took place on March 28), Gbemisola defected to the All Progressives Congress (APC).
Nigerian political bigshot Bukola Saraki attended King's College, Lagos, from 1973 to 1998 when he obtained his West African School Certificate (WAEC). He attended Cheltenham College, London, from 1979 to 1981.
He studied at the London Hospital Medical College of the University of London, from 1982 to 1997 when he obtained his M.B.B.S (London). He was a director of SociétéGénérale Bank (Nig) Ltd from 1990 to 2000.
Wife, Children
Bukola Saraki is married to Toyin Saraki, who is believed to be the founder and president of Wellbeing Foundation Africa and a healthcare philanthropist. The couple has four children – Oluwaseni Saraki, Halimat Oluwatosin Sakari, and twins – Teniola Saraki and Teniayo Sakari.
Tosin is Bukola's first child. She recently got married to her longtime beau, Tunde Olukoya. Oluwaseni, on the other hand, is a budding rapper and law graduate (he finished from the Nigerian Law School, Lagos Campus), he is his second child. He is based in the UK, where he is giving his music career a chase.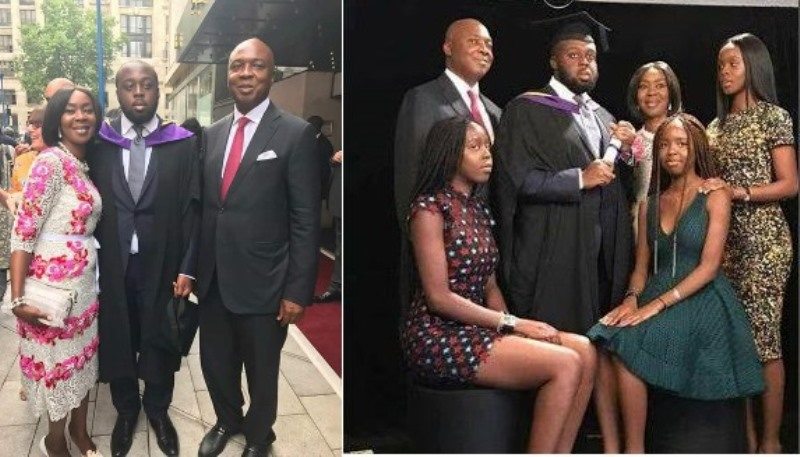 Seni is also the chairman and founder of Abubakar Bukola Saraki football club, ABS FC and is said to have recently graduated from the London School of Economics.
Political Career
Bukola Saraki's political career started off in the year 2000 when he was appointed by the former President Olusegun Obasanjo as his special assistant on budget issues. He initiated the Fiscal Responsibility Bill during his tenure and also served on the Economy Policy Coordination Committee.
In 2003, He contested and won the Kwara State gubernatorial elections which were conducted on April 19. He was sworn in as Governor of Kwara State on May 29, 2003.
He, again, contested and won the gubernatorial elections for the same state which was conducted on April 14, 2007. He was sworn in for a second time as governor of Kwara State on May 29, 2007. During his eight years in office, he had mostly positive reviews about his job.
One of his major achievements was inviting displaced white farmers from Zimbabwe to Kwara State and offering them an opportunity to farm.
He also introduced new health programmes, including a campaign in 2008 to reduce maternal and child mortality, which involved the distribution of insecticide-treated nets and free malaria drugs to mothers and their children.
Senatorial Career
In 2011, he was elected to the Nigerian Senate (7th National Assembly), where he represented the Kwara Central Senatorial District.
He was appointed the chairman of the Senate Committee on Environment and Ecology and is also a member of the Senate Committee on Capital Markets and Finance.
Note: Bukola Saraki defected to the All Progressive People's party in 2014 after lamenting about repressive policies of the PDP government.
In 2015, He was elected unopposed as President of the Senate by an across the party alliance comprising PDP and APC Senators. The election was a tough one for him as he had faced stiff opposition from Senator Ahmed Ibrahim Lawan, who was a preferred candidate by a group of senators-elect within the APC.
Awards/Honour
He was the first serving Nigerian governor to be awarded the national honour, a Commander of the Order of the Niger (CON) in 2010.
His charisma among his fellow governors got him appointed the chairman of the Nigeria Governors' Forum (NGF).
On May 27, Saraki received the Outstanding Leadership Award from the Governor of Kwara State, Abdulfatah Ahmed.
See Also: Bright Echefu Biography: Buzz Facts About CEO, Owner Of TStv Africa
Other Facts You Need To Know
1. The Code of Conduct Bureau cited a 13-count charge of corruption against Bukola Saraki in 2015. He was accused of making false declaration of assets in forms he had filed with the Code of Conduct Bureau while he was governor of Kwara state.
2. He was also accused of failing to declare some assets he acquired while in office as governor, as well as acquiring assets beyond his legitimate earnings. He was accused of operating foreign accounts while being a public officer.
3. The EFCC had conducted its investigation on the various allegations and arrived at incriminating facts against him. On September 18, 2015, Danladi Umar, Chairman of the Code of Conduct Tribunal, issued an arrest warrant against Saraki.
4. On March 18, 2016, Saraki's lead counsel and ex-attorney general of Nigeria, Kanu Godwin Agabi, led a delegation of 79 lawyers to defend him at the tribunal.
5. The Code of Conduct Tribunal (CCT) sitting in Abuja, on Wednesday, June 14th, 2017, discharged and acquitted the senate president of the 18 count charge of corruption in the false declaration of assets charge brought against him in September 2015 by the Nigerian government.