Bukola Saraki (19 March 1962) is a 60-year-old Nigerian politician with a net worth estimated at $2 billion. He is best known as a former governor of Kwara State and the 13th President of Nigeria's House of Senate from 2015 to 2019.
Currently a member of the Peoples Democratic Party (PDP), Saraki is one of the wealthiest and most influential politicians in the country. Spending almost two decades running the country's political affairs, Saraki was the governor of Kwara State from 2003 to 2011 before becoming the Senate President of the Federal Republic of Nigeria after the March 2015 elections. Saraki is a highly educated individual, and his experience in public service has helped him make remarkable impacts on Nigeria's democracy.

Profile Summary of Bukola Saraki
Name in Full: Olubukola Abubakar Saraki
Also Known as: Bukola Saraki
Date of Birth: December 17, 1962
Age: 60 years old
Place of Birth: London, United Kingdom
Nationality: Nigerian
Occupation: Medical Doctor, Politician
Active Years: 2000 – 2021
Bukola Saraki was Born in London 60 Years Ago
Olubukola Abubakar Saraki was born on December 19, 1962, in London, United Kingdom. He is the son of Olusola Abubakar Saraki, a one-time Senator of the Nigerian Second Republic (1979-1983). Saraki's paternal ancestors were Fulanis, who settled in Mali several decades ago. His paternal grandfather left Mali and settled in Illorin, the capital city of Kwara State, where he studied Islamic Studies (Ile-Kewu) and married a Yoruba woman from Iseyin, Oyo State. Bukola Saraki's father was then born in Kwara State, where he met Saraki's mother, Florence Morenike Saraki, also a Yoruba.
Saraki grew up in a family that is known for its affluence. His father was highly educated  – he attended the University of London, and St George's Hospital Medical School, London, before returning to Nigeria, where he worked as a medical officer at the General Hospital, Lagos and the Creek Hospital, Lagos –  and in the same hand he was able to raise his children to follow in his steps. Although the exact number of Saraki's siblings is unknown, we know of his brother, Laolu Saraki, who is a CEO at Rhino Niger Networks, and a sister Gbemisola Ruqayyah Saraki, a senator and also into Insurance.
Bukola Saraki is a Qualified Medical Doctor-turned Politician
Nigerian political bigshot Bukola Saraki attended King's College, Lagos, from 1973 to 1998 when he obtained his West African School Certificate (WAEC). He attended Cheltenham College, London, from 1979 to 1981, and in 1982, he gained admission at the London Hospital Medical College of the University of London. He graduated from the college in 1987 with a Bachelor of Medicine and Bachelor of Surgery. Shortly after obtaining his degree, Saraki proceeded for his M.B.B.S at the London Hospital Medical College.
During his stay in London, and after obtaining his first degree, Saraki worked as a medical officer at Rush Green Hospital, Essex, from 1988 to 1989. Until his return to Nigeria in the year 2000, Sarki also worked as a director of SociétéGénérale Bank (Nig) Ltd. He is not the only educated child in his family, but he is the only one who toed the path of his father as a medical doctor. His sister, Rukaiya, had her college education at the University of Sussex in the United Kingdom, where she obtained a bachelor's degree in Economics.
Highlights of All the School Saraki Attended
King's College, Lagos 1973 to 1998
Cheltenham College, London, from 1979 to 1981
London Hospital Medical College of the University of London  – 1982 – 1987
He Began His Political Career in 2000
Bukola Saraki's political career started in 2000 when he was appointed by former President Olusegun Obasanjo as his special assistant on budget issues. During his service year, he initiated the Fiscal Responsibility Bill and also served on the Economy Policy Coordination Committee. H
His journey as a political leader started in 2003 when with the help of his father's key position at the People's Democratic Party (PDP), he got the ticket to contest for the Kwara state governorship elections. Saraki eventually won the state gubernatorial elections, which were conducted on April 19, and he was sworn in as Governor of Kwara State on May 29, 2003. He, again, contested and won the gubernatorial elections for the same state, which was conducted on April 14, 2007. He was sworn in for a second time as governor of Kwara State on May 29, 2007. During his eight years in office, he had mostly positive reviews about his job.
One of his significant achievements was inviting displaced white farmers from Zimbabwe to Kwara State and offering them an opportunity to farm. He also introduced new health programmes, including a campaign in 2008 to reduce maternal and child mortality, which involved the distribution of insecticide-treated nets and free malaria drugs to mothers and their children. While redeveloping various hospitals across the state, Saraki also ensured that medical personnel undergoes some levels of training. He also employed new medical staff and refurbished their living quarters.
In addition to completing four electricity projects, Kwara State, in collaboration with the Power Holding Company of Nigeria, was able to re-energize the Ganmo Power Station at Ilorin and connected over 375 rural communities to the national grid through the development and installation of 725 transformers and seven substations. The state became the first to complete the Nigeria Independent Power Project.
His Served as

Chairman of the Nigeria Governors Forum
While still serving as Kwara State Governor, Bukola Saraki became the chairman of the Nigeria Governors Forum in 2007. His leadership brought in new processes such as the State Peer Review Mechanism, which allowed States to share case studies in some policy fields.
A significant impact of his leadership was felt when the NGF intervened in the issue of Goodluck Jonathan's assumption of power following the illness and subsequent death of President Umaru Musa Yar'Adua. On November 23, 2009, President Yar'Adua left Nigeria and traveled to Saudi Arabia for medical treatment. While he was away, his absence created a dangerous power vacuum in Nigeria. For the Vice-President (Jonathan) to assume responsibilities, the president was to write a letter to the National Assembly appointing him.
To put the country back on the spot, the NGF under Saraki's leadership worked with the National Assembly to implement the Doctrine of Necessity, which allowed the Vice President to take over and become acting President until the President's return. This was then passed as a resolution by the National Assembly. His leadership also saw the NGF signing memoranda of Understanding (MOUs) with global development partners, including the World Bank, DFID, Bill & Melinda Gates Foundation, GAVI, UNICEF, UNDP.
Saraki's Senatorial Career Lasted from 2011 to 2019
Saraki was elected to the Nigerian Senate (7th National Assembly) in 2011, where he represented the Kwara Central Senatorial District, succeeding his sister, Gbemisola Saraki-Forowa, who has served a two-term tenure as a senator for the district. During his first tenure in office, Saraki was highly commended for his extensive campaigns on health, food security, education, and the environment. He was also applauded for intervening in the lead poisoning crisis in Zamfara State in 2010  and his strong motion against fuel subsidy that has been an excessive waste of the country's national resources. His active involvement in the parliament earned him respect, especially from the people of his constituency.
In 2015, Bukola Saraki was re-elected for a second term at the senate. On June 9, 2015, he was elected unopposed as President of the Senate by an across-the-party alliance comprising PDP and APC Senators. The election was a tough one for him as he had faced stiff opposition from Senator Ahmed Ibrahim Lawan, who was a preferred candidate by a group of senators-elect within the APC.
Following his election as Senate president, Saraki became the 13th President of the Senate of Nigeria and Chair of the 8th Nigeria National Assembly. Together with his deputy, Senator Ike Ekweremadu, the former governor passed 201 bills and cleared 138 public petitions –  the highest in the history of the Nigerian senate. A 2019 general election saw Saraki losing his Kwara Senatorial seat to APC's Dr. Ibrahim Oloriegbe after pulling a total of 68,994 votes against Oloriegbe's 123,808 votes.
Highlights of all the Political Offices He Occupied
Special assistant to the President on budget issues- 2000
Kwara State Governor- 2003 – 2011
Senator representing Kwara Central Senatorial District  2011 – 2015
Senate President of the Republic of Nigeria- 2015 – 2019
How Bukola Saraki Garnered His $2 Billion Net Worth
Saraki is undoubtedly one of the wealthiest politicians in Nigeria. Having been involved in Nigeria's politics for almost two decades, it is assumed that a more significant percentage of his wealth came from politics. However, the former senate president has debunked the public claims about his wealth, insisting that he made over 95 percent of his income before joining politics. Refraining from giving figures of his net worth, the politician claimed to have amassed his wealth through hard work, blessings from his family, and his commitment to service.
Medical doctors are among the highest-paid professions globally. For someone who has worked as a medical officer in a renowned hospital in South East England, Saraki must have earned so much in salary. The same applies to his job at the French Multinational investment bank SocGen.
His Salary as a Special Assistant to the President
While it is not clear how much a political office holder earns as salary and allowances, Special Assistants to the president are believed to be paid well for their services. As of 2007, the office of special Assistants received roughly N2 million as a remuneration package. This, of course, excludes all the allowances  – Accommodation, furniture, Duty tour, medical, leave allowance. Although Saraki's service as Obasanjo's Special assistant goes five years behind the stipulated date, it is believed that his pay and remunerations were likely the same.
Salary from His 2-term Service as Kwara State Governor
Governors are among the highly paid political office holders in Nigeria. While the pay of public office holders has been a matter of discussion among the general public, the growth in the cost of administration in Nigeria has been blamed on the allowances given to these public officers who are supposed to serve the people who elected them. However, it is argued that some new rules for managing finances in the country amid the country's economic downturn have made governors' take-home salaries significantly lower than that of previous Nigerian governors.
Although it is not clear how much Saraki earned during his time as governor, the basic salary for a governor is currently placed at N2.22 million per month, an annual leave allowance of roughly N222,370.50, and a severance payment of N6,671,115. This is, of course, huge money, especially for the likes of Saraki, who occupied the position for eight years.
Income from His 2-term Service as a Senator/Senate President
It is no news that Nigerian senators are the highest paid in Africa and the second globally, with their take-home pay running in millions of dollars. No doubt, Bukola Saraki has had his fair share of the money, having served two terms in the office. The salary structure for Nigerian senators may be classified into two categories – Basic Salary, Allowances. While the basic salary is around N2,026,400, their annual allowances make their major source of wealth with a whopping N9,525,985. This, when brought together, could mean roughly N13.5 million per month. This is quite huge, especially for someone with two terms in office.
Saraki's Other Businesses and Investments
According to the Asset Declaration form filed by the ex-senate president before he assumed office as governor, Saraki owns landed and movable assets running into billions of naira and pound sterling in Nigeria and London. Over eight of his landed properties are scattered in various parts of Lagos and Abuja.
The document also shows that he has a substantial number of shares in several local and foreign companies valued at millions of naira and pounds. Some of his companies listed in the form include Carlisle Properties & Investment Limited, Better Foods Ltd, BAS Trading and Manufacturing Ltd, Tyberry Corporation, and Eficaz Ltd. All these companies are reportedly worth millions.
What Awards/Honour Has Saraki Received?
Following his public services, Bukola Saraki has received many awards, including the following:
He was the first serving Nigerian governor to be awarded the national honor, a Commander of the Order of the Niger (CON) in 2010.
His charisma among his fellow governors got him appointed the chairman of the Nigeria Governors' Forum (NGF).
On May 27, Saraki received the Outstanding Leadership Award from the Governor of Kwara State, Abdulfatah Ahmed.
Controversies Bukola Saraki Was Involved In
Being a public figure, Saraki has not been exempted from controversies. In fact, the ex-senate president has faced several court charges that at some point led to the loss of some of his properties:
Controversy over His Assets Declaration 
In September 2015, the Code of Conduct Bureau cited a 13-count charge of corruption against Bukola Saraki for making false declarations of assets in forms he had filed with the Code of Conduct Bureau while he was governor of Kwara state. He was also accused of failing to declare some assets he acquired while in office as governor and earning assets beyond his legitimate earnings. He was accused of operating foreign accounts while being a public officer.
The EFCC had conducted its investigation on the various allegations and arrived at incriminating facts against him. On September 18, 2015, Danladi Umar, Chairman of the Code of Conduct Tribunal, issued an arrest warrant against Saraki. However, on March 18, 2016, Saraki's lead counsel and ex-attorney general of Nigeria, Kanu Godwin Agabi, led a delegation of 79 lawyers to defend him at the tribunal. The Code of Conduct Tribunal (CCT), sitting in Abuja, on Wednesday, June 14, 2017, discharged and acquitted him of the 18 count charge of corruption in the false declaration of assets charge brought against him in September 2015 by the Nigerian government.
Accused of Receiving salaries, pensions four years after leaving office as governor  
A witness who goes by the name Michael Wetkast accused the former senate leader of receiving regular salaries and pensions four years even after the expiration of his tenure on May 29, 2011. According to the witness, after leaving office on May 29, 2011, Saraki received N291,412:75k as salary for June while N572,286:32k, N744,000, and N743,942  were his pay for July, August, and September, respectively.
There were also claims that he received N1,165,488 between October and February 2012. These payments for his salaries and pension were regularly received by the ex senate member until August 31, 2015, before the payments stopped. However, the Kwara State government denied the statement made by Michael Wetkast, saying it never paid Saraki any money in the form of salary. The government further claimed that it had only been paying Mr. Saraki's pension since he left office and that the last salary it paid the ex-governor was N291,474.00 for May 2011.
Alleged Misappropriation of Funds Belonging to Kwara State
Saraki was, in May 2021, accused of illegally selling properties belonging to Kwara State at suspiciously low prices to cronies. This is according to an investigation by the Economic and Financial Crimes Commission. The Commission further sought a court order for the forfeiture of some of his properties in Kwara State, which were reportedly bought illegally. However, the federal high court in Lagos has, on July 16, 2020, reversed an interim forfeiture order and ordered the Federal Government to return Saraki's Ilorin, Kwara State, houses to him.
The

Offa Robbery Investigation
A robbery attack on five commercial banks in Offa community, Kwara State, on April 5, 2018, led to the killing of over 30 persons, including police officers, was wrongly linked to the ex-senate leader who was invited by the Nigeria Police for questioning. Luckily he was discharged of all claims. Three years later, in a petition forwarded to the Kwara State Judicial Panel of Enquiry on End SARS on January 6, 2021, further acquits him when two individuals alleged that officers of the disbanded Special Anti-robbery Squad (SARS) forced them to implicate Bukola Saraki in the 2018 Offa robbery through torture.
What we Know About Bukola Saraki's Wife and Children
Bukola Saraki is married to Toyin Saraki, the founder and president of Wellbeing Foundation Africa and a healthcare philanthropist. The couple has four children – Oluwaseni Saraki, Halimat Oluwatosin Sakari, and twins – Teniola Saraki and Teniayo Sakari.
Tosin is Bukola's first child. She recently got married to her longtime beau, Tunde Olukoya. Olufsen, on the other hand, is a budding rapper and law graduate (he finished from the Nigerian Law School, Lagos Campus); he is his second child. He is based in the UK, where he is giving his music career a chase.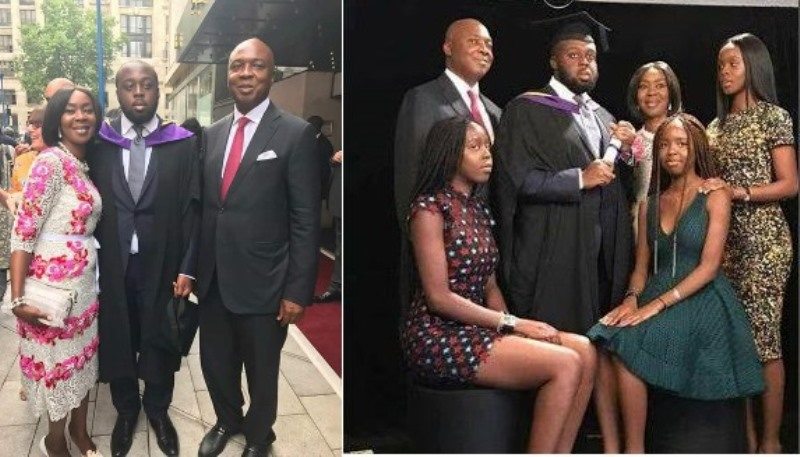 Seni is also the chairman and founder of Abubakar Bukola Saraki football club, ABS FC, and is said to have recently graduated from the London School of Economics.