Bobrisky is a Nigerian transgender woman and LGBT personality who has an estimated net worth of $1.6 million. The major sources of income of the social media influencer seem to be unknown to many as he lives a lavish lifestyle with expensive cars and houses.
Born as Okuneye Idris Olarenwaju, the popular Nigerian transgender and LGBT personality initially became famous for cross-dressing but has today transitioned to becoming a 'female'. He particularly gained fame through his presence on social media like Instagram and Snapchat. Here is a look at all the ways through which Bobrisky's net worth was accrued.
How Bobrisky's Net Worth of $1.6 Million Came About
Many people have been wondering how this Nigerian crossdresser managed to make so much wealth considering how he flaunts expensive materials, cars, houses, and other things on social media. Having turned into a millionaire overnight, Bobrisky earns from various sources, including her cosmetic brand, brand promotion/influence, social media presence, commercials, and endorsement deals among others.
Bobrisky has over time declared himself a millionaire and still hustles to become a billionaire in no distant time. Nevertheless, his journey to fame was not an easy one. Even though people call him names, he manages to brush them all behind and remain focused on his plans and goals.
Bobrisky Earns Decently as a Social Media Influencer
Although Bobrisky has other business ventures, it is widely recognized that he uses his social media platforms to make a lot of money. The internet star gained public attention as the first Nigerian who has come out boldly as transgender regardless of the fact that Nigeria as a country has no LGBT rights. Even though we know that millions of social media following do not translate to money in the bank, the advent of social media has in no doubt made so many people become rich and popular.
Very few people have mastered the art of monetizing controversy and criticisms just like Bobrisky does. The Instagram personality revealed that a decent part of his fortune comes from his stirring up internet controversy and turning it into profit. In his words: "The more insult I get from people daily, I turn it into money, in your own mind, you are laughing at me yeah? But I'm turning it to money as the smart girl I am".
With his rapidly growing visibility on Instagram, companies, as well as individuals, continually approach him, seeking their brands' exposure. On Snapchat, his videos were so heavily viewed that he was dubbed the Snapchat King. However, as Snapchat's popularity is gradually dwindling, he quickly moved over to Instagram and has established himself there. On Instagram, he commands over 4 million followers and counting.
Bobrisky leverages his social media popularity in promoting products for various brands and this has brought him a sizeable fortune.
Endorsements Deals Contribute to Bobrisky's Net Worth
Asides from making money from social media, Bobrisky has established herself as a businessman. She has multiple endorsement deals and continues to sign more with many top companies in Nigeria.
On 1st December 2020, Nigeria's top fashion brand Sophie Couture Nigeria Limited publicly unveiled Bobrisky as her brand ambassador. Interestingly, the brand clinched a really winning personality in their choice of a brand influencer. One may be wondering why and how brands find it comfortable to endorse Bobrisky as their influencer.
On answering why they decided to choose Bob as their brand ambassador, the Chief Executive Officer of Sophie Couture Nigeria Limited, Onyeuka Sophia, said: "Our business is fashion, beauty, and style and Bobrisky is simply fashion-oriented. He has a large audience profile on social media, both within and outside Nigeria. Considering the fact that technology makes people sit at their homes to shop online instead of walking into stores to shop, he would be able to reach a reasonable audience of people who need our clothing brands".
In June 2021, Bobrisky bagged a deal with skincare brand, Jenny's Glow Nigeria. She took to Instagram to announce this deal and thanked the brand for choosing her. In 2021, the crossdresser emerged as the brand ambassador of the Houseof_rev clothing brand. Furthermore, she bagged a lucrative deal with a brand besttechnology_1 and revealed that the deal is worth N10 million.
Other brands Bobrisky endorses include fashion brand Olaide Hair, cosmetics brand Shades of Fairy, Speedy Weight Loss, Miwa Signature Palace, Aisha Secret, and many others. Even only with these lucrative endorsement deals, it is no longer far-fetched to see how Bobrisky's net worth was built.
List of All Her Endorsement Deals
Sophie Couture Nigeria Limited
Jenny's Glow Nigeria
Olaide Hair
Cosmetics brand Shades of Fairy
Speedy Weight Loss
Miwa Signature Palace
Aisha Secret
She Owns a Cosmetic Business
Bobrisky revealed that her cosmetic store is worth N30 million and that she makes over N2 million from the store per week. Part of her major source of income reportedly comes from the Bobrisky Bleaching Cream, a personal online store of skin-lightening products. Her skin products include body scrubs, shower gels, knuckle creams, etc. According to the crossdresser, each of her product packages costs as much as one hundred thousand naira.
On one occasion, she self-declared her worth by boasting of having over N40 million in two of her active bank accounts. While speaking to Broadway TV, the crossdresser stated that she makes more than N600,000 to N700,000 on a weekly basis. Even though she did not state categorically from which sources she makes the amount, it is now easy to know all the possible streams through which she makes the money.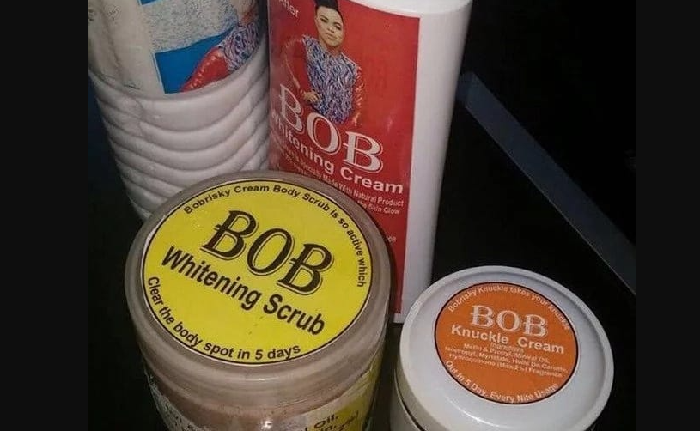 Brand Promotions
With her large social media following, Bobrisky reportedly charges hundreds of thousands of naira to promote music and brands. She is regularly approached by growing artists who are looking for exposure. She has also appeared in many paid commercials for various brands and companies and has worked with a number of businesses.
She Often Receives Cash Gifts From a Man Called Bae
In addition to all his mentioned money-making endeavors, Bobrisky has often publicly proclaimed her love for a mystery man she refers to as bae. According to Bobrisky, bae showers her with a lot of financial assistance, gifts, and comfort. Anyone can rightly guess that asides from selling her bleaching cream and other social media advertising, Bobrisky is able to live in luxury through her lover man.
However, she finally revealed the identity and name of the man on his Instagram to be Henry. According to her, the bae everyone had been investing to find out is Sir Henry Ike, a Nigerian man that is based abroad. Henry is a real estate investor, author, and music CEO who lives in New York City. The crossdresser went on to describe Henry as his world and lavishing praises on him for everything he does for her and her family.
Meanwhile, in one of her posts on Instagram, the self-acclaimed male barbie stated clearly that she is the highest-paid runs girl in Nigeria. This had also erupted rumors that she rather makes her money majorly from providing sexual-related services.
Bobrisky Has Investments in Real Estate, Oil and Gas
In November 2021, Bobrisky revealed that she has expanded her horizon by delving into oil and gas as well as real estate. She claimed that she owns a popular petrol station in Lagos state. She said that her lawyer advised her to keep the information a secret but she is sure that some of her fans have even bought fuel from the station.
Bobrisky also revealed that she made an installment payment of a hotel business property located in Lekki, Lagos that is worth more than eight hundred million nairas. To show proof of this, she shared a receipt of her first installment of N230,000 and said to finish it in no distant time.
Video Vixen
Bobrisky is paid decently to dance and appear in music videos. Not long ago, she featured in a music video of singer Harrysong and an upcoming artist. Also, she made a cameo appearance in Harysong's music video titled Report Card wherein she looked stunning performing with the music star.
The Instagram Celebrity Has Tried Her Hands on Nollywood
The internet celebrity decided to try out her talent in the Nollywood industry. She sure possesses many traits that would definitely make her acting endeavors an easy task. In 2019, she featured in a movie titled Bobrisky in Love. She did not only feature in the movie but took the lead role. However, the movie was not officially approved given that Nigerian law does not permit the promotion of homosexual acts of any kind.
Following the release of the movie, many actors frowned at her acceptance into the industry. Controversies ensued saying that featuring the crossdresser in Nollywood is a shame to the industry. This was not the first time Bobrisky featured in a Nigerian movie; she portrayed a crossdresser in the 2015 Yoruba film, Ojuloge, and in Gidi Up (2017). Since then, Bobrisky has not been seen in any other Nigerian movie, she rather concentrates on her other fields of endeavors.
Summary of Bobrisky's Sources of Income
Social media influencing
Bobrisky Bleaching Cream
Endorsement deals
Real Estate
Acting
Cash gifts from Bae
Others
Bobrisky is Involved in Philanthropic Activities
Bobrisky has a passion for giving back to society. It is worthy to note that she has achieved much popularity and a large social media following as a result of the numerous giveaways she regularly does on her Instagram page. Many people may not like Bobrisky because of her attitude but the fact remains that she is a person with a big heart.
According to the internet sensation, God has blessed her with so much money and she doesn't need any contribution or open foundation before she could support or help people. She once cleared medical bills of N300,000 for a woman who became stranded in the hospital. In February 2021, she changed the life of a needy young man named Goodluck and his grandmother who were on the verge of dying of hunger.
During the coronavirus lockdown, she was all in the news for feeding 1,000 homeless people. Through these gestures and many others, the transgender has won the hearts of many followers who continue to praise her for her great heart.
Was Bobrisky's House a Gift?
When it comes to living life and showing it off, Bobrisky will sure make the top list. The Instagram influencer prides herself as one of the landlords in Lekki, Lagos state. In 2017, Bobrisky threw a big housewarming party which had in attendance her friends and some Nigerian celebrities. The house, which she gifted herself, is a five-bedroom duplex situated in Chevron, Lekki peninsula region in Lagos State.
Bobrisky took to her social media to show off the different sections of the house, claiming that the cost for the interior decor of the house is estimated at N12 million. Rumors also have it that bae is planning to acquire a new house for her close to Linda Ikeji's home at Banana Island.
Furthermore, in September 2021, Bobrisky took to her Instagram page to announce that she got herself another new house in a bid to celebrate her 30th birthday. She disclosed that the house is worth over N450 million. According to her, the housewarming/birthday party is going to be strictly for billionaires and the asoebi (uniform) for the event is N200,000. However, it is known that the party did not later hold as rumors subsequently went round that she did not buy any house.
Actress Tonto Dike confirmed the rumor to be true during the time she was beefing her former friend. According to the actress, Bobrisky is not the real owner of the house she claimed she bought for herself.
He Lavishes on Exotic Cars
Given her multiple streams of income, Bobrisky enjoys a luxury life which includes cool rides she cruises about the town in. She is really living the life she brags about and flaunts it on social media. As of 2021, the internet sensation has four cars on record. Meanwhile, it is worthy to note that her cars are all white in color.
To mark her 29th birthday in 2020, Bobrisky gifted herself a brand new Mercedes-Benz GLE43 AMG 4MATIC Coupe. We do not know exactly how much Bobrisky coughed out to get this beauty but to own the same car today, you will be ready to part ways with a fortune not less than N55 million. The car is all-wheel-drive and has special features like a 9-speed shiftable automatic gearbox, etc.
Bobrisky randomly gifts herself cars on occasions even when there is nothing to celebrate. According to her, sometimes you just need to give yourself gifts to appreciate yourself for your strength and achievements. Below are her other cars and what they are worth
Mercedes Benz CLA250 (N20m)
2019 Range Rover (30m)
Mercedes-Benz ML500