Biola Adebayo (Real Name: Abiola Adebayo, born December 23, 1981; Age: 41 years old) is a Nigerian actress and producer best known for her role in the Yoruba movies Mafisere (2009) and Amin: Amen (2020). Biola is happily married to her husband Oluwaseyi Akinrinde.
One among many talented, skilled and hardworking ladies in the Nigerian film industry is Biola Adebayo who seems not to relent in her effort to strike a meaningful difference among her peers. Her ability to interpret roles perfectly makes her unique in the industry. As a reward, she has received notable awards and has gained a reputation as one of the biggest stars in the industry so far. To know more about Abiola Adebayo, here are the facts we have to share with you.
Summary of Biola Adebayo's Biography
Full name:  Abiola  Adebayo
Nickname: Biola
Gender: Female
Date of birth: December 23, 1981
Biola Adebayo's Age: 41 years old
Ethnicity: Yoruba
Nationality: Nigerian
Sexual Orientation: Straight
Religion: Christianity
Marital Status: Married
Biola Adebayo's Husband: Oluwaseyi Akinrinde
Biola Adebayo's Net worth: $500,000(est.)
Famous for: Nollywood Yoruba Movies
Biola Adebayo's Instagram: @biolabayo1
41-Year-Old Abiola Adebayo Hails From Lagos Nigeria
Abiola was born on December 23rd, 1981, into a polygamous family that resided in Mushin, Lagos State, Nigeria. She is one of seven children born to her father. Not much is known about her siblings but we know she has three direct siblings one of which is her younger sister Daramola Omotomike, who got married in 2021
Growing up in a large family, Biola worked hard to fend for herself. She was raised by her grandmother after her parents got divorced and as a teenager, she had to hawk foodstuffs and some other petty things just to take care of her basic needs.
Biola saw herself through school as no one was willing to foot her educational bills. After going through primary and secondary levels of education, she went further to obtain a degree in history and International relations at Lagos State University. At the Master's level, the actress studied public administration at the prestigious University of Lagos.
How Biola Adebayo Began Acting in 2002
Though it is not clear what spurred Biola to join the movie world, she officially began acting in 2002, appearing in numerous Nollywood films and playing a variety of roles. Her excellent way of interpreting every role made her a favorite of producers and directors.
Meanwhile, knowing that Biola was a naturally shy person, her family members were not supportive of her decision to become an actor. However, to deal with her shyness, she started out with more challenging roles, especially the ones that did not portray her as quiet.
Biola Eyin Oka as she is popularly called, started her acting career featuring in a number of Wale Adenuga Productions. She was featured in some of the company's TV dramas, which include Super Story and Papa Ajasco before choosing to deviate into Yoruba movies.
Biola, however, came to the limelight after featuring in a Yoruba movie titled Eyin Oka. Though not her first Yoruba movie role, the 2004 thriller written by Ademola Adelakun and directed by Ade Ajiboye, had her sharing the stage with top-not Nollywood actors like Saidi Balogun, Taiwo Hassan, Funso Adeolu and Patience Ozokwo.
Many years down the line, the actress is now quite popular in Yoruba movies. However, she has also appeared in a number of English-speaking movies. In fact, she was known to have featured in a blockbuster movie, Fist Hit, which brought her further to the limelight and broke through the competitive Nollywood industry.
Abiola Adebayo's Filmography includes:
Ran Min Lowo (Help Me)
Family Blackmail
Compromise
Sino
Amin: Amina
Mafisere
Pami Nku
Ijakumo
Ofini Kokanla
Ika Kefa
Emikeki
Omo Obore
Abinibi
Adesoro
Olaide Irawo
Alakija
Aside from appearing in movies, Abiola Adebayo has also shown her expertise in movie-making. She produced her first movie in 2005 and so far has produced about a dozen more. The first five films she produced include March 15th produced in 2008, Jokotola (2016), Two weeks (2016), Sixteen (2017) and One Hour (2018).
For her efforts both as an actor and as a movie producer, Biola has received some recommendations and awards. So far, she has won three awards:
Best supporting actress BON award, 2020.
The face of Nollywood at City people award in2021
Best supporting actress, DIYMA award both in 2021
Who is Biola Adebayo's Husband?
Biola Adebayo's current husband is Oluwaseyi Akinrinde. Although the actress has not revealed how they met and when they started dating, it is common knowledge that they dated for three years before getting married on April 27, 2021.
Further details about Biola Adebayo's husband have not been revealed as the actress has chosen to maintain a lowkey profile about her marriage. However, they appear to be living a happy and successful life as proven by several romantic pictures Biola posted on her Instagram while celebrating their one-year anniversary in 2022.
So far, there are no traces of marital scandal, separation, or divorce claims reported and this is possibly so because of the actress, who, despite being famous, has been able to stay off scandals. Their marriage has produced no child so far due to health issues.
What to Know About Biola Adebayo First Marriage
Biola Adebayo was first married to a UK-based Yoruba man called Ola. They had their private wedding ceremony in London in 2013 and in an interview she granted shortly after their court marriage, the actress described her man as a man who cares for and understands her. He's an IT person.
Following her marriage to Ola, Biola relocated to the UK and her face was off the cameras in Nigeria. Unfortunately, their marriage fell apart before their second anniversary following health issues that surrounds their genotype. Biola revealed that they decided not to have children that would end up having Sickle Cell disorder.
Does Biola Adebayo Have a Child?
Abiola's two marriages have produced no child so far. While she was with her first husband, she revealed their decision not to have any child that would be affected by their genotype. It is, however, not clear if her new marriage to Oluseyi would welcome any children.
Is Bola Adebayo Oga Bello's Daughter?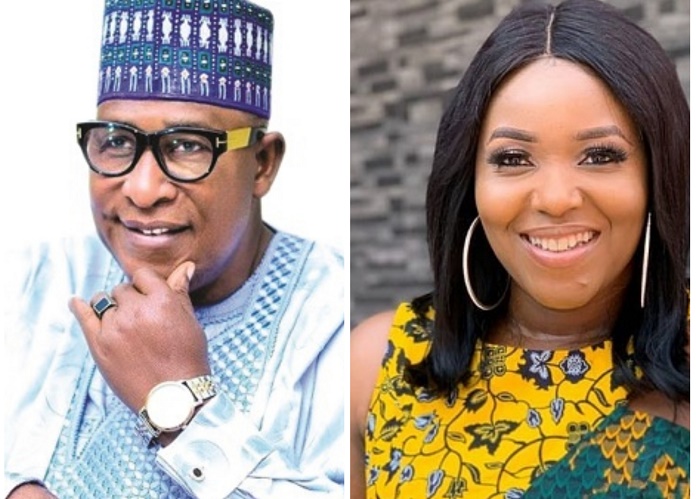 So many fans and foes alike often mistake her to be the daughter of Nollywood veteran Adebayo Salami popularly known by his stage name Oga Bello. While there are no direct reasons behind the misconception, the actress believed that it is linked to their surname "Adebayo".
The actor, who hails from Kwara State, is, however, not related to the Yoruba famous actor in any way. He married 70 years ago and has three children: Femi Adebayo, Kemi Adebayo, and Tope Adebayo, with many grandchildren.