Hope is one of the major things that keep One going in life, hope that tomorrow will be better, hope that you will still be alive to see the next day. Though we cannot see it, but the feeling of hope is so powerful that it has an influence on how you respond to life. Imagine someone that has been told that he will surely die tomorrow  and that there is no hope of life, the person has lost all hope and you will certainly see it all over him. In a world filled with calamities, God is our one sure source of hope, hope of a better tomorrow, hope of eternal life, hope of recovering from that sickness etc. God is our source of hope, you can find many verses in the bible that teaches us about this hope. Here are some bible verses about hope.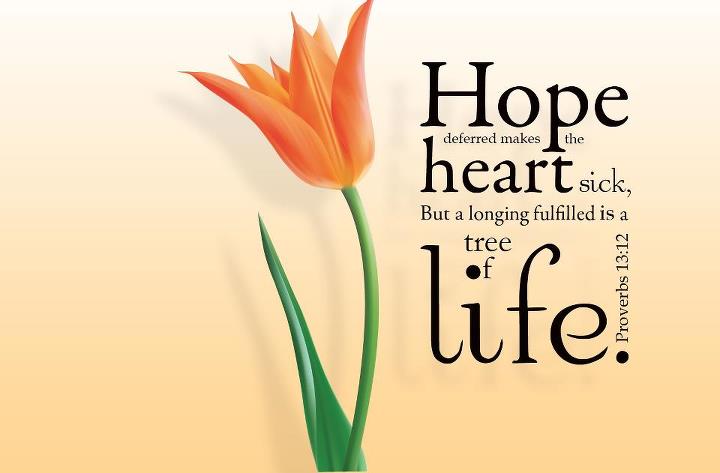 1. Romans 5:5: And hope makes not ashamed; because the love of God is shed abroad in our hearts by the Holy Ghost which is given to us.
2. Romans 8:28: And we know that all things work together for good to them that love God, to them who are the called according to his purpose.
3. Romans 12:12: Rejoicing in hope; patient in tribulation; continuing instant in prayer;
4. Galatians 5:5: For we through the Spirit wait for the hope of righteousness by faith.
5. Psalms 71:14 – But I will hope continually, and will yet praise thee more and more.
6. Proverbs 23:18 – For surely there is an end; and thine expectation shall not be cut off.
7. Hebrews 11:1 – Now faith is the substance of things hoped for, the evidence of things not seen.
8. Romans 8:25 – But if we hope for that we see not, [then] do we with patience wait for [it].
9. Psalms 71:5 – For thou [art] my hope, O Lord GOD: [thou art] my trust from my youth.
10. 1 Timothy 6:17 Charge them that are rich in this world, that they be not high minded, nor trust in uncertain riches, but in the living God, who gives us richly all things to enjoy;
11. Hebrews 6:11 And we desire that every one of you do show the same diligence to the full assurance of hope to the end:
12. Hebrews 6:19 Which hope we have as an anchor of the soul, both sure and steadfast, and which enters into that within the veil;
13. 1 Peter 1:13 Why gird up the loins of your mind, be sober, and hope to the end for the grace that is to be brought to you at the revelation of Jesus Christ;
14. Proverbs 10:28 – The hope of the righteous [shall be] gladness: but the expectation of the wicked shall perish.
15. Mark 9:23 – Jesus said unto him, If thou canst believe, all things [are] possible to him that believeth.
16. Proverbs 13:12 – Hope deferred maketh the heart sick: but [when] the desire cometh, [it is] a tree of life.
17. Isaiah 41:10 – Fear thou not; for I [am] with thee: be not dismayed; for I [am] thy God: I will strengthen thee; yea, I will help thee; yea, I will uphold thee with the right hand of my righteousness.
18. Jeremiah 17:7 – Blessed [is] the man that trusteth in the LORD, and whose hope the LORD is.
19. Job 11:18 And you shall be secure, because there is hope; yes, you shall dig about you, and you shall take your rest in safety.
20. Psalms 31:24 Be of good courage, and he shall strengthen your heart, all you that hope in the LORD.
21. Psalms 33:20 Our soul waits for the LORD: he is our help and our shield.
22. Psalms 39:7 And now, Lord, what wait I for? my hope is in you.
23. Ephesians 3:20 Now to him that is able to do exceeding abundantly above all that we ask or think, according to the power that works in us,
24. Colossians 1:27 To whom God would make known what is the riches of the glory of this mystery among the Gentiles; which is Christ in you, the hope of glory:
25. 1 Thessalonians 1:3 Remembering without ceasing your work of faith, and labor of love, and patience of hope in our Lord Jesus Christ, in the sight of God and our Father