Babcock University is one of Nigeria's private and Christain tertiary institution established by the Seventh-day Adventist Church.
The school was named after the pioneer of the church (1914) in Nigeria, David C. Babcock, an American missionary. Located at Ilishan Remo, in between Ibadan and Lagos, Babcock University is regarded as the second largest private university that has trained and graduated thousands of students across the country.
With approved infrastructures in place, Babcock offers admissions for undergraduate, Postgraduate, and Part-time studies, to all those who wish to study a course/programme in any of nine Schools and Colleges with the University.
We remain your straight guide to explore Babcock University and here's all you need to know.
Schools, Departments and Courses/Degree Programme 
Before we get straight to the various courses, below are the list of the nine schools and college as mentioned earlier:
1. School of Education and Humanity 
The School of Education and Humanity comprises of five departments and Courses.
Department of History and International Studies
History & International Studies
Department of Languages and Literature Studies
Department of Religious Studies
Religious Studies [1]
Christian Religious Studies [2]
Department of Education
Business Education
Economics Education
Educational Planning & Administration
English Education
Guidance and Counselling
Department of Music and Creative Arts
2. School of Management Science
Department of Accounting
Department of Banking and Financing
Department of Business Administration & Marketing
3. School of Social Sciences
Department of Economics
Department of Mass Communication
Department of Political Science and Public Administration
 Political Science
Public Administration
Political Science/International Law and Diplomacy
Department of Social Work and Human Services
4. School of Science and Technology 
Departments of Agriculture and Industrial Technology
Agronomy & Landscape Design
Agricultural Economics & Extension
 Animal Science
Department of Basic Sciences
Mathematics
Chemistry
Biology
Physics with Electronics
Department of Microbiology
5. College Of Medicine
Ben Carson School of Medicine
Department of Anatomy
Department of Physiology
Department of Biochemistry
Department of Nutrition & Dietetics
6. School of Public and Allied Health 
Department of Public Health
Department of Medical Laboratory Science
Medical Laboratory Science
7. School of Law & Security Studies 
Department of Law
8. School of Computing and Engineering Sciences
Department of Computer Science
Computer Science (Technology)
Computer Science (Information Systems)
9. School of Nursing Sciences
Department of Nursing Science
See Also: National Open University of Nigeria: Fees, Courses, Admission, and Students Portal Info
Admission and Student Portal Information
Admission into the university is available for qualified candidates to study for a 4, 5, or 6 year Degree Courses.
However, the requirements for gaining admission into the school includes a minimum of 5 credits at O'level WAEC/SSCE/NECO/GCE; JAMB cut-off mark of 200 and above; JAMB admission letter for a student who is transferred from another institution.
How to Apply For Academic Year at Babcock University
1. For Undergraduate/New student admission, you can apply online.
2. Create Login profile, by filling out your name, Email address, Phone number and Application, to obtain a Password.
3. Log in with your email address as Username and the Password you received on your email.
4. Click on the Left Panel, to fill the form provided with the required information and save the form.
5. Scan and upload a recent Passport Photograph according to the size specified, with JPG or PNG format.
6. Check for the venue and date by clicking on Select Date of Screening and Centre.
7. As for payment of fees, you are to visit any of the banks below with the Application ID and inform the customer care that you've come to pay for Babcock Application Fees of ₦2,000:
8. After you've completed your payment, revisit the login page of the University website.
9. Log in and click Submit. Comply with all the instructions given on the left menu and print your completed Application Form.
Babcock University School Fees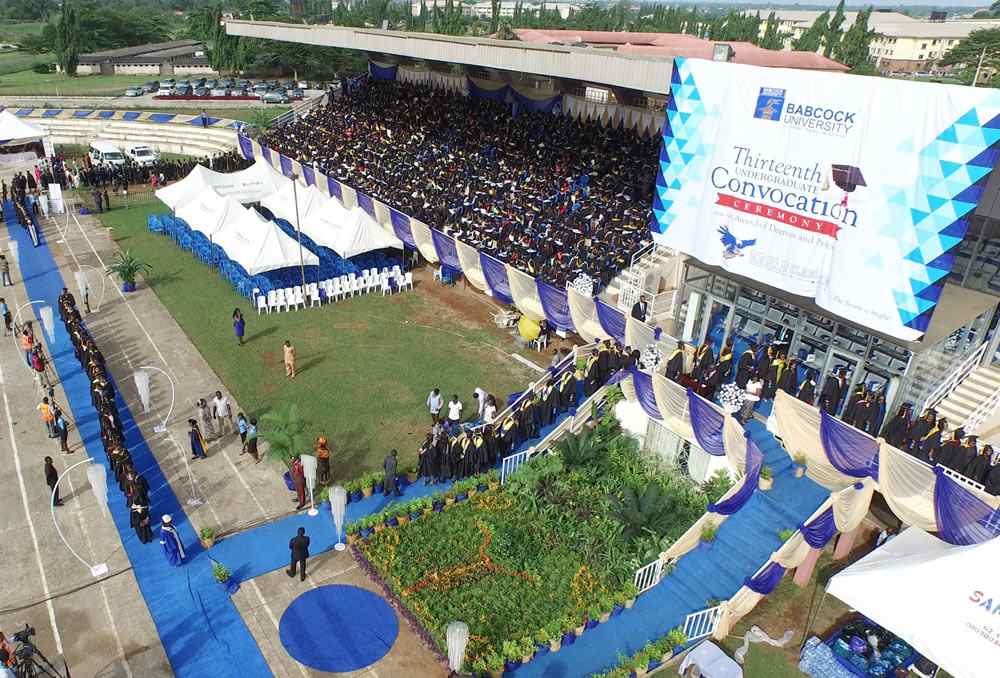 Babcock University tuition fees are paid according to programme/course of study. Students pay either per semester or for a full session in amounts ranging from over N200,000 to N500,000.
Other fees include Feeding (over N130,000 and N200,000 (optional); Accommodation ranging from classic to regular (over N199,000 to N212,000); Clinical/Prog Enhancement fees; Laboratory fees…,etc.
Babcock University is rated as the second best – after Covenant University, for its innovation and excellent management.