Babcock University is one of Nigeria's private and Christain tertiary institutions established by the Seventh-day Adventist Church. The school was named after the pioneer of the church (1914) in Nigeria, David C. Babcock, an American missionary. Located at Ilishan Remo, between Ibadan and Lagos, Babcock University is regarded as the second-largest private university that has trained and graduated thousands of students across the country.
With approved infrastructures in place, Babcock offers admissions for undergraduate, Postgraduate, and Part-time studies, to all those who wish to study a course/program in any of its Schools and Colleges.
Babcock University Approved Courses 
Babcock University is one of the many private universities in Nigeria that offers diverse undergraduate and post-graduate programs. The University commenced with three faculties, which later became Schools. Today, the three —Faculty of Education and Humanities, Faculty of Management and Social Sciences, and Faculty of Science and Technology, have eleven departments. The School of Law and Security Studies became the fourth School.
List of Courses Offered at Babcock University, Ilishan-Remo
Administration
This is the list of Courses offered in Babcock University Faculty of Administration:
Information Resource Management
Faculty of Agriculture
Agriculture
Nutrition And Dietetics
Arts And Humanities
Christian Religious Knowledge/Studies
English And Literary Studies
English Language
English Studies
French
French And International Relations
History And International Studies
Music
Religious Studies
Education
Business Education
Education & Economics
Education And English Language
Educational Administration & Planning
Guidance & Counselling
Law/Legal Studies
Medicine, Pharmacy, and Health Sciences
Anatomy
Medical Laboratory Science
Medicine And Surgery
Nursing/Nursing Science
Physiology
Public Health
Technology
Sciences
Biochemistry
Biology
Chemistry
Computer Science
Computer Science And Information Technology
Mathematics
Microbiology
Physics Electronics
Social Sciences
Accounting
Banking And Finance
Business Administration
Economics
Marketing
Mass Communication
Political Science
Political Science / International Law And Diplomacy
Public Administration
Social Work
How to Apply For Admission at Babcock University
Babcock University offers Undergraduates Admission, Postgraduates Admission, and International Students Admission. To gain admission into the university, you must meet all the admission requirements for your desired course. This means that candidates that do not meet the requirements for admission into Babcock University may not be offered admission into the institution.
General Requirements
Candidates applying for the first-degree program must possess a minimum qualification of 5 credits at the SSCE/GCE O'Level/NECO/NABTEB Examinations or their equivalent at not more than 2 sittings.
The subjects passed must include English Language and Mathematics; one sitting only for Medicine & Surgery.
Candidates applying for Transfer Admissions must present a JAMB Admission letter, Transcript, and Attestation Letter from the previous University.
All prospective candidates applying for any course in Babcock University must sit for the UTME examination of the Joint Admissions and Matriculation Board (JAMB) and attain the prescribed cut-off mark.
Candidates who meet the stipulated cut-off mark must also obtain Babcock University Admission Form for screening and verification exercises,
Note: Babcock University does not offer admission for any candidate below 16 years of age.
How to Apply for Babcock University Screening / Verification Exercises
After completing and submitting the UTME/JAMB form, candidates are required to follow these steps to apply for the screening/ verification exercise
 Visit http://applications2.babcock.edu.ng to start the application process.
Click on the "Click to start application" button to create login details with a phone number and valid email address to obtain your Password.
Log in with your username as your email address and password as sent to the email address supplied earlier. Click on the "Click to start application" button and then select Login here.
To fill the form, click on the 'Fill form' button and ensure you fill in all information requested.
Click the button to save the form if you have filled in every information
Click to upload your recent passport photograph according to the specified size and JPG or PNG format.
Select Screening Centre and Date of Screening.
Click online to pay or proceed to any listed banks (Wema, First Bank, GTB, UBA) with your application ID to pay your Babcock Application Fees of ₦2,000.00. The service charge is ₦350.00. Total ₦2,350.00.
After payment is made, log in to the application system and click the Submit button.
Follow the instructions on the left menu, and print your completed Application Form.
How to Apply for Babcock University Direct Entry
Direct Entry is mainly for those that already possess a diploma certificate and wishes to go for a degree program in the university. Normally, those who gained admission into the university via direct entry will start from part 2 or 200 level in their university of choice, provided they were offered admission.
To apply for BU direct entry candidate must:
Visit the Babcock University at https://www.babcock.edu.ng/admission and select the ad form link
Select 'Direct Entry' as your admission form type
 Enter your Email address, phone number, and click on the 'Make Payment Now' button
Return to the portal after making payment and click on 'Register Link' to obtain your log in details
Print out your screening exercise schedule slip
General Application Requirements for International Students
An international student is a foreign national seeking to pursue an undergraduate or postgraduate program at Babcock University (BU). At BU, international students can choose to study as :
A regular student: An international student seeking a full-time degree course at Babcock University
Exchange student: An international student who studies at BU for a period of time (usually one year) as part of a reciprocal program between two institutions or countries by prior arrangement by the institutions/countries.
Visiting student: A non-degree-seeking international student at Babcock University from institutions that do not have partnership agreements with Babcock University.
Research scholars: An individual affiliated with a recognized institution visiting primarily to conduct research, observe or consult in connection with a research project.
An international student applying to Babcock University (BU) must:
Have obtained the equivalent of the Senior Secondary School Certificate (SSCE). Such a student is required to list only the institutions and dates attended on the application forms.
The candidate must send their original transcripts, records, and official copies of all credits, degrees, diplomas, and credentials with validation by faculty or national officials.
The documents must be in the original language, accompanied by a translation (not an interpretation) in English, done at their own or Nigerian embassy.
The Babcock University Registrar will evaluate academic documents received from international students.
Proficiency in English, both written and oral, must be proven before regular admission.
International students must have a students' residence permit or visa to qualify for study at Babcock University.
The international student is advised to remain in their homeland until they have received official letters of admission from BU.
The letter will be issued only if

the student's academic credentials are satisfactory,
A surety advance deposit is made, and
The student can demonstrate the ability to finance their education at Babcock University.
9. Upon arrival on campus, the international students must report to the International Student Care Office at the Student Support Centre with their documents.
Babcock University Distance Learning Admission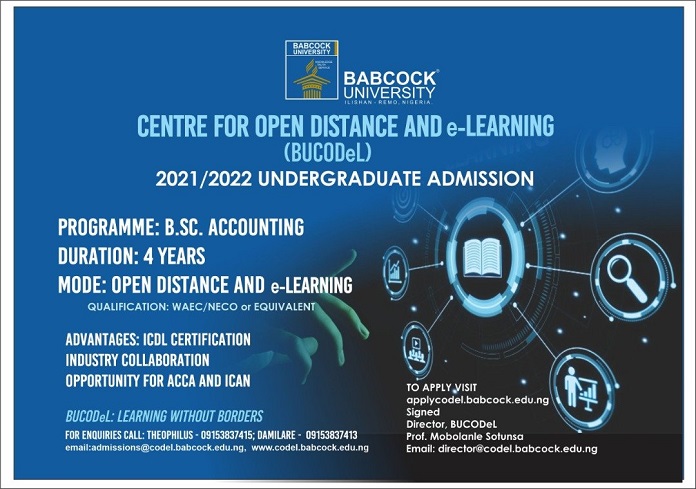 Babcock University is the second of only two private universities in Nigeria licensed to run open distance and e-learning programs in the country. Also known as BUCoDEL, the Bab-cock University Centre for Open, Distance & E-Learning begins its program in 2021 with BSc Accounting program via the ICT-Enabled Supported Blended Learning model of Open, Distance & E-Learning (ODL). New programs will be added on an individual program basis, subject to NUC's pre-assessment and approval.
Open Distance and E-learning Admission Requirements
Must have five (5) credits at not more than two sittings in five subjects, including English Language, Mathematics, Economics, and any other two subjects at SSCE, GCE, and other recognized O'Level examinations of recognized bodies.
A pass in Economics may be considered only if the candidate has a credit pass, either in accounting or Commerce.
For Direct Entry into the 200L, in addition to the O'Level requirements above, candidates must possess passes in 3 WAEC/GCE/Cambridge Advanced Level (A'Level) Certificate with a Minimum of C, which must include Accounting, Mathematics, and Economics.
Additionally, ATS 3/ATSWA 3/Fundamental Level of Professional Examination/ACCA passes in F1, F2, F3, F4/OND-Minimum of Upper Credit/HND-Minimum of Lower Credit may be admitted into 200L of our accounting program.
How to Apply for Babcock University Open Distance and E-Learning Admission
Click here to access BU's Centre for Open Distance and e-Learning application portal.
Click on the application form publication therein.
Follow the instructions provided on the portal to successfully register and apply for the Babcock University Distance Learning admission into accounting.
Print out your Registration slip and wait for admission.
Babcock University Cut-off Mark
Before the Babcock University management fixes their minimum cut-off mark, it has to be in line with JAMB's approved cut-off mark for the academic session as JAMB issues fixed admission cut-off marks every academic session that no institution must go below.
For the 2021/2022 academic session, JAMB fixed its general cut-off mark for all universities (federal, state, and private universities in Nigeria) as 120. Universities are, therefore, free to fix their minimum admission cut-off mark at 120 or above. Babcock University has its 2021/2022 department cutoff mark fixed at 180 and above.
Note: Candidates with higher JAMB scores stand a better chance of gaining admission into Babcock University. After calculating their aggregate score or weighted average, their JAMB score will give them an edge over those with lower scores. Therefore, you are advised to try to score high in your JAMB and Post UTME to give you a better chance of studying your preferred course.
Babcock University School Fees Structure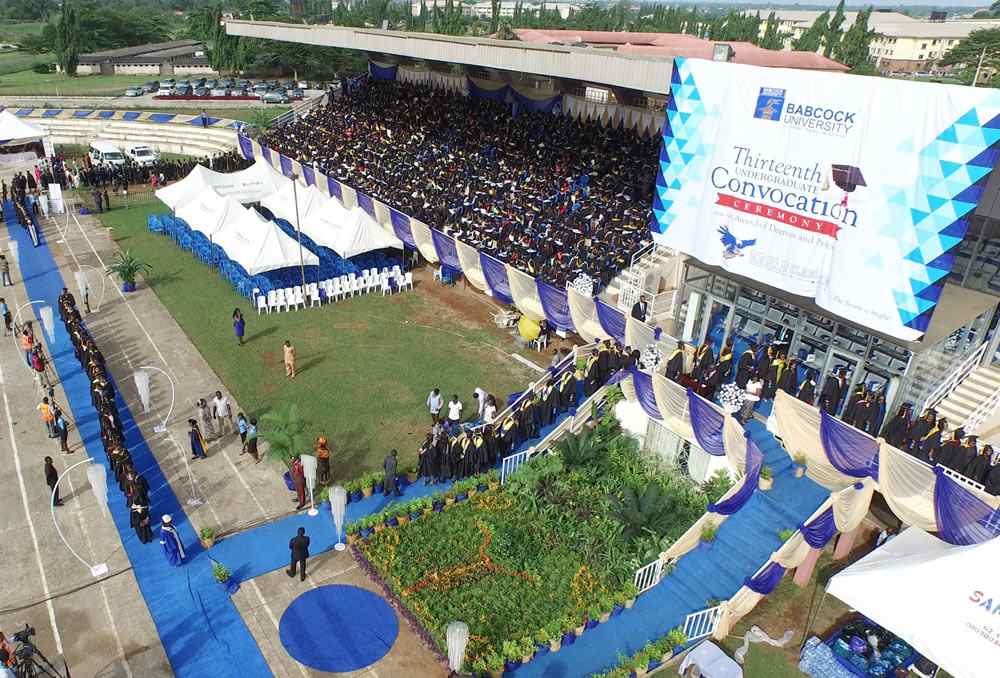 Babcock University tuition fees are paid according to the program/course of study. Students pay either per semester or for a full session in amounts ranging from over N200,000 to N500,000. The fees may, however, increase with the addition of the optional feeding and accommodation fee.
The feeding fee ranges from N40,000 to N55,000 depending on your menu option, while accommodation ranging from regular to classic would cost fromN49,000 to N106,000. Other fees payable include Clinical/Prog Enhancement fees, Laboratory fees fraud audit course fee…, etc. Babcock University Tuition Fee for Freshers and Continuing Students 2021/2022 Academic Session costs around 1,977,200 per academic session.
So far, fees for some departmental courses at Babcock University are higher. Programs like Accounting, Computer Science, Computer Technology, and Medical Laboratory Science are among the programs with the highest fee of N310,800 per semester. Meanwhile, educational programs, Biology, and Maths/physics/electronics have lesser fee payments, with educational programs being the least with about N122,349  per academic semester.
How to Pay Babcock University School Fees 
Candidates of BU, both new and returning students, adopt the same pattern for fees payment. For fresh students, payment of N150,000 non-refundable acceptance fee at any of the designated banks.
Note: The acceptance fee, which is part of the school fees, is payable using your APPLICATION ID as a reference on the E-tranzact payment platform
Applicants should also approach any commercial bank on the E-tranzact payment platform with their 6-digits Application ID.
The University fee can as well be paid using an ATM card(Visa
After payment is made, return to the University's portal and login with your Application PageUsername and Password
Click to select 'Make Payment' and follow the instruction to complete your payment