Dr. Peter Ayo Fayose is a Nigerian politician who is the second Executive and first Peoples Democratic Party (PDP) Governor in Ekiti State.
He is widely known for his blunt statements and criticisms against the All Progressive Congress administration led by Mr. Muhammadu Buhari.
Biography
Peter Ayodele Fayose was born in Ibadan, Oyo State (of the Yoruba tribe of Nigeria) on November 15, 1960, into the family of Pastor Oluwafemi Oluwayose and Prophetess Victoria Olufunke Oluwayose. He is a native of Afao Ekiti in Irepodun/Ifelodun Local Government Area of Ekiti State.
Education
Fayose started his early education at Saint Leo's Catholic Primary School, Ibadan, in 1966 and obtained his Primary School Leaving Certificate in 1972. After his primary education, he moved on to Olivet Baptist High School, Oyo, in 1973 where he obtained his West African School Certificate, WASC, in the year 1979.
Mr. Fayose gained admission to run a one-year pre-National Diploma (Pre-ND) programme at the Federal Polytechnic, Ilaro, leading ultimately to a two-year Ordinary National Diploma (OND) programme in Science Laboratory Technology, which he successfully completed in 1984. In 1985, Ayo Fayose was admitted into Ibadan Polytechnic for a Higher National Diploma (HND) programme in Biological Sciences/Applied Medical/Biology and graduated in 1987.
Governor Ayodele Fayose did his one-year mandatory industrial attachment at the Cocoa Research Institute of Nigeria (CRIN), Ibadan, where he proved his worth as a budding scientist by transforming various herbs into a chemical substance which were later used to produce different types of body and hair creams. The experiments and the products were consequently christened "Spotless."
Political Career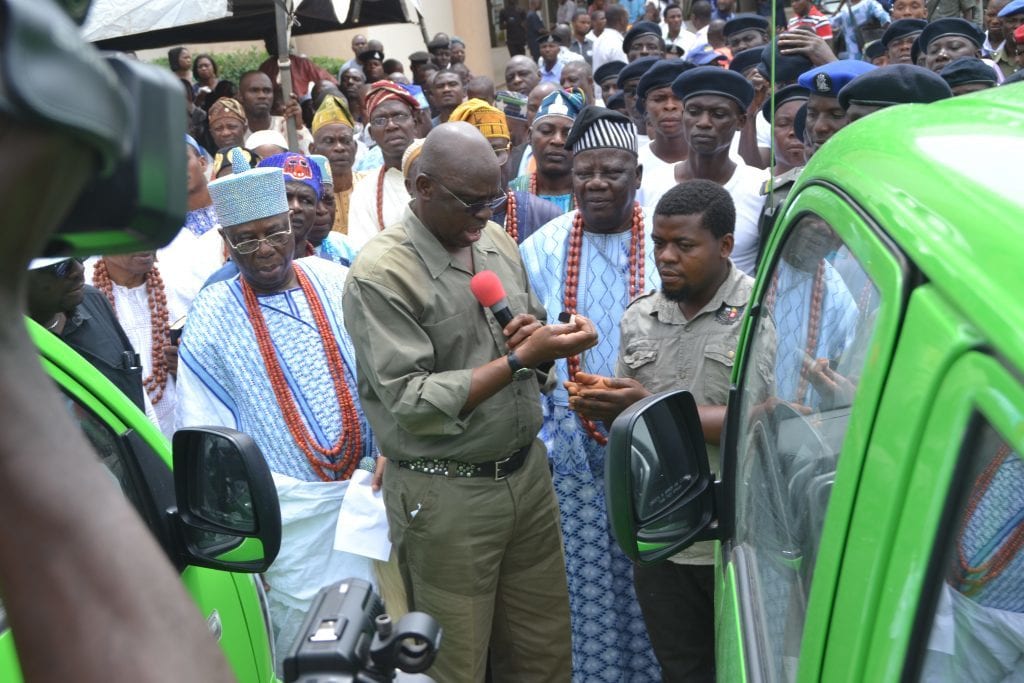 After his formal education, Fayose established a company, 'Spotless Investment Limited', where he worked as the Chief Executive Officer.
Peter Ayodele Fayose's political activities came to limelight when he later joined politics and became the second executive governor of Ekiti on 29 May 2003 after defeating the then incumbent Governor Niyi Adebayo in the Ekiti State governorship elections.
During the initial period of Governor Ayo Fayose's leadership in Ekiti state, he enjoyed massive goodwill from the poor and downtrodden that he readily identified with. He was a very generous man and grabbed any opportunity to relate to the common folk. It is said that the people sort-of saw themselves in him. In fact, Governor Ayo Fayose saw himself as a beacon of hope for every Nigerian who had been brought up without (a) silver spoon. He openly talked about his relatively poor background as the source of bonding experience with the downtrodden.
Unfortunately, this goodwill started disappearing when according to Newspaper reports during the latter part of his tenure, living in Ekiti state became a nightmare – tension, politically motivated killings, high profile death – threats and the likes skyrocketed without a warning. As a result, Chief Olusegun Obasanjo, the then president, declared that there was a breakdown of law and order in the state and quickly declared a state of emergency, promptly appointing Brig-Gen. Adetunji Olurin (rtd) as the sole administrator of the state on October 19, 2006.
Fayose fled the country as he was impeached. With his removal from office, he had lost constitutional immunity ─ paving the way to be arrested on charges of corruption and murder. His exit from Nigeria was said to have been facilitated by two top police chiefs, and he was in exile until Obasanjo left power in 2007.
Mr. Fayose returned to the country in December 2007 and was well received in Ado-Ekiti, the state capital, a clear indication that he has not lost his support base.
His attempt to run for Senate in 2011 on the ticket of the Labour Party failed, and he returned to the PDP. Although Fayose had been expelled, he got his readmission backdated by two years, making it possible for him to seek an elective post immediately.
Consequently, he decided to continue his political career from where he left off and fortunately, during the June 2014 Governorship election in Ekiti State, Peter Ayodele Fayose was again the PDP flag bearer. He won the election and was declared by the Independent National Electoral Commission as the new Governor, Ekiti State; he was sworn-in as the governor of Ekiti State for the second time on October 16, 2014.
Since the President Muhammadu Buhari-led government under the All Progressives Congress, came to power in 2015, governor Ayodele Fayose has been outspoken about many issues in the nation. In fact, he has been more like a thorn in the flesh of Buhari and the APC, considering the fearless manner in which he condemns most activities of Federal Government which he believes are not in the interest of the people.
As expected, Fayose's untamed comments have registered him in the black book of Buhari's government with the Economic and Financial Crimes Commission, EFCC, bringing different allegations of fraud against him.
See Also: Top 5 Notable Nigerian Women Whose Corruption Scandals Went Viral
Controversies
Mr. Ayo Fayose was said to be have been involved in lots of extra-marital relationships. He was also said to have been involved in a murder case in 2006 with proofs. Fayose was also accused of abusing kings and elders during his first tenure.
In 2014, the Economic and Financial Crimes Commission, EFCC froze his four Zenith Bank accounts which he allegedly used to launder money for his Ekiti governorship election in a lawsuit no. FHC/CS?871/2016 titled, "Federal Republic of Nigeria Vs Zenith bank PLC account numbers 1003126654, 9013074033, 1010170969 and 1013835889."
The year Fayose was elected into office as governor, Captain Sagir Koli of the Nigerian Army 32nd Artillery Brigade secretly recorded a 37mins vote-rigging plan that brought him to power in 2014.
Personal Life 
Fayose married Mrs. Feyisetan Fayose in 1988  and their union is blessed with five sons – Tomiwa Fayose, Joju Fayose, Nigba Fayose, Rogba Fayose, Boluwatife Fayose. 
In 2017, his white Mercedes Benz G-Wagon suddenly caught fire in Lagos, while in motion. Fortunately, he was not in the vehicle worth N44 million at the time.
Facts about Ayo Fayose 
Born: November 15, 1960
Nationality: Nigeria
Political Party: Peoples Democratic Party
Fayose has been in office as the governor of Ekiti State from 2014 – 2018.
He was impeached from his governorship role on October 16, 2006, but is currently the only Nigerian to defeat an incumbent two times.
Fayose has publicly declared his intentions to run for president in the 2019 general election.
He is definitely not a huge fan of All Progressive Congress, APC and the administration of Mr. Muhammadu Buhari and in a latest rant, Kayode rejected a peace rally by Orji Kalu who to campaign for Buhari's 2019 presidential interest.