Atiku Abubakar net worth is estimated at $1.4 billion as of 2023. He is a Nigerian politician, businessman, and one-time vice president whose much-acquired fortune has earned him a spot among the richest politicians in Nigeria.
The politician is also a businessman and philanthropist. He notably served as the Vice President of Nigeria from 1999 to 2007 under President Olusegun Obasanjo. Atiku's career as a politician has seen him attain great heights with a lot of enviable achievements.
Most significantly, Atiku Abubakar is a serial entrepreneur who knows how to make money as he has his hands in so many lucrative businesses. When talking about people with an entrepreneurial spirit, running multi-million dollar businesses, Atiku comes to mind. Here, we bring you all the details on how this long-established Nigerian politician amassed so much wealth for himself.
Atiku Abubakar's Net Worth Runs in Excess of $1 Billion
Before getting fully into politics, Atiku had already established himself as a businessman. He was a top civil servant who made a fortune in the shipping and oil sector. While there is no doubt that he made a good sum of money from politics, a good part of his fortune stems from his diverse relentless business endeavors. In fact, it is thanks to his chains of businesses and investments that Atiku Abubakar's net worth of $1.4 billion was made.
One significant thing about Atiku Abubakar is that he is a persistent hard worker. Despite all the life struggles he faced while growing up as a result of the early death of his father, he managed to see himself through school and make something out of his life.
While he was still in school, he took a position of a tax official at the Regional Ministry of Finance. Then, after he graduated from ABU, he got employment to work with the Nigeria Customs Service. Atiku Abubakar worked as a Customs officer for twenty years and rose to the rank of Deputy which is the second-highest position in the service. He voluntarily retired from active service in April 1989 and ventured into a full-time business and subsequently politics.
Atiku Abubakar's Education
Atiku had his first academic learning at Jada Primary School between 1954 and 1960. For his secondary education, he attended Adamawa Provisional School, Yola between 1961 and 165. After he made grade three in the West African Senior School Certificate Examination he gained admission at the Nigeria Police College in Kaduna where he studied for a while before transferring to the School of Hygiene in Kano where he graduated with a diploma in 1967.
In 1967 Atiku Abubakar enrolled for a Law Diploma at the Ahmadu Bello University Institute of Administration, on a scholarship from the regional government. After graduation in 1969, during the Nigerian Civil War, he was employed by the Nigeria Customs Service. In 2021, Abubakar successfully completed and passed his Master's degree in International Relations at Anglia Ruskin University.
Level of Education
Institution
Key Facts
Elementary Education
Jada Primary School, Adamawa
Secondary Education
Adamawa Provincial Secondary School, Yola
Advanced Level Education
Nigerian Police College, Kaduna
Higher Education
Ahmadu Bello University, Zaria
Studied Law
Further Studies
–
Attended various short courses, including at Harvard Business School and Georgetown University.

Master's degree in International Relations at Anglia Ruskin University
Business Establishments that Contributed to Atiku Abubakar's Net Worth
Atiku Abubakar's business endeavors did not begin today. With interests in agriculture, oil services, food and beverages, print media, communications, pharmaceuticals, insurance, and education, the former Nigerian vice president has built successful businesses in Nigeria which in turn saw his mouthwatering net worth achievable.
All his business endeavors cannot possibly be laid hands in, nevertheless, we discuss below all the prominent ones that would go without mentioning.
Real Estate
Atiku started investing in real estate while he was still a customs officer. In 1974, he applied for and received a loan of N31,000 which he used in building his first house in Yola. He subsequently put up the house for rent used the proceeds to purchase another plot and built a second house. He continued purchasing more plots, thereby building for himself a commendable portfolio of property in the country, especially in his hometown of Yola.
Agriculture
Atiku Abubakar has been boosting the economy of the country through the provision of employment opportunities to its citizens. He went into Agriculture in 1981 when he acquired 2,500 hectares of land in Yola for maize and cotton farming. Unfortunately, the business didn't thrive as expected so he had to close it down after some years of operation.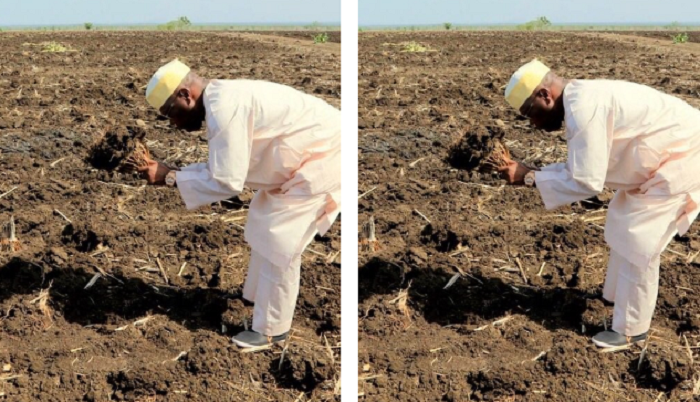 Atiku subsequently went into trading; importation, and trading of rice, sugar, and flour. Many years later after an intensive survey of the agricultural business, Abubakar reopened the farm and expanded it and it began to blossom. Today, Atiku Abubakar's farm is one of the biggest farms in Nigeria, located in Yola, Adamawa State. He plants almost all kinds of crops and rears different animals.
NICOTES (now Known as INTELS)
Atiku had a big business break while he was a customs officer. An Italian business tycoon named Gabrielle Volpi based in Nigeria negotiated with him to start up a transport and logistics company that would be operating within the Ports. Now, it will suffice to say that this particular company contributed hugely to Atiku Abubakar's net worth and made a lot of wealth for him.
Alongside the Italian businessman, Atiku founded the oil servicing business known as Nigeria Container Services (NICOTES) with extensions in Nigeria and abroad. Today, NICOTES is rebranded and widely known as INTELS. According to Abubakar, he believes himself to be the biggest private sector investor and employer in Nigeria. His reputation in business till today is traced to the rise of the oil logistics firm.
INTELS has grown into a multi-billion naira, multi-national operation, employing over 10,000 people. In all, Atiku Abubakar employs about 50,000 people across his companies in Nigeria. The company is involved in providing integrated logistics services to Nigerian oil and gas industries.
More significantly, it offers diverse agency services such as port management and support services in shores, cargo services. It manages clients' operations like pipe racks, warehousing, generators, stacking areas, jetties, compressors, water tanks, among other facilities and services.
American University of Nigeria (AUN)
Alhaji Atiku Abubakar founded AUN in his home town Yola in 2003. It was founded a year after he approached American University in Washington DC for ideas and assistance on how to establish an American-style university in Nigeria. With the sole aim of providing education that is modeled by US practices, AUN comprises three schools; Business and Entrepreneurship, Arts and Science, and ICT and Computing. In 2012, the NUC approved the institution for a Masters program and Ph.D
Investments and Other Businesses that Contribute to Atiku Abubakar's Net Worth
Atiku Abubakar has an umbrella name for all his companies, Priam Group. Under the group is Gotel Communications, a multimedia firm located in Yola that has grown to have one of the most popular TV stations in the northern part of Nigeria. He also has a private primary and secondary school established in 2002 previously known as ABTI Academy. It is renamed and now known as AUN Acadamy located in the city of Yola, Adamawa State.
Atiku also owns a fast-food chain called Chicken Cottage which has its branches in Abuja and Yola. Another thriving company that definitely adds to Atiku Abubakar's wealth is Adama Beverages. Founded in 2007, the beverage company processes natural juice, fruit drinks, and table water for consumers in Nigeria and its neighboring countries. Adama beverages has a third-party logistics system for its market delivery with branches in Umuahia, Abuja, and Kano.
The former vice president in May 2021 commissioned a woven sack factory and shrink laminate plants. According to Abubakar, the company has the capacity to produce over 9 million sacks in a year. In addition to improving Atiku Abubakar's net worth, the company provides massive employment opportunities to youths in Adamawa state.
Atiku also has investments in a few other companies including a microfinance bank, a property development company PRODECO, and Gainful Employment International Limited (GEIL).
Priam Group – Gotel Communications
ABTI Academy now known as AUN Acadamy (Private primary and secondary school)
Chicken Cottage
Adama Beverages
Woven sack factory
Shrink laminate plants
Microfinance bank
Property development company PRODECO
Gainful Employment International Limited (GEIL).
List of Atiku Abubakar's Companies 
 Intels
Prodeco
3Atiku Abubakar farm
ABTI schools
Atiku Abubakr's Political Career Began in the Early 1980s
Atiku Abubakar first came into the world of politics in the early 1980s, working behind the scenes with Bamanga Tukur during his governorship election. Takur was at that time the managing director of the Nigeria Ports Authority and Atiku sought votes on his behalf and also made huge donations to the campaign.
During his time at the Customs Service, he had met with Shehu Musa Yar'Adua who was second-in-command of the military government of the Supreme Headquarters between 1976 and 1979. It was Shehu Musa that drew Atiku into political meetings which subsequently gave rise to the Peoples Front of Nigeria (PFN). The party led by Yar'Adua included politicians like Baba Gana Kingibe, Umaru Musa Yar'Adua, Bola Tinubu, Abdullahi Aliyu Sumaila, Sabo Bakin Zuwo, Abubakar Koko, and Rabiu Kwankwaso.
In 1989, he was appointed the National Vice-Chairman of the Peoples Front of Nigeria to be part of the change program founded by the then Head of State Gen. Ibrahim Babangida. Later in the same year, he won the position as the representative of his constituency in the 1989 Constituent Assembly. Meanwhile, The People's Front of Nigeria was denied registration by the military government which made them merge with the government-created Social Democratic Party (SDP).
Atiku Ran for a Governorship Position in 1990, Aged 40
On 1st September 1990, Atiku Abubakar announced his interest to run for the governorship election of the now-defunct Gongola State. But before the time for the election proper, the federal government split the state into two – Taraba and Adamawa States, and Atiku fell into Adamawa state. In November 1991, he won the primaries under the Socal Democratic Party but unfortunately, was disqualified from contesting the election. He did not relent but came back after eight years to contest again now under the United Nigeria Congress Party.
Atiku transitioned to the Peoples Democratic Party (PDP) before the election and was able to secure a nomination for Governor of Adamawa State. He won the December 1998 governorship elections on the 9th of January 1999. But before he could be sworn into office, he had already accepted to be a running mate to the PDP presidential candidate, Olusegun Obasanjo, who would later win the 1999 presidential election. Consequently, he abandoned his win as the governor to carry on with the office of the vice president.
He served as the Vice President of Nigeria From 1999 to 2007
On the 29th of May 1999, Atiku Abubakar was sworn in as the Vice President of Nigeria alongside president Olusegun Obasanjo. His first tenure in office is best characterized by his role as head of the National Council on Privatization and Chairman of the National Economic Council. Alongside Nasir El Rufai, he oversaw the sales of numerous poorly managed public enterprises.
Atiku also worked with the South African president Jacob Zuma Rock to launch South Africa Nigeria Binational Commission. Abubakar's relationship with Obasanjo turned completely sour following the decline of the intention of the latter to amend the constitution in order to contest for the presidency for the third time.
The Former Vice President Has Unsuccessfully Run for President Four Times
For the sake of history, in 1992, Atiku Abubakar ran for the presidency while he was under the Social Democratic Party. He came third in the primaries with 2,066 votes, losing to Moshood Abiola (3,617 votes) and Baba Gana Kingibe (3,255 votes). In 2006, Action Congress selected him to be their presidential candidate but INEC intentionally omitted his name in the final selection list of aspirants, the reason being that he was listed to be among the corrupt persons in the country.
Atiku would go on to file for a defense in the Supreme Court and the court ruled in his favor, thus, he later contested. He came third and lost the election to Umaru Musa Yar'Adua and Muhammadu Buhari, PDP and ANPP candidates respectively. For the third time, Atiku went on to contest for the 2011 presidential election under PDP. Yet again, he lost the election at the primaries to PDP candidate Goodluck Ebele Jonathan.
One at this point would simply think that he would quit in his presidential bid, but no, Atiku Abubakar has proven to be a very persistent fellow who never quits until he gets what he wants. He announced his interest to contest the 2018 presidential election. He won the party's nomination and defeated every other contestant with a total of 1,532 votes leading the governor of Sokoto State Aminu Tambuwal who had a total of 839 votes. Unfortunately, he lost the election to the incumbent president, Muhammadu Buhari, on the 27th of February 2019.
Concerning the figures Atiku earned in his political positions, it is no longer news that Nigerian politicians are among the wealthiest in the world today. Though the exact figures are not recorded, those are in no doubt notable and enviable positions that apparently come with mouthwatering income.
Summary of Atiku's Income Sources
INTEL
Real Estates
Agriculture
Politics
American University of Nigeria (AUN)
Investments and other businesses
Atiku Abubakar Has Not Been Free From Controversies and Corruption Scandals
In 2007, Nigerian Senators accused Atiku Abubakar of moving more than $100 million public funds to his private interest. The investigating panel related that part of the money was fraudulently converted as loans for the companies owned by the vice president. Again, in 2019, the federal government summoned Atiku to answer some questions in connection with a public fund of ₦156 million that was allegedly missing. The Minister of Information and Culture, Lai Mohammed, further made claims that Atiku is allegedly involved in the collapse of the former PHB (Platinum Habib Bank).
Furthermore, sometime in 2021, the US government accused Atiku Abubakar of laundering about $40 million through his company INTEL. According to the report, the Nigerian politician used the company to siphon millions of dollars to his fourth wife Jennifer Iwenjiora Douglas who is living in the US. The allegation went on to say that Atiku used the illegal fund to establish his university AUN and made it unaffordable for Nigerians given its outrageous tuition fee. Atiku was also charged for moving over $25 million through wire transfer into various U.S. bank accounts of his wife Jennifer.
These are some of the controversies and corruption allegations Atiku Abubakar has been involved in which built up the rumors and criticisms that he acquired his wealth and properties not only through his personal endeavors but also with public funds. However, in all of these, both Atiku and his wife have completely denied all allegations and refused to accept a series of summons to appear before a US court.
Atiku Abubakar's House Locations

Atiku Abubakar's houses are located in various parts of the country and abroad. Like his peers on the rich list, Atiku Abubakar owns many landed properties in Nigeria and other countries around the world. As a politician, he has also been linked with various controversial luxury homes in countries like USA and Dubai.
One of his many mansions abroad is his luxury mansion in the posh neighbourhood of Potomac, Maryland, United States which was auctioned in March 2018. Atiku co-owned the seven-bedroom cream-coloured single-family brick house on 9731 Sorrel Ave, Potomac, Maryland, with his fourth wife, Jennifer Douglas. The mansion was sold for a pending offer of $2.95 million on February 26, 2018, after an online auction.
Back home in Nigeria, Atiku Abubakar owns a mansion in Abuja and Yola. Unfortunately, the exact location of the said mansions is not known. There are claims that the former Vice President also owns mansions in Lagos, Port Harcourt and a few other states in Nigeria.  Meanwhile, Atiku in his book titled "My Life" claimed that he built his first house at the age of 15.
He said he was granted a plot of land by the then Gongola State Government at Yola Government Reserved Area upon which he built a bungalow which he later rented out. From the rent money, he was able to buy another plot of land. He also claimed to buy a mud house for his mother at the age of 15.
Atiku Abubakar's House In Abuja
Given that Atiku Abubakar is a real estate tycoon, you wouldn't expect his own houses to be bleak and ordinary. Surprisingly, details of his house in Abuja have not been revealed as the politician is rather private about his personal properties and rarely shares glimpses into his personal life.
We know for a fact that there is at least one Atiku Abubakar house in Abuja. This mansion is believed to be worth over $3 million and is a lovely two-storied white house with a modern interior and lots of natural light inside.
Atiku Abubakar's Cars
As a renowned politician and businessman in Nigeria, Atiku Abubakar has a fleet of cars. While some of his cars may have come as a gift, there is no doubt that as a one-time vice president of Nigeria, his fleet of cars will include some of the world's best.  Atiku also has a private jet in addition to his luxury collection. He is the owner of an Embraer Phenom 100 Jetworth $4.1 million (N1, 563, 330, 000). Atiku's cars include
A Mercedes S550
 Rolls-Royce Phantom
A Lexus 570
A Toyota Land Cruiser
A Range Rover
FAQs
What Is Atiku Abubakar's Net Worth?
Atiku Abubakar's net worth is estimated at $1.4 billion as of 2023.
What is Atiku Abubakar's Age Today?
Atiku Abubakar is 77 years old as of 2023.
Where is Atiku Abubakar from?
Atiku Abubakar is from Jada, a town in Adamawa State
What Tribe is Atiku Abubakar?
Atiku Abubakar is fulani. He was born in Adamawa state by his parents who are Fulani nomads
What is Atiku Abubakar's State of Origin?
Atiku Abubakar is from Adamawa State. He hails from Jada town in Adamawa State