Tems and Ayra Starr are not related in any way and are also not sisters. However, Tems and Ayra Starr are both Nigerian musicians and have the same pattern of music.
As a result, fans have continued to ask if these two Nigerian music stars are related. This article sheds more light on both artists and their musical careers.
Why Fans Think Tems and Ayra Starr Are Related
For some of their fans, respectively, Tems and Ayra Starr are not just related but are sisters. Some have even gone on to speculate that the two are twins. Their reasons for having these thoughts are not farfetched. In terms of physical appearance, the duo appear to have the same height and significantly resemble each other on the face.
Also, Tems and Ayra Starr have been seen in pairs; they occasionally go out together and have very similar vocals. These are some of the reasons that brought about the questions like, are Tems and Ayra Starr twins or sisters? Are they related? What relationship do they have?
Tems Hails From Lagos State
Tems was born Temilade Openiyi in Lagos, Nigeria, on 11th June 1995 and is currently 28 years old. She was born to a British-Nigerian father and a Nigerian mother. Shortly after her birth, Tem's parents moved to the United Kingdom, and that was where she spent her formative years. However, she relocated to Nigeria with her mother and brother at the age of five after her parents got divorced.
Back in Nigeria, they first lived in Ilupeju before moving to Lekki and then Aja, all in Lagos State. Tems had her secondary education at Dowen College Lekki Lagos before proceeding to Monash University, South Africa, where she graduated with a Bachelor's degree in Economics. She grew a passion for music while in school, and today is doing just impressively in the industry.
Ayra Starr is a Kwara State Native
Ayra Starr's real name is Oyinkansola Sarah Aderibigbe. She originally hails from Kwara State but was born in Cotonou, the Republic of Benin, on 14th June 2002, making her 21 years old. Throughout her childhood days, Tem's parents were frequently on the move, given the nature of her father's business.
They shuffled between the Benin Republic and Nigeria, and her exposure to different cultures influenced her personality and perspective on life. Coming from a musically inclined family, Ayra considers her mother and brother, who is a guitarist, and songwriter, as the background inspirations for her interest to have music as a career.
At 10, she had already started singing in a high school choir and writing songs with her brother. Ayra Starr attended Les Cours Sonu University, Cotonou, and obtained a Bachelor of Arts degree in International Relations and Political Science.
The 21-year-old hitmaker is a naturally gifted artist and has been active since 2018. Alongside her family, she also credits her music influences to 2Face Idibia, Wande Coal, Angélique Kidjo, Nicki Minaj, Asa, Justin Bieber, Tiwa Savage, and Shakira.
Meanwhile, her first career venture was as a fashion model before she decided to fully pursue music in 2018 at the age of 16. Today, Ayra Starr is among the most creative and skillful Nigerian artists with a unique voice holding it up on the music front.
Tems and Ayra Starr Are Not Related
Tems and Ayra Starr are not twins, sisters, family members, nor anyhow related by blood. The only relationship they share is that they are Nigerian musicians who sing the same music pattern. The music makers are two upcoming shining stars currently dominating the Nigerian music industry with no signs of slowing down.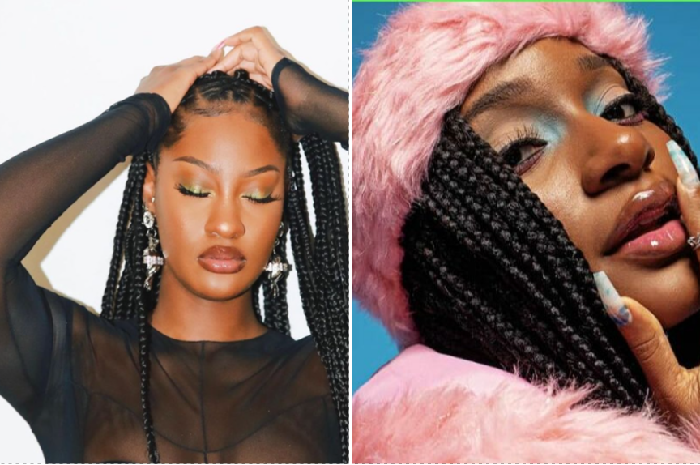 Like many other trending artists in the music industry, songs and albums that Tems feature Ayra Starr are mostly browsed by their fans. But, the two are yet to release one. Their fans are only expectant to see them do a song together as they have similar music styles and tastes.