The official price for a 64-page Nigerian passport with 10-year validity period is N70,000, while the price for the one with five years validity is N35,000. The price for the new 32-page passport with a five-year validity period is N25,000
The Nigerian international passport serves as a necessary official document for people within the country to travel to other countries. It is also a valid means of identification within Nigeria. As such, there's a constant need for citizens to get a hold of it. However, issues such as cost, how to get the passport, and the type of passport most suitable for applicants, remain at the center stage of questions rising from applicants every now and then.
Here, there is a focus on the cost of the passport which varies depending on the age of an applicant, the number of pages (32/64), and the validity of the passport – whether 5 or 10 years. The price ranges from ₦8,700 to ₦70,000 when one applies directly on the Immigration website. Here's a breakdown of what to know about the price, application, and types of passports in Nigeria.
What is the Cost of International Passport in Nigeria?
There are different ways to pay for an international passport in Nigeria and selecting where one pays also determines the cost. For instance, paying through agents may cost higher than choosing to pay through the Nigerian Immigration Service (NIS) website.
Cost of a Passport Through NIS
32-Page Booklet
Ages 0-17: ₦8,750
Ages 18 -59: ₦15,000
Ages 60-above: ₦8,750
64-Page Booklet
Cost of Passport in All Embassies, Consulates, and High Commissions
32-Page Booklet
Ages 0 -17: $65
Ages 18 -59: $95
Ages 60-above: $65
64-Page Booklet
Note: The cost of the passport may rise and fall. There were instances where a 32-page passport valid for 5 years was issued for ₦25,000. On the other hand, there are reports of applicants paying ₦70,000 for a 64-paged passport to last for 10 years while others paid ₦35,000 to last for 5 years.
Types of International Passport in Nigeria
1. Standard Passport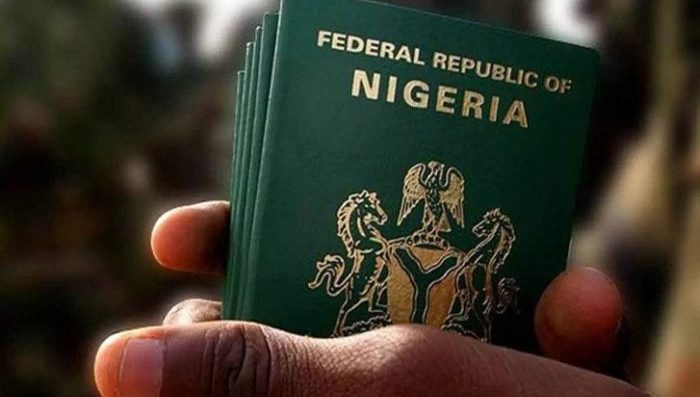 The standard International passport is that which every citizen has access to no matter one's social class or the type of job one obtains. This type of passport comes in green color.
Requirements to Get the Standard International Passport in Nigeria
Have a letter of identification from your Local Government Council
You must have proof of age such as an age declaration from a court or a birth certificate
Have 2 recent passport photographs ready
You must present a guarantor's form after swearing before a commissioner of Oaths, Magistrate, or a High Court Judge
If you are below 16 years of age, you must possess a letter of consent from a parent.
A marriage certificate should be made available where necessary
In a case of a lost or stolen Internation passport, you will need to present a police report
2. Official Passport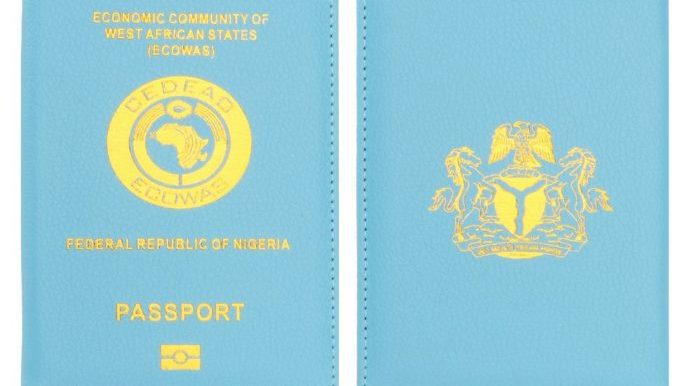 The blue official passport is that which is issued to specific people that include the government officials and Nigerian ambassadors.
Requirements for the Official International Passport
You should make available a letter of any appropriate level of government at the State or Federal level
Provide a marriage certificate where necessary
In a case where you misplace or have your passport stolen, you must present a police report.
Make available your letter of last promotion/letter of appointment.
Submit your application alongside other documents to the passport office, the Embassy, or High Commission
3. Seamans Book 
The maroon cover passport is also known as the seaman's book. The passport is issued to applicants who work on shipping vessels and watercraft.
Requirements to get this Passport
Have an identification letter and prove that you're a seaman
Make available a completed application form
You should avail a Local Government letter of identification
Present a birth certificate or age declaration
Have 2 recent colored passport photographs
Submit your application with other necessary documents at a passport office, Embassy, or High Commission
4. Diplomatic passport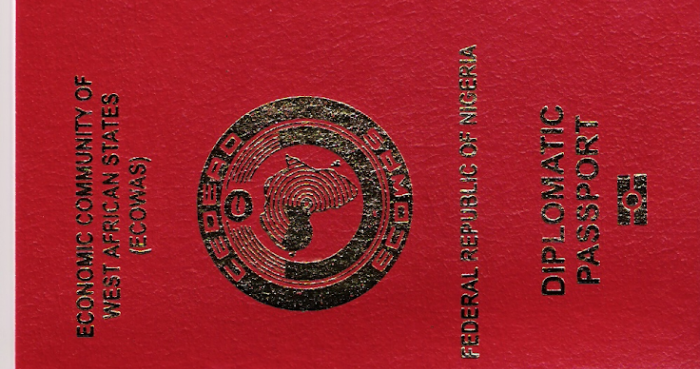 This red-covered passport is free of charge. It is only given to applicants who are government officials and are traveling out of the country on government assignments.
How to Apply for a Diplomatic Passport
Make application in person by visiting the office of the Comptroller General in Nigeria Immigration Service Headquarters
Write an application for this passport and submit it with other vital documents such as 2 passports, an appointment letter, proof of age
A return certificate from the Independent National Electoral Commission (INEC) will be presented by applicants who are political officeholders
Wait for verification before biometric capture to get the passport
General Requirements For an International Passport in Nigeria
There is a necessity that in every application, an acknowledgment slip, payment receipt, and 2 recent photographs must be available
Print a copy of a completed application form
Get a guarantor to sign your papers
A guarantor must attach the following documents
Sign the application form and submit it at any passport office, Embassy, High Commission
How Much is Passport Renewal in Nigeria?
As in the case of getting a new international passport, the price of renewing a passport differs. The price depends on the applicant's age, how many pages they are interested in, and the expiration duration – whether 5 or 10 years.
The exact cost for the renewal of a passport is contradictory based on different reports from several sites. The minimum reported price is as follows:
32-Page Booklet
Ages 0-17: Passport booklet fee (₦8,750), Address Verification Fee (₦2,000). Total= ₦10,750
Ages 18-59: Passport booklet fee (₦15,000), Address Verification Fee (₦2,000). Total= ₦17,000
Ages 60 and above: Passport booklet fee (₦8,750), Address Verification Fee (₦2,000). Total= ₦10,750
64-Page Booklets
All ages
Passport booklet fee (₦20,000), Address Verification Fee (₦2,000). Total = ₦22,000.
How To Renew An International Passport in Nigeria
To apply online, visit the NIS renewal page
Select passport type
Select whether your passport is expired, you've exhausted the pages, it is damaged or misplaced
Enter a passport number
Select age group and the state you're processing from
Choose the office, booklet type, and the validity period of your choice
Click on continue
Select mode and type of payment and click on continue
How to Make Payment, Confirm and Attend Interview to Gain the Nigeria International Passport
After making an application, you will be issued a passport application ID and passport reference No. With this, an applicant can proceed to make payment to be able to get a passport. Here are the steps to follow:
Go to the home page of Nigeria Immigration Portal
On the left upper side of the page, click on passport
Select the type of passport you intend to apply for
Enter your information in the application form
Accept full responsibility for every detail you fill
Submit application
Click on proceed to online payment
Select to pay in Naira or Dollars
A step-by-step Guide to Making Online Payment Using Naira
If you select to pay in Naira, choose your mode of payment (bank, credit, or debit card)
If you select a bank, search for your bank, click continue, print an acknowledgment slip, and pay at your bank to be issued a validation number.
If you prefer to use a debit/credit card, you must provide your login details, click on "pay" and fill in your card details to get a validation number. Print receipt afterward
For any mode of payment, a validation number is obtained. You can use it to query your application payment status and enter your password application and reference ID to continue. Once this is done, you will need to enter the validation number and click on the search button. This will automatically send an applicant to a page where an interview has been generated.
Print the receipt and make sure to have it with you as evidence of payment and application during the interview.
Guide to Making Payment Outside of Nigeria
At the time an applicant is filling out a form, one would come across a processing country. If you choose any country other than Nigeria, the payment for the international passport should be made in Dollars and so you will be automatically redirected to the payment page once the country is selected.
Once the payment is done, you will get a validation number, interview schedule, and an e-receipt and acknowledgment slip.
How to Print The NIS e-Receipt
Click here to take you to the page to check payment status and print receipt
Enter the Application ID, Reference Number, and Validation Number (if applicable)
Submit the details
You will be taken to where your full application details are displayed
Scroll down the page and select print receipt
Note: Applicants should take every necessary document as listed under the types of passports to the interview venue.
How Long Does it Take to Get a Nigerian Passport?
Prior to April 2021, the processing of the Nigerian International Passport could last more than 6 weeks. However, the narrative changed when it came to light that the timing was one of the challenges that the NIS was facing. Others include a shortage in booklets, racketeering, cost increase, and having ineligible persons gain access to the passport.
In order to curb this, the Immigration service announced that applicants can receive their passports six weeks after application. This will help the NIS to try to find out if the information an applicant submits is credible. However, an international passport applicant will be contacted a week before the collection date.
In conclusion, it is important to note that the cost of a passport in Nigeria may change over the course of time. While having that at the back of one's mind, it is also important to know that the NIS does not support registering through roadside vendors as this may lead to the extortion of individuals. The NIS website serves as both a guide and a channel where one can register for a fixed and standard price.