Smartphone maker Apple Inc. has been urged to respond to the public-health crisis of youth phone addiction, amidst growing concerns about the effect gadgets and social media has on young children who use them.
Two major investors Jana Partners LLC based in New York and the California State Teachers' Retirement System have called on Apple to develop software that limits how long children can use its smartphones in order to reduce the growing addiction.
In an open letter to the tech giant, the two shareholders warned that Apple needs to lead the way in giving parents and their children more powerful ways of keeping phone use in check.
The investors raised concerns that Apple's stock market value and general reputation could be damaged if the company does not address growing concerns about smartphone use.
"Apple can play a defining role in signaling to the industry that paying special attention to the health and development of the next generation is both good business and the right thing to do.
"There is a developing consensus around the world, including Silicon Valley, that the potential long-term consequences of new technologies need to be factored in at the outset, and no company can outsource that responsibility," the letter stated.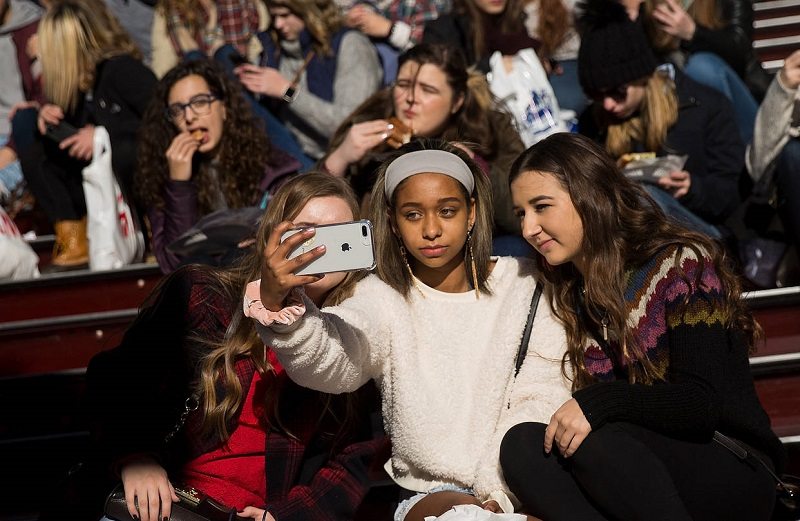 They insist that the company must offer more choices and tools to help children fight addiction to its devices. They also want the company to study the effects of heavy usage on mental health.
The investors cited several studies revealing the negative effects of smartphones and social media on children's mental and physical health. For example, one study found that 67 percent of over 2,300 teachers surveyed believe that the number of students who are negatively distracted by gadgets in the classroom is growing, while 75 percent say students' ability to focus on educational tasks has decreased.
Moreover, there is also the higher risk of suicide and depression, as research concludes that US teenagers who spend three hours a day or more on electronic devices are 35 percent more likely to commit suicide. The risk increases to 71 percent for those who spend five hours or more.
The two big investors are calling on Apple to establish an expert committee including child development specialists, offer its information up to researchers and to enhance mobile device software so parents have more options to protect their children's health.
The investors' call reflects growing concerns around the world about what the long-term impact will be of using mobile devices and social media, especially for those who start to use smartphones at an early age. Interestingly, the call for better controls was welcomed by academics studying youngsters' use of technology.
Apple already offers some parental controls, such as the Ask to Buy feature, which requires parental approval to buy goods and services. Restrictions can also be placed on access to some apps, content and data usage.