Sotayo Sobola is a 37-year-old actress in the Nollywood industry; her face is a popular one in the Yoruba arm of the movie industry. The pretty actress is one of the stars who many persons assume is single because she prefers to keep her personal life a secret. But to the dismay of many, Tayo Sobola and Kayode Peters have a thing between them, and we will tell you all about it below, including rumors of other relationships she has been in.
Tayo Sobola's Married Life Has Been Kept a Secret
Sotayo Gaga, as her fans fondly call her, is a married woman. When she met her man, got engaged, and wedded is not public knowledge, as she safely tucked it away from the public. However, rumors have it that her marriage with a certain Mr. P is not her first marriage. Also, even as she kept her wedding ceremony away from the media, she hasn't for once shown the world who the love of her life is.
However, it is not uncommon to see celebrities like her who would rather not put out all about their life in public. So far, this has been working well for her as she has not been involved in any serious controversies about marriage. But for the ones she has been roped into, Tayo has done well to clear her name. You will get the full gist on all of that below, one bit after the other, as we piece deets of her relationship and married life together.
Why Did Tayo Keep Her Wedding a Secret?
When the pressure and rumor of her being married overtook the media, the actress revealed why she kept her wedding a secret in an interview. According to The Will, she posted some pictures of herself on a wedding dress on her social media page, particularly on Instagram, on March 6th, 2021. The post also included a caption explaining that the wedding hadn't taken place on the day the pictures were posted and was not in 2021. This took her fans by surprise. Some of them, assuming Tayo was recently married, dropped their congratulatory messages. While others assumed she was working on a movie project, hence the pictures.
However, a controversial and popular Instagram blogger known as Gistlovers made a post about the wedding dress picture saga, saying that the popular actress staged her wedding to get back at her former boyfriend. This led to some missed reactions from both fans and foes. However, to clear the air, the actress revealed to her interviewer that she was married. She added that she had known her man for over seven years before they tied the knot of conjugal bliss. Tayo also made known that her husband wasn't in the movie industry. However, this statement begs the question, what is the relationship between Tayo Sobola and Kayode Peters?
As for why she kept her wedding a secret, the one-time model said that anyone who knows Tayo very well would know that she loves to keep her life away from the public. She commented on the stories on some blogs and websites that tag her to other men as her husband as untrue. The famous actress bragged that she could pay anyone interested in uncovering the identity of her husband to carry out an investigation, and they would still find nothing. She also added that even if they carried shovels to dig out his identity, they would find nothing.
Things You Don't Know About Tayo Sobola and Kayode Peters' Alleged Relationship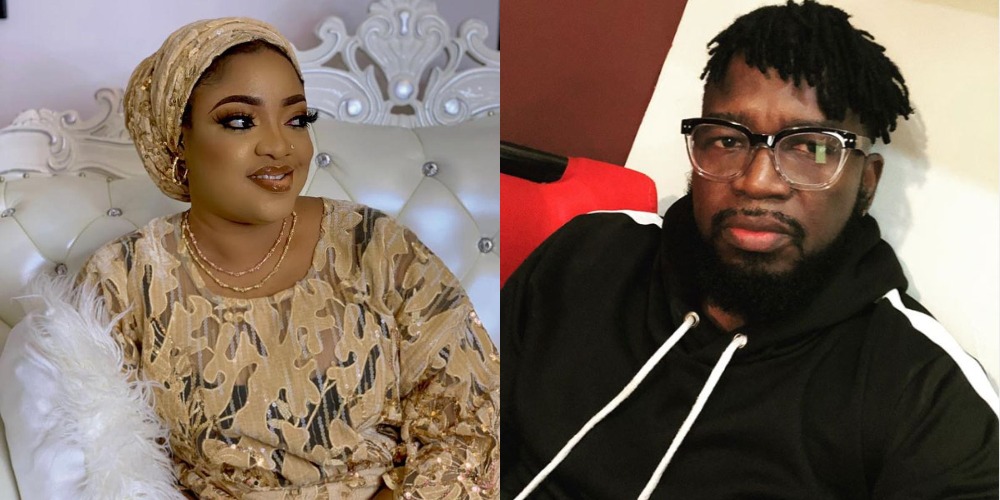 Since the actress revealed that she was married, the Nigerian social media space has not uncovered who the special man is. Even after her claim that her husband (Mr. P) isn't in the movie industry, many news outlets have tried hard to link her with the famous movie director and actor Kayode Peters.
Kayode Peters, whom we know, is an actor popularly known for his 2015 work Doll House. The graduate of English from the University of Lagos got his start in the entertainment industry in 2000 when he produced Twilight Zone just after his university graduation. In the years that followed, Kayode shot to fame with African Magic's rebirth of My Flatmates, Papa Ajasco and Company, and soon began working as an executive producer and movie director of some popular blockbusters, including Crazy Grannies (2021) and Dream Job (2021).
In all of his movies so far, Kayode acted in all of them, directed, and produced two (Crazy Grannies and Doll House). He is also credited as the writer of Doll House. In 2018, he produced his first international film titled Excuse My African in New York City. Thus, Kayode Peters is also an accomplished man in and outside Nollywood with several career achievements to show for the many years he has been around.
But many people didn't know much about him until he was erroneously rumored to be married to Tayo Sobola. While many doubted that he was never married to the popular Tayo, many were even shocked how many blogs twisted the relationship that seemed to have existed between the duo with claims that the marriage wasn't the first for one of them.
Fact: Kayode Peters Never Married Tayo Sobola at any Time
It was reported that before Tayo Sobola and Kayode Peters got married, Kayode was previously married to a colleague of his by the name of Alexander back in June 2011. However, rumors (as many Nigerian blogs claimed) had it that he later divorced this Alexander to make way for his alleged marriage to Tayo Sobola. Still, there is no iota of truth in this.
From our findings, Kayode Peters married Alexander, a co-graduate of the University of Lagos at the Church of Assumption, Falomo, Lagos, in 2011 with their family and friends in attendance. The elated newly married Peter Kayode revealed to Nigerian Entertainment Today that he met his wife in 2009 and has remained inseparable from her since then. In 2013, the couple had a lot to celebrate as Alexander gave birth to their first child, a baby girl, on Thursday, 29, 2013, at the Country Hospital in New York, United States of America.
Many years have passed since Kayode and Alexander got married and had their first child, and there have not been rumors of a breakup between the duo. From the much we assume, the couple is still living together, and Tayo Sobola is nowhere in the family life of Kayode Peters and his wife, Alexander.
Quizzing Tayo Sobola's Marriage to a Certain Mr. P
The actress, in an interview, revealed that her marriage has been sweet. According to her, it has been an awesome experience from the day they started dating. Even though she gave no hint on who her spouse is, she affirmed that they are still a couple and happily married. Sotayo chipped in that there are usually ups and downs in the marriage, just like any other relationship. These ups and downs are often taken care of in a mature way because they are matured.
Back in 2017, after many months of searching for who her husband could likely be, many Nigerian news websites and blogs carried the news that Tayo Sobola's husband, who hitherto has been referred to as Mr. P, was unmasked to be Kayode Peters. But in a recent chat reported on Punchng.com published on April 21, 2021, Tayo revealed that her marriage didn't happen recently as many on social media had claimed. She also made known that she had known her husband for more than 7 years before their marriage, and he is not someone who works in the movie industry as claimed by the media.
This, therefore, rules out all possibilities that Tayo Sobola and Kayode Peters are husband and wife. Tayo added that she likes keeping her personal life away from the media, and she is not going to reveal any more than she has said about her husband other than that they are married and happy.
Tayo is Careful About Film Roles She now Accepts as a Married Woman
Most actresses take any role given to them or as dictated by the film script. Most hold onto it for as long as they continue to act to make money or remain relevant in the industry. However, the same can not be said of Tayo Sobola.
The actress, who was recently bestowed with the title of Sarauniya (which translates to queen mother) of the Uke Kingdom in Nassarawa State, talked about the roles she plays in movies. Before her marriage, Tayo revealed that she had been selective of her movie roles, even though her husband is quite understanding. However, as a wife, she made it a point of duty to avoid any role that would upset her spouse, such as being too intimate with the opposite sex. She also noted that she could not kiss the same sex in a movie role.
Her Other Alleged Relationships
Aside from Tayo Sobola and Kayode Peters's alleged relationship and even marriage, the pretty actress has in time past been linked to a good number of men. Either in a rumored relationship or being misquoted entirely. But in all, she has been able to clear her name from these controversial marriages and dalliances.
Tayo Sobola' Alleged Marriage to Mc Oluomo
Tayo Sobola has been romantically linked to the National Union of Road Transport Workers' boss, Mc Oluomo. Sources had it that they were not only romantically involved but also married. Tayo is said to have been married to Mc Oluomo in 2014 as a third wife. According to the source, their wedding took place following the Moslem Nikkai rites in front of their colleagues, friends, family, and well-wishers. The following year, it was rumored that she was pregnant for MC Oluomo and was expected to give birth soon.
The actress opened up on her relationship with the Lagos socialite. Tayo confirmed that she and Mc Oluomo were very close. She referred to him as a nice person who had helped lots of actresses in the past. However, these actresses deny any form of relationship between them and the socialite, as Tayo noted. She also refuted the rumor of her being pregnant for the wealthy MC Oluomo, saying there was no form of intimacy between her and the Lagos socialite, and she wasn't pregnant for him. She further noted that they are close friends, and she respects him.
The OOUA graduate also confessed that many people had asked her if she was dating MC Oluomo, and she had responded in the affirmative. She quickly added that he is human. She further noted that she had to respond in the affirmative because even if she had responded negatively, people would still fabricate a story about it. On the other hand, Mc Oluomo did not refute or affirm the rumor of the alleged marriage.
Her Alleged Relationship with Senator Ganiyu Solomon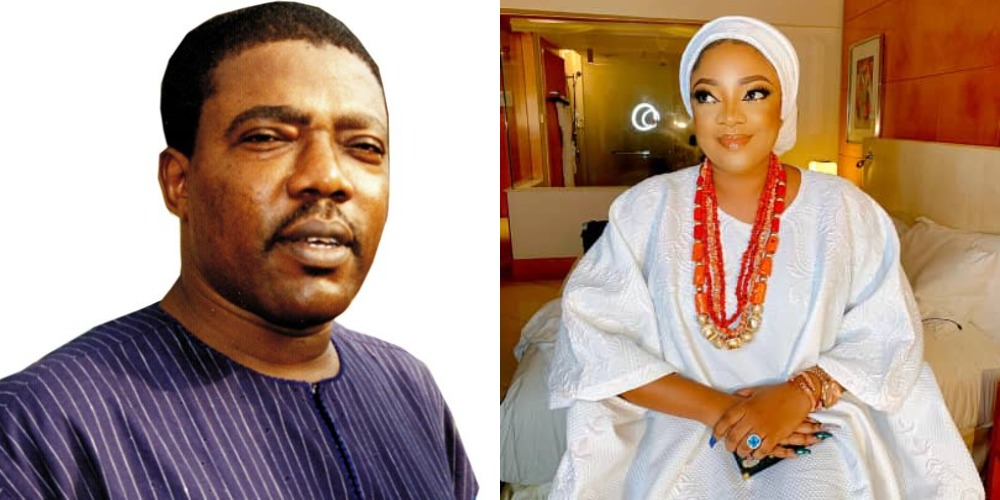 Fame comes with some prices, and one of such prices is a rumor. Tayo Sobola has had her fair share of rumors. One such rumor is that Tayo Sobola was in a romantic relationship with Senator Ganiyu Solomon. At the time, she was known for always displaying the senator's picture on her Blackberry phone. The rumor also had it that the senator funded most of her high-budget movie production.
However, the actress refuted the rumor that the senator funded most of her movie project. She noted that she had been buying and selling for most of her life, which has been her means of funding her movie projects. He further revealed that she regards Senator Solomon Ganiyu as a father to her.
Tayo's Alleged Dalliance with Olamide Baddoo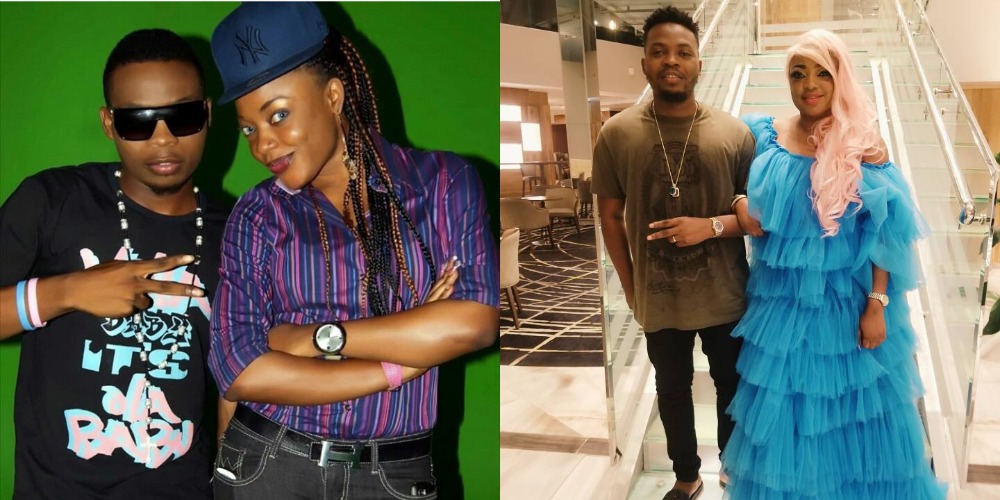 The beautiful actress is close friends with the famous rapper Olamide Baddoo, whom she has also appeared in a couple of his music videos. This could be a relationship formed when she had a career as a video vixen.
However, Tayo Sobola cleared the air as she confessed that there is nothing intimate about her relationship with the superstar. According to her, Olamide was like a brother from another mother to her. On answering the obvious question, she emphatically stated that she and Olamide never dated and were not planning on dating.