Prophet Temitope Balogun Joshua, popularly known as T.B Joshua, the Founder of the Synagogue Church of All Nations just treated himself to a new Gulfstream G550 private jet at the cost of $60 million. By so doing, he has joined the league of popular Nigerian pastors who own private jets, with his own being the most expensive of all.
According to reports from SaharaReporters, the jet was purchased using the Bank Of Utah trustee as the front for "Synagogue Church Of All Nations". The jet, which has US registration number N131LK, was built in 2010. It was delivered to its first user in 2013 before making it to TB Joshua early this year, 2015. SaharaReporters learned that the jet made a voyage to Nigeria in December 2013, as the Bank of Utah was apparently pitching it to Pastor TB Joshua. The man of God reportedly asked to see it and bless it before finally taking delivery.
The report also has it that it could cost up to $3 million to maintain the jet annually, depending on how heavily it is used.
Sources at the church allegedly told SaharaReporters' correspondents that Pastor Joshua claims the jet was paid for by at least eight African Heads of State in 2014. It was also said to have first been kept in Israel before the tragic church collapse in September in which 116 persons, mostly South Africans, were killed.
However, the authenticity of this story became shaky as Pastor T.B Joshua denied owning a private jet when reached one on one by SaharaReporters. Instead, he said he frequently charters private jets because he travels extensively, noting, for instance, that he has an oncoming trip to Argentina.
He further described the claim as a baseless rumour which he could not fathom where it emanated from. The cleric, therefore, urged the public to pay no attention to the story as there is no atom of truth in it.
In the same vein, one of the media aides of the prophet, Ezekiel, who spoke to some sections of society journals also said that there is no iota truth in the rumour, adding that some people derive joy from peddling unnecessary false stories.
Despite T.B Joshua's denial, some people still believe strongly that the man of God allegedly purchased the nearly brand new Gulfstream G550 aircraft in 2014.
Ironically also, this claim runs contrary to information from the Nigerian Civil Aviation Authority (NCAA), which claimed that N131LK is on record as belonging to Pastor TB Joshua through SCOAN. "What the Bank of Utah does is to help non-US citizens act as agents to purchase aircraft using US financing," a source at NCAA reportedly told SaharaReporters.
See Also: 10 Things You Didn't Know About TB Joshua And His SCOAN Ministry
The same bank, the source recalled, was also instrumental to purchasing jets from Bombardier on behalf of the Rivers State government under Governor Rotimi Amaechi, and Akwa Ibom under Godswill Akpabio.
Have a Look at the Inside of the Jet: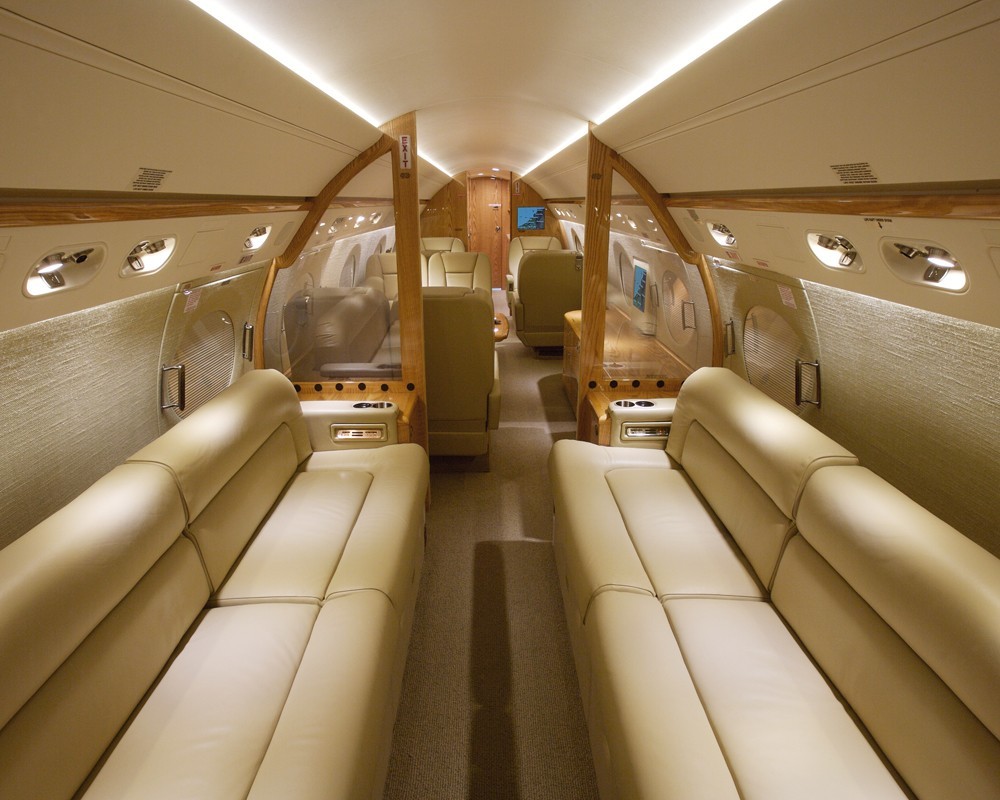 Meanwhile, speaking during an interview with The Sun in 2009, Prophet T.B Joshua responded to a question about when he will buy a private jet saying he has no money to buy a plane. "When I say I don't have cash…(laughs); when I say I don't have money, cash like this, where would I get money for a plane?"
He went on to say that there was nothing wrong with about owning a private jet, adding that he can only have one, if God says so, based on the condition that people will give it to him and not only that, they will also be ready to pay for the landing fee "because I don't know how I would get it", he added.
The man of God also made it clear that if ministers of God have it, there is nothing bad about that because it aids the propagation of the gospel. "I tell you that our fathers that have it, there is nothing bad about that. The way and manner God executes His plans in our lives differ. Some ministers, God says: 'You, you would not have a private jet, I would send people to give you.' While some, God says: 'You, buy it, with your money.' I am not supporting those who are criticising the ownership of jets by men of God".