Adunni Ade (born on 7th June 1976; Age: 47 years old) is a Nigerian-American actress and model best known for her roles in Yoruba movies.
Adunni Ade is a beautiful, creative, and talented actress with a captivating smile. Her charming looks alongside her expertise have earned her a decent spot in the Nigerian movie scene. She knows how to interpret the roles given to her, so she accepts diverse movie roles.
The award-winning actress started acting in 2013 and has had a significant impact on the Nigerian film industry. She is a highly creative and talented woman who has made fame and fortune for herself, majorly from her acting career and other business endeavors. Learn all about her early life and career journey so far.
Adunni Ade's Biography Summary
Full name: Adunni Adewale
Date of birth: 7th June 1976
Adunni Ade's Age: 47 years old
Ethnicity: Mixed (Nigerian/American-German)
Nationality: Nigerian, American
Zodiac Sign: Gemini
Sexual Orientation: Straight
Religion: Christianity
Marital Status: Single
Adunni Ade's Children: 2
Adunni Ade's Parents: Mr. Adewale and Emily Faye
Adunni Ade's Height in Inches: 5 ft 6 inches
Adunni Ade's Height in Centimetres: 167 cm
Adunni Ade's Weight: 77kgs (169 lbs)
Body Measurements in Inches: 36-25-36 inches
Adunni Ade's Net worth: $1 Million
Famous for: Being an Actress
Adunni Ade's Instagram: @iamadunniade
How Old is Adunni Ade?
Adunni Ade is 47 years old. She was born on 7th June 1976 in Queens, New York, United States of America. Regardless, Adunni grew up mostly in Lagos, Nigeria. She returned to Nigeria with her father to attend the funeral rites of her grandfather; this was when she was barely two years.
Her father did not return to the US again but decided to establish himself in his home country Nigeria. Consequently, he started living in Lagos State with her daughter.
Adunni Ade is From Which State?
Adunni Ade has dual ethnicity. She was born to a Nigerian Yoruba father who is a native of Ogun State, the southern part of Nigeria, and an American mother. Upon returning to Nigeria, Adunni Ade received her primary education at Chrisland primary school, Opebi, Lagos State.
She also attended the Bells Comprehensive Secondary School, Ota, Ogun State, where she obtained her Senior School Certificate Examination (SSCE). After her secondary education and in her late teens, Adunni relocated to the US to be with her mother and pursue her university education.
In the Us, she got admission to the University of Kentucky, Lexington, Kentucky, the United States of America, where she graduated in 2008 with a Bachelor's Degree in Accounting. Meanwhile, the actress revealed that his father influenced her choice of course in the university as he was the one that encouraged her to study Accounting.
Who Is Adunni Ade's Father?
Adunni was born to a Nigerian Yoruba father who originally hails from Ogun State. Recognized as Mr. Adewala, he is said to be a renowned and successful businessman, apart from which nothing much is known about him.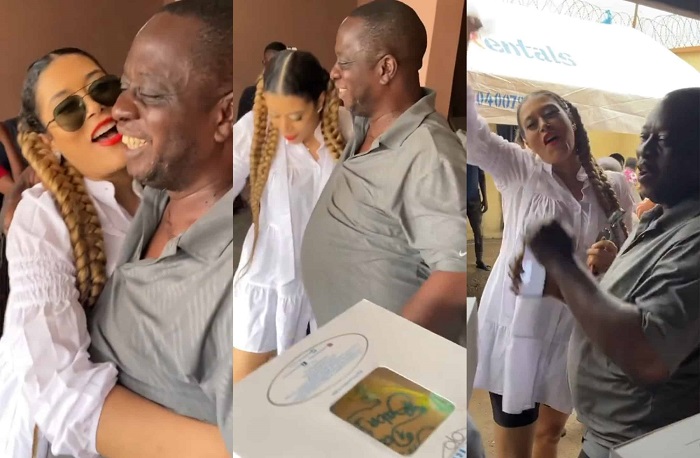 In an interview, Adunni said that her dad was her everything and did everything he could to make sure she was comfortable while growing up. Not long after he returned to Nigeria, Mr. Adewale married a new wife who became Adunni's stepmother.
Who Is Adunni Ade's Mother?
Adunni Ade's mother is a German American woman who goes by the name Emily Faye. Celebrating her mother's birthday in 2018, Adunni wrote, "a very courageous, strong-minded woman" who is "very loving, and caring but definitely a no-nonsense woman."
There is no record to show whether Adunni's father married her mother legally and if they are still married. But it is public knowledge that the woman has since remained in her home country, America. There are not many details about her personal life in the media.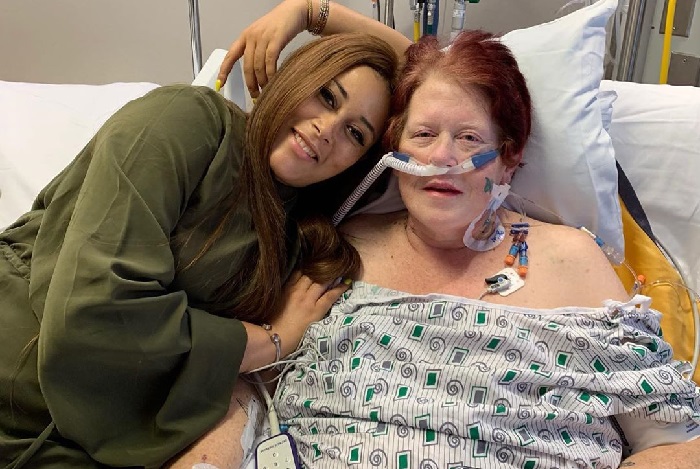 Meanwhile, Adunni regretted that her mother was not in her life while she was growing up. According to her, that caused her a lot of childhood trauma.
Adunni Ade's Siblings
Details of how many siblings the actress has are unknown, but she once mentioned that she grew up alongside her father's children, who are her step-siblings. It is also unclear if she is the only child her mother had with her father. Adunni reportedly has a younger sister named Mistura, who is a makeup artist and resides in Ghana.
Mistura is a graduate of Pentecost University, Ghana. Speaking about growing up, Adunni recounted that growing up in Nigeria was one of her darkest moments, given that her mother was not in her life. She was raised by her dad, his family, and subsequently, her stepmother after her dad got remarried.
She reiterated that although her dad did his best to provide for her, she can only remember more hurt than she remembers happiness whenever she recalled her childhood days in Nigeria.
Before Acting, Adunni Ade Worked in the US State of Kentucky
Upon graduating from the University of Kentucky, Adunni did two full-time jobs before she relocated to Nigeria. She first worked with the State of Kentucky precisely in the Housing sector, where she was in charge of providing living assistance.
Resigning from there, she took up another job role at the State of Maryland in the Medical Insurance department, where she provided medical insurance (Medicare and Medicaid) to those who were in need.
She resigned from her second job and decided to switch to the entertainment industry. Adunni dabbled into fashion modeling and made it as far as getting featured in the fashion modeling show America's Next Top Model.
Adunni Ade Returned to Nigeria and Began Acting in 2013
On how she developed an interest in acting, the film star said God blessed her with many talents, and entertainment has always been part of her. At a young age, she would stand in front of the mirror and be acting out the fashion part in her.
She also said that her father supported her 100% when she finally went into acting; her mother, on the other hand, is very proud of her. According to her, Americans generally do not care about choosing a career for their kids but would support them in whatever they decide to do.
On returning to Nigeria, Adunni got her first role in Nollywood in the 2013 Yoruba movie, You or I, a movie produced by Saheed Balogun. She showcased her inborn acting skills in the movie, which impressed directors and producers.
Consequently, she kept getting more roles and has featured in numerous Nollywood movies in both English and Yoruba. She is a star in the famous Funke Akidele TV series Jenifa's Diary, where she featured extensively in season 2.
Another TV series that boosted her fame was Son of the Caliphate 2. Actress Adunni has also featured in music videos for Nigerian artists Ice Prince and Sound Sultan. Adunni also recorded another level of success in her acting career in 2014 after she created a comedy skit titled Date Gone Bad and posted it on YouTube.
The comedy video got massive attention following its release and has gathered hundreds of thousands of views on the streaming app. The video exposes how essential it is that a child learns how to speak and understand their native language to avoid any setup.
Speaking about her career growth in the industry, the actress said, "I am not looking for the fastest way to the limelight. Rather, I want to express myself. My ambition is to be recognized worldwide. But I want to be known for what I have done. I want to be successful through hard work."
On the same note, she expressed that she had once felt she had been outcasted in the movie industry. At a point, she expected her career to be moving upward, but it went downward. She said this is due to the favoritism which has become the order of the day in the movie industry. But in anyways, she continues to hold on to her most significant life lesson, which is staying true to herself and not changing to fit into someone else's lifestyle.
Movie Production
While acting, Adunni decided to also venture into film production. She has been actively involved in movie directing and scriptwriting since 2018. Her first production was a Yoruba movie, Emi Mi – My Soul which she is also the writer. The movie, directed by Saheed Balogun, starred Nollywood actors like Ibrahim Chatta, Tayo Sobola, Yinka Quadri, Kunle Omisore, and others.
Later in the same year, she produced another Yoruba comedy-drama titled Ewa – Beauty. In 2021 and under her film production company, Adunni took her production career to another level with the blockbuster Yoruba movie, SOÓLÈ, directed by Kayode Kasum.
In the movie, she featured top actors in the industry like Sola Sobowale, Lateef Dimeji, Femi Jacobs, Shawn Faqua, and Meg Otanwa. Interestingly, the movie will soon be out on Netflix. Soólè hit the cinemas on 26th November 2021 and grossed over ₦10 million in its first weekend and ₦16 million in its opening week.
In 9 weeks in the cinemas, it grossed ₦51 million at the box office and made it to the top 10 Nollywood movies in cinemas for 2021. Some of the other movies she produced include Babatunde Diaries, Ole Ole, Idagiri, etc.
List of Adunni Ade's Movies and TV Shows
2nd Honeymoon
Iwo Tabi Emi (You or I)
SOÓLÈ
Mama Drama
The New Normal
What's Within
Head Gone
So In Love
Schemers
Falz Experience
Ole Ole
Ratnik
Guy n Man
Diary of a Lagos Girl
It's Her Day
The Blogger's Wife
For The Wrong Reasons
The Vendor
Heaven on my mind
Boss of All Bosses
Coincidence
Ratnik
The New Normal
Mama Drama
The Silent Baron
House Of Contention
Television shows
Babatunde Diaries
Behind the Cloud
Jenifa's Diary Season 2
Sons of the caliphate Season 2
Adunni Ade's Awards and Recognition
As a reward for her effort in the advancement of the Nigerian movie industry, Adunni Ade has received a couple of notable awards. In 2017, she bagged her first award in the Yoruba film industry for Best Nollywood Actress by Cool Wealth Awards after spending four years in the industry. Below are other awards she has won
In 2017, the Nigerian Institute of Journalism recognized her with a Stella Award for her efforts in promoting the Nigeria culture
2016 – Best Supporting Actress by the African Magic Viewers Choice Awards
Best Promising Actress at the City People Entertainment Awards
Best Supporting Actress Award by the Lagos Film Festival
Adunni Ade's Net Worth
Adunni Ade is a talented and influential Yoruba actress who has carved a niche for herself in the entertainment industry. From her work as an actress, scriptwriter, and producer in Nollywood, she has accrued a net worth estimated at $1 million.
The Yoruba actress has earned this much from some of her high-grossing production and acting works, including but not limited to; Soólè, Ewa, Emi Mi, The Silent Baron, Mama Drame, Diary of a Lagos Girl, Its Her Day, and Jenifa's Diary.
Although we do not know how much she collects for a movie feature, considering her long list of film credits which numbers over 100 since her debut in 2013, it is easy to understand how she made the bulk of her wealth in addition to her other income sources.
Adunni Ade also makes money from her business endeavors. She is the CEO and founder of the film production company Lou-Ellen Clara Company. In 2017, OUD Majestic, a unisex fragrance, unveiled her alongside Bolanle Ninalowo as her brand ambassador.
In May 2021, she renewed her endorsement contract for the third consecutive year with DPkay Homes and Property Ltd, one of the leading real estate firms in Lagos, Nigeria. Moreso, Adunni might also have invested in other businesses that are not known to the public.
Meanwhile, it has become common for celebrities to display their wealth and luxury lifestyles on social media. But, this is not the case for Adunni Ade. Even though we know she might have a car and probably a house, too, considering her worth, the actress does not flaunt any property on social media.
Social Media Presence
The actress is also very active on social media, especially on Instagram, where she has a huge fanbase of over a million followers. She has also monetized her massive following on her social media platforms by advertising various brands and their products to her followers.
Adunni Ade is a Single Mother of Two Boys
Away from her professional life, Adunni Ade is a single lady and has never been married before. However, she has two boys (Ayden and D'marion) from her previous relationship with Michael Boyd. They were together for nine years and went their separate ways after she discovered that Michael was not ready for marriage. Actress Adunni has since remained single and raising her children alone.