Adams Oshiomhole (born 4 April 1952) is a prominent Nigerian politician, former National Chairman of the All Progressive Congress, and elder statesman best known for his two-term service as the president of the Nigerian Labour Congress (NLC). Oshiomhole is also popular as a former two-term Governor of Edo State in Nigeria. He served under the umbrella of the All Progressive Congress (APC), having taken office with the defunct Action Congress (AC) in 2007.
Also referred to as the people's Comrade, Adams Oshiomhole is one Nigerian top figure who took himself from a humble background, defying difficult odds, to become a celebrated national icon. Today he is listed as one of the wealthiest politicians in the country, with his net worth estimated at $450 million.

Adams Oshiomhole Profile Summary
Name in Full: Adams Aliyu Oshiomhole
Best known as: Adams Oshiomhole
Date of Birth: April 4, 1952
Age: 71 years old
Place of birth: Iyamho, Auchi, Nigeria
Nationality: Nigerian
State of origin: Edo State
Ethnicity: Black
Gender: Male
Profession: Politician
Marital status: Married
Spouse: Lara Fortes (m. 2015), Clara Oshiomhole (m. ?–2010)
Net Worth: $450 million
Adams Oshiomhole is an Edo State Indigene 
Oshiomhole was born Adams Aliyu Oshiomhole on April 4, 1952, in Iyamho, a small community in Etsako West Local Government Area in Edo North. Adams is currently 71 years old; he grew up in a humble Muslim family but has since converted to Christianity, thanks to his late wife, Clara. Oshiomole's Christian name is Eric.
Nothing much is known about Oshiomhole's parents except for his mother, Aishetu Oshiomhole, whose name has severally been mentioned following her support for her son during the course of his political career in Edo State. We also know of Abubakar Aliyu Oshiomhole, Oshiomhole's younger brother, who reportedly lived with him for over 30 years.
About his private life, Oshiohole was first married to Clara, who unfortunately succumbed to breast cancer in 2010. Five years after Clara's death, Oshiomhole married Lara Fortes, a Cape Verdian model, as his second wife. As for his children, the elder statesman has three children –  two boys Cyril Adams Oshiomhole and Steve Oshiomhole, and a daughter Jane Aduku Oshiomhole. His Eldest son Adams Oshiomhole jr is a medical doctor and one of the contestants for the post to represent Etsako Federal Constituency in Edo State in 2018.
Oshiomhole Completed His Education in Nigeria and the UK
For his primary and secondary school education, Adams Oshiomhole attended local schools in his village in Edo State. In 1975, he proceeded to Ruskin College at Oxford, United Kingdom, where he studied industrial relations, majoring in labour economics. At the end of his programme, Adams emerged as the Best Foreign Student. Returning to Nigeria, he attended the National Institute for policy and strategic studies (NIPSS) Plateau State in 1989. Adams was also a student at the Kennedy School of Government of Howard University.
Even with his humble beginning, Adams worked hard to see himself through school, and all through his academic years, he maintained a reputation as an honest, intelligent, tireless, and strong-willed individual whose resolve is to get more out of life than what his immediate environment had to offer. Oshiomhole was irrepressible, eager to learn and face every obstacle that came his way to success. Obviously, his higher education helped equip him with the enhanced theoretical and intellectual acumen he needed for his political career.

Summary of Schools Oshiomhole Attended
Ruskin College, Oxford, United Kingdom
National Institute for policy and strategic studies (NIPSS) Plateau state
Kennedy School of Government of Howard University
How Oshiomhole's Career Helped Him Build his $450 Million Net Worth
Like many young men with poor family backgrounds, Oshiomhole had no family wealth he could use as a stepping stone for his financial success. To achieve his dreams, he worked hard from his early years, earning his first major payable job after his secondary school education. He kicked off his career with a job at the Arewa Textiles Company, where he was elected Union Secretary. From his desk at the design section of the industry, a young Oshiomhole observed huge cases of criminality perpetrated by the management.
Workers were paid very poorly, the disciplinary regime was brutal, authoritarian, and unsparing, leaving no room for a fair hearing. Also, union leaders at the time were very ineffective, weak, and timid. This gave rise to his unquenchable desire for good leadership as the workers did not get value for their membership in the union. In 1971, a spontaneous uprising earned him an opportunity to prove himself as a union leader, and in 1975, he became a full-time trade union organizer.
In 1982, he was appointed the General Secretary/Chief Executive of the National Union of Textile and Garment Workers of Nigeria (NUTGTWN). It was obvious that a genius was on board. The capacities that he brought on board gave the union a remarkable facelift. Under his leadership, the union was well managed and eventually acquired investments in real estate and generated a cash reserve that is more than what many state governments can boast of. However, shortly after his new appointment, Adams lost his job with the textile company, and he resorted to petty businesses to take care of his needs. It is not clear how much the young Union leader earned while at the textile company, but we know for sure that it was enough to take care of his needs.
 His Appointment As NLC President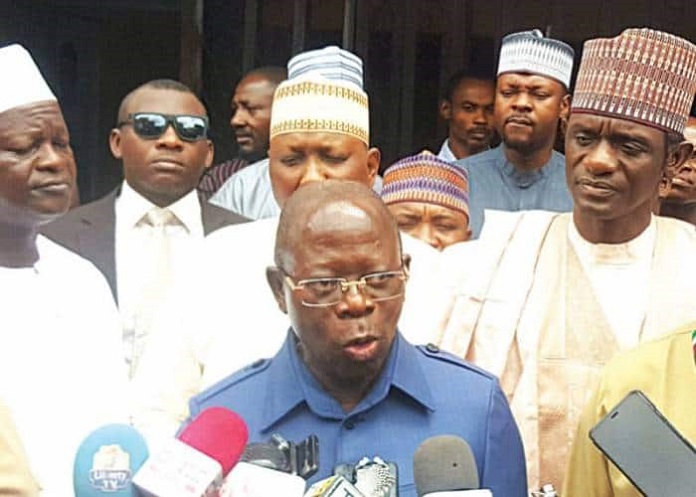 It was only a matter of time before he became a major player in the politics of the NLC. He was first elected deputy president of the NLC in 1988. In 1995, the NLC was dissolved by the then military government but was revived after democracy was restored in 1999. This time around, Adams Oshiomhole became president of the newly revived NLC on January 28, 1999. As the NLC president, he was known for his very many significant contributions as the Labour leader. He negotiated a 25% wage increase for public sector workers in the early administration of the then President of Nigeria, Olusegun Obasanjo.
He most famously led a nationwide strike against high oil prices in Nigeria. Adams had fought to reverse pump price increases introduced by President Obasanjo, leading to strikes and demonstrations against the increases. He was persecuted for his relentless moves against the then government concerning the fuel crisis. While holding his office as NLC president, Oshiomhole also had his hands full with leadership roles in other key organizations. He was elected to retain his position as General Secretary for the Textile Union.
He represented African Workers for two terms on the Governing Body of the International Labour Organisation (ILO), serving on the committee on Freedom of Association. Oshiomhole was also a member of the Executive Board of the International Confederation of Free Trade Unions. While he gained most of the afore-listed positions through union elections, there are no clear details if he made any important income from them. However, there is no doubt that the positions he occupied made him more popular and further earned him better chances for more leadership roles.
His political career as Edo State Governor 
Adams Oshiomhole is known for his outstanding role in bringing about a culture of radical and critical citizenship, where leaders can be questioned by their followers. This led to him being driven into politics as he contested for Edo State Governor in 2007. He contested for the gubernatorial elections but was said to have lost the election initially to the People's Democratic Party's (PDP) candidate, Oserheimen Osunbor. However, Oshiomhole and his party, AC, did not subscribe to the election results because it was rigged.
On March 20, 2008, an Edo State election tribunal nullified the election of Oserheimen Osunbor based on several voting irregularities. The decision was in Oshiomhole's favor who was declared the winner, and on November 11, 2008, he assumed office as the executive governor of his state. He maintained office for the second term in 2012 after winning the elections in a massive landslide. On November 12, 2016, Adams Oshiomhole ended his second tenure of four years.
Eight years as Edo State governor is such a long time for someone like Oshiomhole to garner as much wealth as he desires, as Nigerian governors are among the wealthiest politicians in the world and the highest-paid public office holders in the African continent. The remuneration package for governors, as prepared by the Revenue Mobilization Allocation and Fiscal Commission (RMAFC), is placed at N11,540,896 annually, out of which N2,223,705 is their basic salary. The rest of the money is shared between their leave allowance, vehicle loans, and end of tenure gratuity. This remuneration became effective o July 1, 2009, and Oshiomole, being in the office at that time, is assumed to have benefited from it.
Here is a breakdown of salaries and allowances for Nigerian governors:
Basic Salary –  N2,223,705
Leave allowance –  N222,370.50
Vehicle loans – 400% of annual basic salary
End of tenure gratuity – N6,671,115
Aside from the above-listed allowances governors like Oshiomhole received, they were also entitled to some other allowances for which the state government are to make provisions. These allowances include accommodation, furniture, and medical allowances. As a governor, Oshiomole could also generate more money from his duty tour allowance. This allowance is usually coughed out from the state account at the request of the governor. Adams Oshiomhole is one of the top politicians and elder statesmen in Nigeria.
Other Political Offices Oshiomhole Occupied
With his second tenure as governor of Edo State elapsing in 2016, Adams Oshiomhole continued to pursue his political career. On June 23, 2018, he emerged as the national chairman of the All Progressives Congress (APC) in Nigeria following a voice vote by delegates at the party National convention. Through his new position, Oshiomhole was pivotal in the emergence of the APC as the ruling party in 2018. However, his once successful political career began to take a downturn following his involvement in controversies.
On January 15, 2020, a vote of no confidence by 18 APC. Local Government Chairmen in Edo State led to his suspension from the party in his native state. This was followed by his suspension from the office of the National Chairman of the APC, by the Abuja High court, on March 4, 2020. With the High court affirming his suspension on June 16, 2020, Adams Oshiomhole lost his right as a member of the APC. He also could not discharge his official responsibilities as national chairman as the court ordered his restriction from the national secretariat of the party.
Having held various positions in and outside the country and having been state governor for two terms, it is believed that Adams Oshiomhole made the majority of his income from his political career. He most notably owns several luxury properties, which reportedly include a private jet and a yacht.
Oshiomhole Has Won A Few Awards
Following his public services, Adams Oshiomhole has received many awards, including the following:
Man of the Year, by Silverbird in 2008
Award of Recognition, by The Social Enterprise Reports and Awards (SERAs) in 2011.
Best Governors of Edo State during Edo Day Celebration in 2015.
Governor of the Year, by Vanguard Personality of the Year in 2015.
Honorary Doctorate from Samuel Adegboyega University in 2016.
Controversies Adams Oshiomhole Was Involved In 
Being a public figure, Adams Oshiomhole has not been exempted from controversies. In fact, the ex-governor has faced several court charges that at some point led to what many describe as a smear of his good reputation. One of the most significant controversies involving the former APC chairman was the alleged N10 billion mansion.
Adams was accused of spending N10 billion taxpayers' money in his private mansion in his Iyamho village in Etsako West Local Government Area of the state in 2012. The accusation was first laid by the Edo State Peoples Democratic Party (PDP). Through its state chairman Chief Dan Orbih, the party accused Oshiomhole of deceiving people by pretending to be frugal. At the same time, he spends billions of money in building his mansion in his home country using materials imported from South Africa.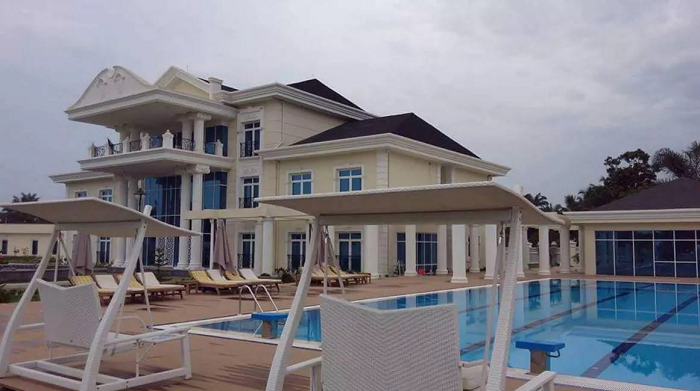 Following the claims by PDP, a Benin-based human rights activist, Bishop (Dr.) Osadolor Ochei filed a suit at the Federal High Court, seeking Oshiomhole's prosecution by the Economic and Financial Crimes Commission (EFCC). The petition, dated October 28, 2016, also mentioned that the said N10 billion mansion was constructed by Verissimo, a South African architectural outfit.
Also included in its petition is another property worth over N500 million which Oshiomhole allegedly acquired while in office. The structure, which reportedly has exotic features such as an underground apartment and roof-top swimming pool, is located along Okoro-Otun Avenue, GRA, Benin City, and was owned by the Edo State Government. The dams Oshiomhole house project had been a center of debate for long, with his opponent accusing him of corruption.
Meanwhile, Adams broke his silence on the allegation, saying that the alleged N10.8 billion mansion was a product of PDP's imagination. Contrary to the allegation, the ex-governor claimed that he had only erected a mere four-bedroom guest house which at the time of his accusation was still under construction.