The Associated Bus Company, popularly known as ABC Transport, is one of Nigeria's foremost indigenous executive passenger bus services, which boasts of classic services to its customers within and outside Nigeria. Talk of reliability and safe traveling experience, and you speak of no other transport service than ABC transport. It is also a leading company in terms of discipline, integrity, and commitment.
Also, a trading company engaged in the importation, sales of vehicles spares, installation of motor vehicle speed governing devices, and the assembly of heavy-duty trucks, the company has subsidiaries ranging from ABEX services to City Transit (hospitality for travelers), along with a 50% stake in Transit Support Services. One of the many reasons this company is commuters best transport company is because it is one of the most regulated and managed international road transport companies in West Africa.
Brief History of ABC Transport Company
ABC Transport company was incorporated in March 1993 as an off-shoot of Rapido Ventures, with the aim of running a modern road transportation system in Nigeria. Its partnership with Capital Alliance Private Equity (CAPE) (which acquired 30% of the company's shares) eventually helped it realize its aim and re-positioned it for greater performance. Today, ABC Transport company is listed among the top road passenger transport service providers in Nigeria operating between major cities in Nigeria, crossing the south, north-central, and Abuja.
In July 2004, ABC transport commenced road passenger transportation on the west coast between Lagos, Nigeria, and Accra, Ghana. ABC Transport has been described as one of the largest road transport companies in West Africa with a modus operandi that offers efficient, reliable, professional, punctual, very receptive, and unbridled first-class hospitality.
The company, which was initially incorporated as a Limited Liability Company, became the first of its kind to be listed on the Nigerian Stock Exchange (NSE) when it went public and launched its Initial Public Offer in 2006. The founder and CEO of ABC Transport Company is Frank Nneji Uzoawuotu, from Mbaise, Imo State, who has well over 1,200 people on his payroll and over 500 fleets nationwide.
Services Provided by ABC Transport Company
Having been effective for about two decades and counting, the company now has a very strong reputation for its safety protocol through its strict adherence to speed control and tracking system on its buses. Here are all ABC transportation services offered at the moment:
Executive Express
Shuttle Services
City Transit Inn
Coach West Africa
Cargo Express
ABC Haulage
Sprinter Services
ABC Executive Express
The services provided by the ABC executive express give you a luxurious travel experience with access to fully air-conditioned vehicles and all kinds of other exciting offers such as a well-prepared meal, restroom, and a comfortable seat that could allow you to stretch your body when tired.
One good thing about this service is that when you set out for your journey, you are sure of receiving that executive class feeling in a bus that rarely stops along the way until you arrive at your destination.
ABC Cargo Express
ABC transportation company offers logistics and delivery services. If you have goods to deliver either within or outside Nigeria, you can use ABC transport Plc. To book for a Cargo service, you will have to fill a form with necessary details about the item, your information, and the receiver information. As per their charges, the leading transport company charge based on the weight, shape, and destination of the goods.
ABC Coach West Africa
This is another service provided by ABC Transport withThe agenda behind the creation of the ABC Coach West Africa is to make traveling to other West African Countries easy and effortless.
ABC Coach West Africa features offer a dignified service suitable for business, travel, and tourism. This plan is suitable for those schooling outside the shores of Nigeria, doing business, traveling, and tourism. Both adults and kids can book this service.
ABC Sprinter Services
This transport service is best for light travelers. ABC Sprinter service conveys 14 light travelers with little or no luggage only in state-of-the-art transport conditions. The service also promises safety as the drivers are highly disciplined and very committed to the company's speed limit regulation installed in every bus. The sprinter bus takes you to all your desired destination – Abuja, Port Harcourt, Owerri, Calabar, Lagos, Aba, and several other places within the country.
ABC City Transit Inn
The transport company also provides affordable accommodation services for its travelers. The luxurious abode with 114 rooms is located at the heart of Utako District, just behind the ABC Transport Abuja terminal 36, Ekukinam Street, Utako, Abuja. The building is located 32km from the Nnamdi Azikiwe International Airport and 7km from Federal ministries, parastatals, and other business centers.
How to Book ABC Ticket Online
For you to enjoy all the services and benefits provided by the ABC transport company, you need to schedule or book for any of the services of your choice via their website or at the terminal on time. However, the good news is that there is a daily schedule of this service available at all ABC Transport terminals.
Travel booking at ABC transport company is quite easy. Like other industry competitors, the company has an automated online platform for ticket bookings and seat reservations.
Note: There are special benefits you may enjoy for choosing to travel with ABC transport service. Some of these benefits include:
discounts for children and youth corp members.
Booking tickets via the ABC transport app also attracts 5% discounts.
Customers, who travel with ABC at least 11 trips in a year, also get a free trip, discounts, gold cards, and other numerous benefits.
Below are steps on how to book and pay for tickets online: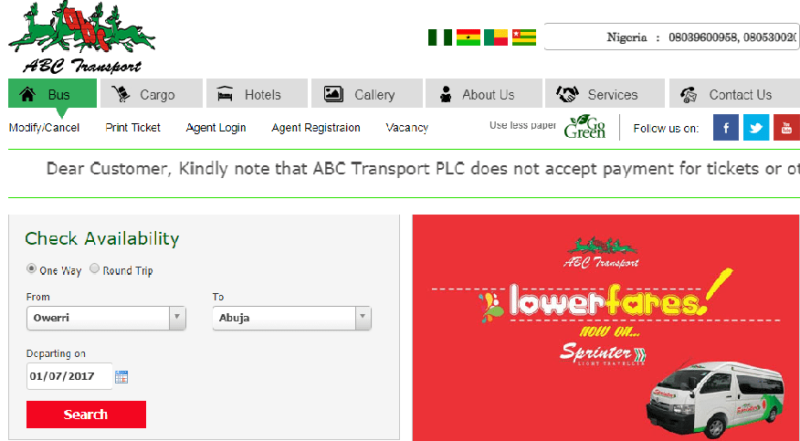 Visit the company's website home page at https://www.abctransport.com/
Start by choosing where you are traveling from by clicking the 'Origin' button.
Next, you select your destination on the 'Choose Your Destination' box.
Select your travel date and possible 'return.'
After correctly inputting your choices, click on the 'SEARCH' at the top right, and you will be directed to the page showing the bus(es), boarding point, departure time, the number of seats available, and the dropping point.
Click on 'view seats' and select any of the available seats you like. Click on 'Continue' to proceed with your booking.
 Once you hit the 'continue button, you will be redirected to a page showing the 'Passenger details.' Fill in your details, including your phone number and email.
Click on the 'Proceed to Payment' icon so you can pay for your transportation.
Automatically, you will be redirected to a payment gateway where you will be asked to input your debit/credit card details. Once payment is successful, you will be redirected to a page where you can print out your ticket details.
Note: You will need to bring the printed ticket along on your departure date. We also advised you to book earlier for your ticket at least a day before your departure date.
Other Ways you Can Book Your Travel Ticket
ABC Terminal Booking
Aside from booking your traveling tickets online, commuters can also make all necessary travel payments over the counter in their various terminal across the nation. To o so, you will have to walk to any of the bus terminals near you, but you must make sure you arrive earlier than the scheduled departure time. Payment and bookings at the terminals take just 5 to 10 minutes in places where there is no much demand.
ABC transport APP
Alternatively, you can book your ticket using the ABC transport App available on the google play store. You do so by first downloading the app on your android or smartphone and follow the instructions on the app.
ABC Routes and Ticket Price List –  How Affordable is the Transport Service?
In addition to being one of the safest and reliable transport services across Nigeria, ABC transport prides itself as one of the cheapest in terms of ticket prices. Though prices may slightly change with seasons and economic tides, below is an updated price list of different ABC transport routes in Nigeria.
Abuja Terminals
| | |
| --- | --- |
| Terminal | Price |
| FCT to Lagos (Amuwo) | ₦ 8,000 |
| FCT to Aba | ₦ 8,000 |
| FCT to Lagos | ₦ 8,000 |
| FCT to Lagos (Ajah Terminal) | ₦ 8,500 |
| FCT to Calabar | ₦ 8,000 |
| FCT to Enugu | ₦ 7,000 |
| FCT to Awka | ₦ 7,000 |
| FCT to Ibadan | ₦ 7,500 |
| FCT to Owerri | ₦ 7,950 |
| FCT to Onitsha | ₦ 7,950 |
| FCT to Umuahia | ₦ 8,000 |
| FCT to Aba | ₦ 8,000 |
| FCT to Benin | ₦ 6,050 |
| | |
| --- | --- |
| Gwagwalada to Aba | ₦ 7,000 |
| Gwagwalada to Lagos | ₦ 7,000 |
| Gwagwalada to Calabar | ₦ 7,000 |
| Gwagwalada to Awka | ₦ 5,800 |
| Gwagwalada to Owerri | ₦ 7,350 |
| Gwagwalada to Onitsha | ₦ 7,350 |
| Gwagwalada to Ibadan | ₦ 6,500 |
| Gwagwalada to Enugu | ₦ 5,800 |
| Gwagwalada to Umuahia | ₦ 7,000 |
| Gwagwalada to Aba | ₦ 7,000 |
| Gwagwalada to Port Harcourt | ₦ 7,200 |
| Gwagwalada to Lagos (Ajah) | ₦ 7,600 |
Lagos Terminal
Terminal
Price
Lagos to Abuja
₦ 8,000
Lagos to Port Harcourt
₦ 6,950
Lagos to Umuahia
₦ 6,900
Lagos to Aba
₦ 6,900
Lagos to Onitsha
₦ 6,900
Lagos to Kaduna
₦ 8,500
Lagos to Mbaise
₦ 6,900
Lagos to Jos
₦ 8,300
Lagos to Awka
₦ 6,150
Lagos to Enugu
₦ 6,150
Lagos to Uyo
₦ 7,500
Lagos to Aba
₦ 6,800
Lagos to Warri
₦ 5,250
Lagos (Ajah) to Abuja
₦ 8,000
Lagos (Ajah) to Port Harcourt
₦ 7,500
Lagos (Ajah) to Warri
₦ 5,250
Lagos (Ajah) to Owerri
₦ 6,800
Lagos Ajah to Onitsha
₦ 5,800
Lagos (Ajah) to Aba
₦ 6,800
Lagos (Ajah) to Calabar
₦ 8,000
Lagos (Ajah) to Uyo
₦ 7,000
Lagos (Ajah) to Umuahia
₦ 7,000
Lagos to Ghana (Accra)
₦ 13,950
Lagos to Lome
₦ 13,750
Lagos to Cotonou
₦ 10,250
| | |
| --- | --- |
| Terminal | Price |
| Ikorodu to Abuja | ₦ 6,600 |
| Ikorodu to Enugu | ₦ 5,000 |
| Ikorodu to Awka | ₦ 5,000 |
| Ikorodu to Onitsha | ₦ 5,000 |
| Ikorodu to Mbaise | ₦ 5,100 |
| Ikorodu to Orlu | ₦ 5,100 |
| Ikorodu to Port Harcourt | ₦ 5,100 |
| Ikorodu to Benin | ₦ 3,000 |
| Ikorodu to Warri | ₦ 3,500 |
| Ikorodu to Calabar | ₦ 6,600 |
| Ikorodu to Uyo | ₦ 6,000 |
| Ikorodu to Umuahia | ₦ 5,100 |
| Ikorodu to Owerri | ₦ 5,100 |
| Ikorodu to Aba | ₦ 5,100 |
Enugu Terminal
| | |
| --- | --- |
| Enugu to Aba | ₦ 1,400 |
| Enugu to Abuja | ₦ 7,000 |
| Enugu to Calabar | ₦ 4,450 |
| Enugu to Lagos | ₦ 6,500 |
| Enugu to Owerri | ₦ 1,600 |
| Enugu to Port Harcourt | ₦ 4,000 |
| Enugu to Umuahia | ₦ 2,200 |
| Enugu to Uyo | ₦ 3,200 |
Port Harcourt Terminal
| | |
| --- | --- |
| Port Harcourt to Abuja | ₦ 8,000 |
| Port Harcourt to Awka | ₦ 2,050 |
| Port Harcourt to Calabar | ₦ 2,850 |
| Port Harcourt to Uyo | ₦ 1,900 |
| Port Harcourt to Enugu | ₦ 4000 |
| Port Harcourt to Lagos | ₦ 6,500 |
| Port Harcourt to Onitsha | ₦ 2,000 |
| Port Harcourt to Owerri | ₦ 1,050 |
Calaba Terminal
| | |
| --- | --- |
| Terminal | Price |
| Calabar to Enugu | ₦ 4,500 |
| Calabar to Owerri | ₦ 4,850 |
| Calabar to Umuahia | ₦ 4,450 |
| Calabar to Port Harcourt | ₦ 4,500 |
| Calabar to Uyo | ₦ 3,050 |
Owerri Terminal
| | |
| --- | --- |
| Terminal | Price |
| Owerri to Calabar | ₦ 4,850 |
| Owerri   to Enugu | ₦ 2,750 |
| Owerri to Port Harcourt | ₦ 2,000 |
| Owerri to Uyo | ₦ 2,650 |
Ibadan Terminal 
| | |
| --- | --- |
| Ibadan to Abuja | ₦ 7,000 |
| Ibadan to Kaduna | ₦ 6,500 |
ABC Service Contact details  – How to reach ABC customer care for issues
Contacting the personnel of the transport service is quite easy. You can either get in touch with the company's headquarters or choose to go directly to your bus terminal
Head Office
Owerri North(Ho)
Km 5 MCC Uratta Rd
Owerri, Imo State, Pin: 1111
+234704226222 [email protected]
Corporate Office
Amuwo-Odofin Terminal, Lagos
Plot 79, Oba Kayode Akinyemi Way
By Festac Bypass, Amuwo-Odofin, Lagos State.
+2348142552436,
080-53001000, 070-66855569, +234704226222
AB company contact: @abctransport.com
ABC Transport Terminals in Nigeria And Their Contact Details
ABC Transport covers selected states across Nigeria and other West African countries from Nigeria. See the list below;
Terminals Addresses in Abuja
1. FCT Terminal
Address: 36, Ekukinam Street, Utako District (off Berger Junction), Abuja.
Contact: 09-5242020, 09-2634148, 0814-255-2437
Email address: [email protected]
2. Gwagwalada Terminal
Address: Jibeco Nigeria Limited in Gwagwalada, Abuja
Contacts: 0703-089-0239
Email address: [email protected]
3. Katampe Cargo Center
Address: Cadastral Zone B07 in Plot 1850, Close to Mabushi Modern Market in Abuja
Contact: 0814-255-2447
Email Address: [email protected]
ABC Terminals in Lagos
1. Special Cargo Centre Terminal
Address: 52C Ikorodu Road, Fadeyi, Special Cargo Centre.
Contacts: 01-8793070, 0810-131-2485
Email address: [email protected]
2. Amuwo Odofin Terminal
Address: Plot 79 around Oba Kayode Akinyemi Way by Festac Bypass, Lagos state
Contacts: 01-879 3076, 0814-255-2436, 0805-300-1000
Email address: [email protected]
3. Bolade Oshodi Terminal
Address: No. 129 around Agege Motor Road
Contacts: 0703-857-0556, 0803-372-2122, 01-7911365, 01-8793078, 8793070
Email address: [email protected]
4. Ikeja Cargo Terminal
Address: No 2, Simbiat Abiola Way in Computer Village, Ikeja, Lagos state
Contacts: 0802-342-2666
E-mail address: [email protected]
5. Jibowu Terminal
Address: No. 22, Ikorodu Road in Jibowu, Yaba, Lagos state
Contacts: 01-7741320, 01-8793072
Email address: [email protected]
6. Lekki Terminal
Address: 1st Gate beside FCMB, Opposite Jakande in Lekki Expressway, Lekki
Contacts: 0813-827-3133
Email Address: [email protected]
ABC Terminals in Abia State
1. Aba Terminal
Address: No. 2, Ikot EKpene Road in Aba, Abia state
Contacts: 0702-911-6651, 0814-255-2421, 082-29116651
Email Address: [email protected]
2. Umuahia Terminal
Address: No. 8, Mission Hill in Umuahia
Contact: 0703-857-1144, 0803-544-8821
E-mail address: [email protected]
ABC Terminals in Akwa Ibom
1. Uyo Terminal 1
Address: Long Distance Bus Terminal around the Park Road, Itam in Uyo
Contact: 0806-706-0526
Email Address: [email protected]
2. Uyo Terminal 2
Address: No 60, around  Ikot Ekpene Road, opposite MTN Office in Uyo.
Contacts: 0703-889-4946
Email Address: [email protected]
Terminals in Anambra State
1. Awka Terminal
 Address: Around Aroma Junction by Ozoagu Bus Stop in Awka
Contacts: 0806-469-9718, 0806-483-4870
Email Address:\ [email protected]
2. Onitsha Terminal
Address: Around Onitsha-Asaba Expressway, Opposite Ogbaru Main Market in Onitsha
Contacts: 0703-857-0482, 046 – 482784
Email Address: [email protected]
Enugu State Terminals
9th Mile Terminal, Enugu State
Address: 38 Enugu Road, Beemartz Hotel in 9th Mile Corner, Ngwo
Contacts: 0814-255-2424
Email Address: [email protected]
2. Enugu Terminal
 Address: No. 122, Ogui Road, Enugu
Contacts: 042-255069
Email Address: [email protected]
Other ABC Transport Terminals in Nigeria
1. Calabar Terminal
Address: No. 75, IBB Way, Calabar
Contacts: 0806-918-9038
Email Address: [email protected]
2. Warri Terminal
Address: No. 194, PTI Road, Effurun, Warri
Contacts: 0706-622-1578
Email Address: [email protected]
3. Benin Terminal in Edo State
Address: INE oil Limited, opposite KM 8 Benin to Lagos Expressway in Euboumore Village, Benin.
Contacts: 0806-296-8337, 0803-678-8464,
Email Address: [email protected]
4. Mbaise Terminal, Imo State
Address: Alpha Paradise Hotel at Ahiara Junction Ahiazu Mbaise, Imo state.
Contacts: 0806-378-6378
Email Address: [email protected]
5. Owerri Terminal, Imo State
Address:  Plot 9 on Egbu Road in Owerri, Imo state
Contacts: 0806-432-7270
6. Kaduna Terminal
Address: No 3, Kachia Road at Railway Station Market, Kaduna
Contacts: 0803-491-0292, 0803-779-1010, 0813-908-3445
Email Address: [email protected]
7. Lokoja Terminal in Kogi State
 Address: Opposite New Market in No. 178 Hammed Bello Way, adjacent Texaco Petrol Station, Lokoja
Contacts: 0703-857-0375, 0803-880-8013, 0806-959-7096
Email Address: [email protected]
8. Akwnaga Terminal, Nasarawa State
Address: No. 60, Jos Road, beside NYSC Zonal Office in Akwanga
Contact: 0703-857-1256
Email Address: [email protected]
9. Ibadan Terminal, Oyo State
Address: Acorn Filling Station along New Ife Road, Opposite Nigerian Breweries by Ibadan
Contact: 0814-255-2449
Email Address: [email protected]
10. Jos Terminal, Plateau State
Address: Hallmark Home Plaza around 7/9 Lugard Road, formerly called UTC Motors in Jos
Contact: 0903-491-0292
Email Address: [email protected]
11. Port Harcourt Terminal, Rivers State
Address: Eliozu Junction around East/West Road in Port Harcourt
Contacts: 0806-591-043, 0814-006-6940
Email Address: [email protected]
ABC Transport Terminals Outside Nigeria
1. Ghana (Accra)
Accra Terminal Address: 75, Nsawam Road, R5 Bus Stop (Caprice), opposite Priceway Hotel, Avenor, Accra, Greater Accra.
Contact: 0244-739143, 020-8765930, 021-227236, 009-233243708737
Email Address: [email protected]+8.0
2. Cotonou Terminal, Benin Republic
Physical Address: Emperor Tour Sarl, Stade de L'amite Kouhounou, Cotonou
Contacts: +228 97035013, +228 93699554, +228 97387842
Email Address: [email protected]
3. Lome Terminal in Togo
Physical Address: 7, Rue Sylvanus Olympio Pres de la Station  Total Plage, Sur rout de Restaurant Marox, Lome
Contacts: +228 9076956, +228 9171741, +228 9255998
Email Address: [email protected]