Maryam Apaokagi, famously known as Taaooma, is a young comedian, businesswoman, and entrepreneur from Kwara State, Nigeria. At 24 years of age, Taaooma has achieved a lot in her life and has received several awards in this regard. What's more, Taaooma is ready to marry the love of her life and best friend- Abdulaziz Oladimeji. There is no doubt that these two will make each other very happy for the rest of their lives.
The comedian is Muslim by religion and is also a cinematographer and social media influencer. She is best known for her comedy skits, where she acts in multiple roles and centers on the way African mothers discipline their children. Hitting one million followers on social media, Taaooma has become a household name when it comes to comedy, for she is an inspiration and a role model to young women who want to do their own thing.
Taaooma And Abdulaziz Oladimeji Have Been A Pair For Four Years Before He Proposed
It is said that the love birds have been together for about four years before Oladimeji finally proposed to her. However, they met for the first time when Abdulaziz Oladimeji was undergoing his one-year National Youth Service (NYSC) in Kwara State, and Taaooma was still in school then. Taaooma had gone to him to teach her how to make and edit videos. However, after that, they became close and eventually started dating.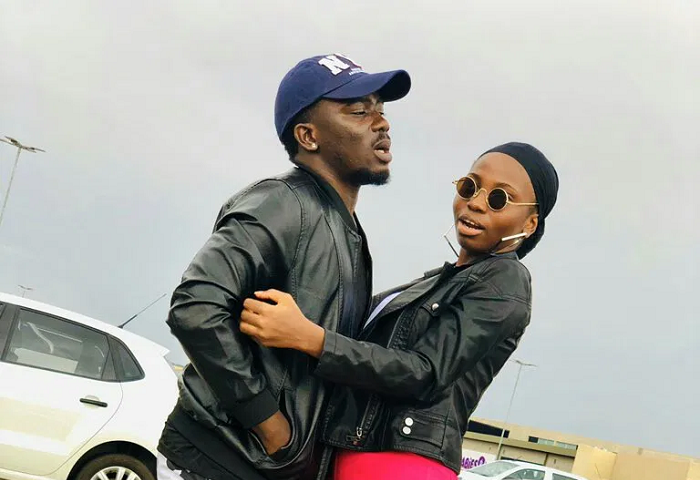 Taaooma was born to her parents, Mr. Apaokagi and Mrs. Aishat Apaokagi, on 28th February 1999. She comes from a decent middle-class Muslim family. At some time in her life, she lived in Namibia before coming back to Nigeria to pursue her degree. She met her fiancée through her older brother, who was his family friend. She liked him first as a friend and a tutor, but things took a different turn along the line.
The fast-rising comedian attended Kwara State University, where she studied Tourism and Travel Service Management. Before that, she attended Amazing Kids Private School and Academy, Concordia College Windhoek, and Concordia College Windhoek (High School) in Namibia. She became a social media sensation and star in 2019 after acting a comedy piece online that brought her recognition and many fans. Before 2019, Taaooma has been doing her comedy stuff since 2015 but became more popular and successful recently.
Taaooma's Fiancé Planned The Proposal In Namibia
Taaooma's fiancé stated in an interview that after spending time with her, he discovered that he was falling in love with her and really wanted her to be his wife. However, she was still very young back then and was still pursuing her studies, so he decided to wait a while longer.
According to him, before he even set out to plan the secret engagement, he went to Taaooma's parents to seek their permission to marry their daughter before asking her. In October 2020, he asked her to marry him. He planned the whole event in secret without his future wife having the slightest idea of what was going to happen. He said that he initially wanted to propose to her on her birthday but decided against it, for she might find out what he is up to, so he decided to do it a little bit after her birthday.
Abdulaziz planned the whole proposal in Namibia, where she grew up and held dear to her heart, with the help of an event planner. After inviting Taaooma's close friends to support her at the beautiful breathtaking venue picked out, he admitted that he started to have some doubts, wondering if she would say yes or not. However, he finally summoned the courage to ask her, and she said yes.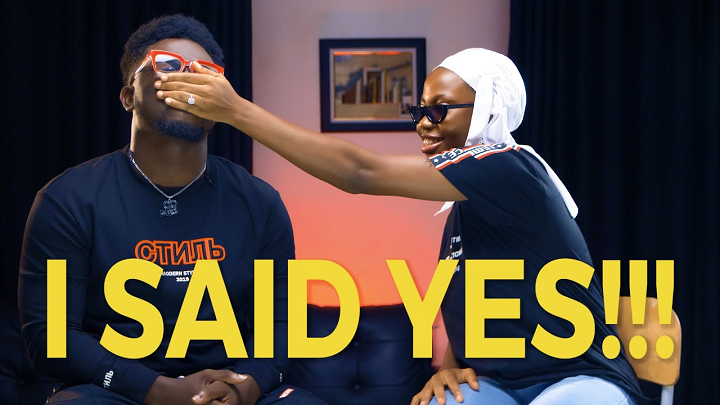 She was also shocked and surprised because she wasn't thinking about marriage, and she also never suspected anything of her boyfriend. However, after the proposal, she remembered trying on a ring she thought was from a set he was working on; it then dawned on her that that was when he was trying to get her ring size.
Being about five years younger than her fiancé and just in her early twenties, Taaooma's fiancé Abdulaziz thought it might be a problem, which might make his girlfriend refuse his ring. Nevertheless, that was not the case for Taaooma, as she confesses that she loves him so much and is excited to see what the future holds for them.
When Are They Getting Married?
The exact date Taaooma and Abdulaziz Oladimeji intend to get married has not been revealed. Perhaps, the lovebirds are still enjoying their engagement and taking it one step at a time. It is also safe to say that they are planning towards the wedding, and whatever the two decide to do, whether a big or small wedding, her fans and family will be firmly behind her to be part of their joyful day.
Taaooma's Boyfriend stated in an interview that how and when their wedding holds is totally up to his darling fiancée – whether big public or small private, he will go along with it, for all he wants is their happiness.
Abdulaziz Oladimeji is a Video Director and Cinematographer
Taaooma's boyfriend Abdulaziz Oladimeji, also known as Abdulazeez Greene, is a popular Nigerian video director and cinematographer. He has been the brain behind Taaooma's comedy skits, and she credits the success of her career to him, such that she rarely speaks of her career without mentioning her fiancée. He is also the founder of Habular Creations. Taaooma and Abdulaziz Oladimeji jointly own a video production company called The Greenade Company.
Oladimeji is so good at what he does, and as a result, he has worked with famous artists, including Olamide, where he shot and directed a hit single of his called Motigbana. He has also co-directed and shot videos like Magnet by 21 zero9, Shayo by 2ways and Bella Shmurda, My body by Zlatan and Olamide, Penetrate by Vikoliver and Skibbi, Johanna by Codest Boy, and many other amazing and interesting works.
Although his net worth has not been disclosed, one can see that this talented and hardworking cinematographer is doing well for himself; his family and fans couldn't be more proud of him.