It's quite unfortunate that most Nigerians are greatly preoccupied with so many problems facing Nigeria at the moment, ranging from Boko Haram issues to the war of words between the presidential aspirants and their various supporters, that they have clearly missed out on the very important facts relevant to the imminent elections.
It's barely one month to the general elections and most average Nigerians would not be able to give a comprehensive breakdown of the pros and cons of the forthcoming elections. It will be of great benefit if you avail yourself this opportunity to grab everything you need to know about the 2015 General elections. Don't forget you need to be well informed in order to make the right choices.
Things You should know
Who and who is running for the presidential post
Apart from the two prominent presidential aspirants, being the incumbent President Goodluck Jonathan of the ruling People's Democratic Party and General Muhammadu Buhari of the All Progressive Congress, there are 9 others for this 2015 presidential elections. The fact is that all of them are virtually unknown as they are not presently occupying any prominent position in the government of the nation. Of all the 11 candidates, only GEJ and GMB participated in the last election in 2011.
People's Democratic Party (PDP) Won All Presidential Elections for 16 years 
Nigeria has conducted 4 different presidential elections since its return to Democracy in 1999. Chief Olusegun Obasanjo of the PDP won the 1999 and 2003 elections consecutively, Late President Umaru Musa Yar'Adua of the PDP won the 2007 elections and President Goodluck Ebele Jonathan of the same party won the 2011 elections. It's really striking that Gen. Muhammadu Buhari had consecutively had the second highest votes in 3, (i.e 2003,2007,2011) out of these 4 presidential elections. We all just have to wait and see if he will win this time or lose once more.
The Political Parties Represented
Out of the 27 Political Parties in Nigeria, only 13 parties produced presidential candidates. It's important to point out that though 13 parties are contesting, we actually have only 11 candidates as Goodluck Jonathan was endorsed by 3 parties (PDP, LP, APGA).
These are the parties and their candidates for the 2015 Presidential Elections as released by the INEC:
| | | | |
| --- | --- | --- | --- |
| PARTY | ACRONYM | PRESIDENTIAL CANDIDATE | RUNNING MATE |
| United Progressive Party | UPP | Chekwas Okorie | Bello Umar |
| Allied Congress Party of Nigeria | ACPN | Ganiyu Galadima | Balarabe Ahmed |
| Hope Democratic Party | HDP | Ambrose Albert | Haruna Shaba |
| United Democratic Party | UDP | Godson Okoye | Haruna Adamu |
| All Progressives Grand Alliance | APGA | Goodluck Jonathan | Namadi Sambo |
| Labour Party | LP | Goodluck Jonathan | Namadi Sambo |
| Peoples Democratic Party | PDP | Goodluck Jonathan | Namadi Sambo |
| National Conscience Party | NCP | Martin Onovo | Ibrahim Mohammed |
| All Progressives Congress | APC | Muhammadu Buhari | Yemi Osinbajo |
| African Democratic Congress | ADC | Nani Ibrahim Ahmad | Obianuju Murphy-Uzohue |
| Kowa Party | KP | Oluremi Sonaiya | Saidu Bobboi |
| Alliance for Democracy | AD | Rafiu Salau | Clinton Cliff Akuchie |
| Action Alliance | AA | Tunde Anifowoshe-Kelani | Paul Ishaka Ofomile |
2015 Elections has the 2nd Lowest Number of Contestants 
The highest number of presidential aspirants since Nigeria's Democracy was seen in 2011 with a total of 20 Candidates appearing on the ballot. The second highest was in 2007, with 18 candidates voted for. The lowest was in 1999 with only Chief Olusegun Obasanjo and Chief Olu Falae of the Alliance for Democracy (AD), contesting. The second lowest is this year, with only 11 candidates to appear on the ballot.
Only One Woman is Running for the Post of President
Though Women make up about 49% of Nigeria's total population, only one out of all, Miss Ebiti Ndok had the wherewithal to go for the presidency. But the funniest part of it is that even the one woman representing is very unpopular that a great number of the country's citizens do not know her. It was actually the second time she's aspiring; she was there in 2011.
The Presidential Aspirants Flopped the Age Limit rule
The age limit for a presidential candidate in Nigeria is 52 but 4 of the aspirants are above 52. Goodluck Jonathan(57), his primary rival, Muhammadu Buhari(72), Professor Oluremi Sonaiya(59), and Rafiu Salau(58). It will be nice to point out here, that President Goodluck Jonathan is the second youngest President democratically elected after Tafawa Balewa became the first and only prime minister of in 1960 at the age of 48 years. He assumed the office of the President at the age of 53. Buhari is, however, the oldest presidential candidate this year, the third oldest in Nigeria's history, (after founding fathers Nnamdi Azikiwe and Obafemi Awolowo, who were 79 and 74 respectively when they contested for the presidency in 1983), and will eventually become Nigeria's oldest president ever if he wins.
The Geo-political zones represented
Out of Nigeria's six geopolitical zones, only one zone did not produce a candidate for the 2015 presidential elections. I believe you can guess the zone; that's the North-east, the Boko Haram infested zone. The last president from this zone was Alhaji Sir Abubakar Tafawa Balewa, and that was in 1960.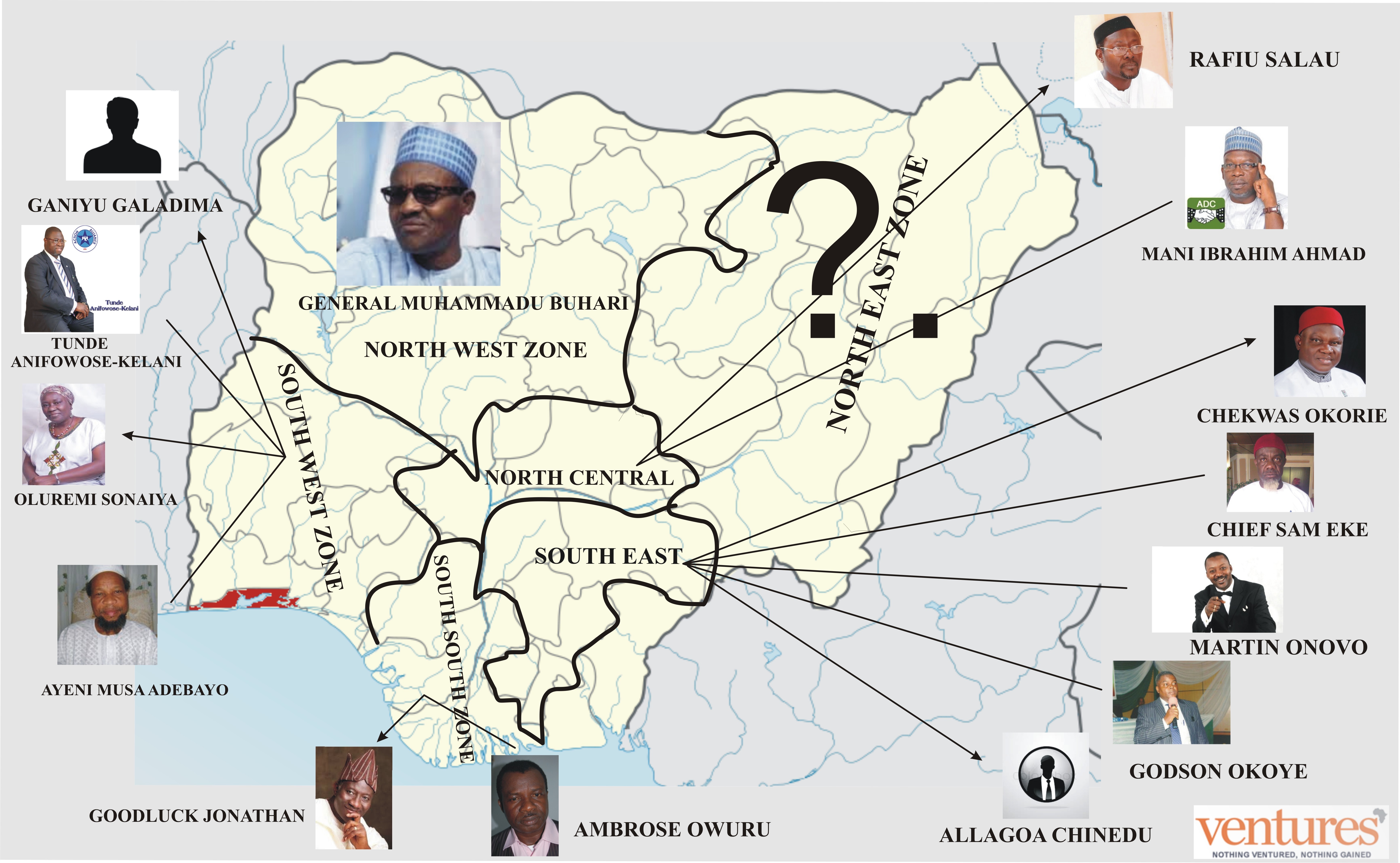 No Candidate from the South-eastern has ever won Presidential Elections
Though 4 candidates are currently from this zone, it's very clear that none of them has chances of winning. Buhari is from the North-west while GEJ is from the South-south. The South-west has 3 candidates while the North-central has 2. It is not as if the south-east lack people who can go for the presidency, but it may simply mean they've never been lucky to get there. These are Prominent south-easterners who have contested in Nigeria's presidential elections: Former Abia State Governor, Orji Uzor Kalu (2007), Late Chukwuemeka Odumegwu Ojukwu (2003 and 2007), Jim Nwobodo (2003), Ike Nwachukwu (2003).
Educational Qualifications of the Presidential Candidates
There is 1 professor, Oluremi Sonaiya, 5 PhD holders, 1 Masters Degree holder, 1 HND holder, and 2 SSCE holders. Goodluck Jonathan is a PhD holder while Buhari is an SSCE holder. There are also controversies beclouding the O'level Certificate he presented.
See also: Nigerian Presidents' Academic Qualifications: 1960 Till Date
Number of Eligible Voters
Out of Nigeria's total population which is about 160 million, only 68,833,476 were registered to vote in the 2015 General Elections. And only 75% of this figure have collected their permanent voter's cards.
The Election Dates
March 28 and April 11 have been respectively fixed for the Presidential/National Assembly and Governorship/State House of Assembly Elections. Below is the timetable for the 2015 General Elections as released by the INEC:
INEC AMENDED TIMETABLE & SCHEDULE OF ACTIVITIES FOR GENERAL ELECTIONS, 2015
Consequent upon the rescheduling of the dates for the 2015 General Elections, the timetable and schedule of activities for the 2015 General Elections are amended as hereunder.
| | | | |
| --- | --- | --- | --- |
| S/N | ACTIVITY | DATE | REMARK |
| 1 | Notice of election | 1st October 2014 | Section 30 (1) of the Electoral Act, 2010 (as amended) provides not later than 90 days before the election. |
| 2 | Commencement of campaign by Political Parties | Presidential & National Assembly-16th November 2014; Governorship & State House of Assembly-30th November 2014. | Section 99(1) of the Electoral Act, 2010 (as amended) provides 90 days before polling day. |
| 3 | Collection of Forms for all elections by Political Parties at INEC Headquarters. | 4th – 11th November 2014 | For Political Parties to issue to their candidates. |
| 4 | Conduct of Party Primaries including resolution of disputes arising from the Primaries. | Commencement date 2nd October 2014 End 11th December 2014 | To enable Political Parties democratically nominate candidates for the election as required by Section 87 of the Electoral Act, 2010 (as amended) |
| 5 | Last day for submission of Forms CF001 and CF002 at the INEC Headquarters (for all elections). | Presidential & National Assembly – 18th December 2014; Governorship & State House of Assembly -25th December 2014 | Section 31(1) of the Electoral Act, 2010(as amended) provides for not later than 60 days before the election. |
| 6 | Publication of Personal Particulars of candidates (CF001) (for all elections). | Presidential & National Assembly -25th December 2014; Governorship & State House of Assembly – 1st January 2015 | Section 31(3) of the Electoral Act, 2010(as amended) provides for publication within 7 days of the receipt of the form CF001. |
| 7 | Last day for withdrawal by candidate(s)/replacement of the withdrawn candidate(s) by Political Parties. | Presidential & National Assembly -30th December 2014 Governorship & State House of Assembly -13th January 2015 | Section 35 of the Electoral Act, 2010(as amended) provides for not later than 45 days before the election. |
| 8 | Last day for the submission of Nomination forms by Political Parties. | Presidential & National Assembly – 6th January 2015 Governorship & State House of Assembly – 20th January 2015 | Sections 32, 37, 38 and 39 of the Electoral Act 2010(as amended). (Commission to appoint the time for submission). |
| 9 | Publication of official Register of voters for the election. | 13th January 2015 | Section 20 of the Electoral Act, 2010(as amended) provides not later than 30 days before the election. |
| 10  | Publication of list of nominated candidates. | Presidential & National Assembly -13th January 2015 Governorship & State House of Assembly – 27th January 2015 | Section 34 of the Electoral Act, 2010(as amended) provides at least 30 days before the day of the election. |
| 11  | Publication of Notice of Poll (for all elections) | 28th January 2015 | Section 46 of the Electoral Act, 2010 (as amended) provides not later than 14 days before the election. |
| 12 | Submission of names of Party Agents for the Election to the Electoral Officer of the Local Government Areas or Area Councils | Presidential & National Assembly – 29th January 2015 Governorship & State House of Assembly – 12th February 2015 | Section 45 of the Electoral Act, 2010(as amended). Provides not later than 7 days before the election. |
| 13 | Last day for campaigns | Presidential & National Assembly – 26th March 2015 Governorship & State House of Assembly – 9th April 2015 | Section 99(1) of the Electoral Act, 2010(as amended)prohibits Advertisements or broadcasts of campaigns 24 hours prior to the day of an election. |
| 14  | Dates of Elections Presidential /National AssemblyGovernorship/State House of Assembly | Presidential & National Assembly – 28th March 2015 Governorship & State House of Assembly – 11th April 2015 | Section 25 of the Electoral Act, 2010(as amended), provides that Commission to appoint date not earlier than 150 days but not later than 30 days before the expiration of the term of office of the last holder of that office. |