It is erroneous to think that Nigeria has three languages. As a matter of fact, the country is home to over 500 spoken languages, with English being referred to as the country's lingua franca. However, there are a few different subsidiaries to the original English, including locally recognized pidgin English, otherwise called broken English. The Nigerian pidgin is a creole of the English language and Nigeria's genuine and most used language. English may be the authoritative language, yet in a country with many local dialects, pidgin was created to help individuals from various parts of the nation communicate effectively.
A Brief History of Nigerian Pidgin English
 The origin of Nigerian pidgin English can be traced back to the 17th century, during the exchange contact between the citizens and their colonial masters. After their departure, this lingua franca did not go with them, but it remained and is the most widely spoken language in Nigeria today compared to English. As of late, Nigerian pidgin English has been seen to be spoken more in the urban communities and ports in the south of Nigeria, where it is utilized among individuals who identify from various ethnic groups; the utilization of Nigerian pidgin English is vigorously connected to the urbanization cycle.
In the past, many felt that the use of pidgin was connected to illiterates. Today, it is spoken among the educated folks than it is among the uneducated ones. For sure, pidgin English is progressively famous among young Nigerians, lawmakers, celebrities, and many writers. It has been perceived to be more Nigerian than English. However, the fact that it is not linked to any particular ethnic group leaves a valid argument for pidgin as the nation's official lingua franca.
Although no official status has been conceded to pidgin in the nation, some Nigerians have argued that it should be made the country's official language, judging by its neutrality to all tribes in the country. Nigerians regularly regard pidgin English as "broken English."
Here are 15 Trending Nigerian Slangs You Should Know
1. E Choke
Since popular Nigerian singer David Adeleke, famous for his stage name Davido, reacted to a comment on social via a short video where he was seen holding his neck and altering the phrase "E Choke," the phrase has since been adopted by young Nigerians. It is currently one of the most used and trending slang on the streets. The slang is used to describe an unexpected event, to express shock and surprise. It literally means "it chokes."  For example, 'Did you see the car joseph bought? Omo E Choke.'
2. Wahala Be Like Bicycle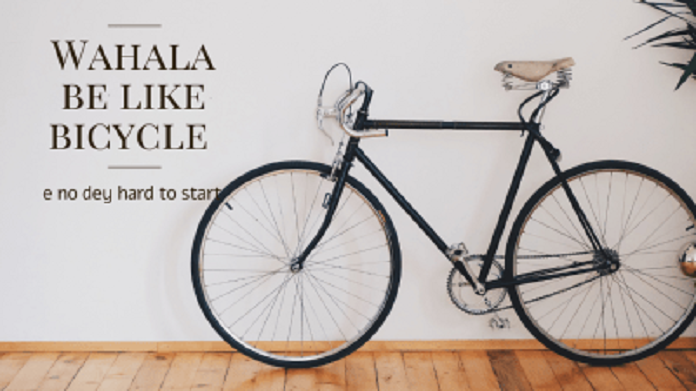 This Nigerian slang is one of the most used in recent months. It comes from humor, preceding a humorous situation, and it means that problem is so easy to start but very hard to stop. Whenever a social media user starts with this line, it is definitely ending on the naughty scale. More so, it can also be used in other ways like saying in Pidgin 'Wahala Dey For,' which is followed by a naughty/funny line.
3. Soro Soke
This is one of the newest Nigerian slang. The Yoruba words 'Soro Soke' came to be during the #ENDSARS campaign, and it means 'Speak Up.' This became a cyber-culture and was one of the most searched words on Google's search engine in the past months. The cliche 'Soro Soke Generation' also originated from the same words, and it was used during the protest. It is an anger-based directive demanding feedback. It can also be used to mock an unpopular opinion, for example, "I be soro soke generation."
4. KPK/"O'Por" 
When you hear the Nigerian slang KPK, they are saying "Ko Po Ke?" In English, that means "is it not plenty?" The slang originates from a song by Chisom Ezeh, popularly known as Rexxie, featuring Mohbad. In the first line of the song, Rexxie said, "Ta lo sope ko po ke?" which means "who says it is not plenty?"
On the street, the slang "O'Por" is usually used to acknowledge that something "Makes Sense,"  and when someone says it to you, it means they're proud of you or your achievements.
5. E Restrict my Airflow
Another singer, Wizkid, introduced this slang, and it is mostly used as a follow-up response to "E Choke." "E Restrict my Airflow" can similarly be interpreted just as "E Choke" as they both relate to the same thing. For example, 'the dress Sandra wore to the ball today was so pretty, E Restrict my Airflow.'
6. Who dey Breeett?
This is another Nigerian slang invented by DMW's CEO, Davido. "Who dey Breeett?" loosely translates to the English inquisitive statement "who is breathing?". The slang is also related to his previous slang, "E Choke" and its follow up "E Restrict my Airflow." For example, 'Davido's performance at the Grammy was on point, E Choke, Who dey Breeett?'
7. 'Gbas Gbos'
This is Nigerian slang that signifies a war of words between two or more people. The words were coined from the sound of a punch from 2 different fighters. "Gbas" represents the sound of a punch from the first fighter, and "Gbos" represents the punch sound from the retaliation of the second fighter. For example, two celebrities engage themselves in a gbas gbos on Instagram, meaning the two rivals are having a face-off via Instagram.
8. Maga/Mugu
This slang is mostly used to describe someone who has been conned. It can also be used for someone who is very gullible. For example, ' See this maga/mugu oh' can be translated a 'See this fool oh.' In another context, you could have 'My maga don pay' to refer to someone who has been conned.
9. Mad Oo
This slang is often said to be curated by the posh-street people of Nigeria. Posh-street refers to those not fully into street life and can't fully fit into the Posh life either. "Mad Oo" mainly represents the expression of "Surprise" and astonishment, especially to good news from a close friend or family member. It literally means "WOW." For example, this your car is so beautiful, mad Oo!
10. We Meuuve
This slang started as a mimic of one of Big Brother Naija Lockdown Housemates, Vee Adeyele. She argued with her boyfriend, Neo, and was heard asking him to "Meuuve (move) from the door." And from that moment, fans of the show were quick to adopt the word into slang. The phrase has since been used as a motivation phrase to mean "life goes on."
For example: 'I stood on the queue for hours waiting for my turn but just when I was to be attended to, the cashier decided he was done for the day. Anyway, we meuuve.'
11. Tule 
"Tule" is yet another slang initiated by Davido. The slang is a Yoruba word that could mean "free" or "release." It is often used to tell a person to stop bothering you. For example, 'bro I need to rest and you've been on my neck about this report all morning, tule jare.'
12. Ehen
"Ehen" is arguably the most used pidgin slang in Nigeria, and it could be used in multiple ways as it has diverse meanings. The single word "Ehen" could be an approval or disapproval depending on the context in which it is used and applied. It carries meanings such as "okay," "yes," "that reminds me," "I get it," "continue," "as I was saying," "I don't understand," "what?", etc.
13. Jara
This basically means "add extra," as adapted from the Yoruba language. It is most times used when buying things from the market and you want the seller to add an extra to the goods you got. For example, 'please add jara for me.' You can also use Jara to represent an unexpected addition to something you got. For example, I bought a set of new pots, and in it, I found cooking spoons as Jara.
14. Ajebutter
The term "Ajebutter" refers to someone born with a silver spoon and/or is not used to the ghetto lifestyle. Similar words like "Botti," "Ajebo," or "Bota" can be used in replacement of "Ajebutter." For example, 'Jide too dey act like botti.'
15. Gbe Body eh
This slang, which means lift your body, was borrowed from Zlatan and Burna Boy's music collaboration "Killin." The slang is a fusion of Yoruba words, "be," which means carry or lift; the English word body; and another yoruba word, "eh," which means "your." So the slang Gbe body eh means carry your body or move away. It often flows with another slang, "gbese," which means raise your leg.
Recently, the slang, "Gbe body eh," has been given deeper meanings depending on usage context. For example, you could say "O boy gbe body eh" to encourage your friend or yourself to take a significant step in life.
Other Nigerian Slang Words and Their Meanings
Off Your Mic' – Lower your voice or stop talking
Wozam slap – give him a slap
Wahala – Trouble or Problem
No dulling – Don't prolong things
Wetin Dey? What's Up?
You Fall my hand – you disappointed me
Fashi am – Ignore it
Kolo/ Kolosis –  to go crazy/ mad
To 'yab' someone  –  to diss someone
Taya (like 'I taya Oo') –  to be tired or fed up