When talking about nightlife in Nigeria, Lagos is one place that readily comes to mind as a one-stop destination for some of the most exotic and biggest nightclubs. Another way of putting it is that Lagos is the hub of nightlife in Nigeria. The city really fits well into the description given by some people as 'the city that never sleeps.' With numerous clubs spreading across the city, nightcrawlers and fun-seekers don't ever get a hard time locating that leisure spot of their interest. For many, music and dance are two good ways one can ease off after a long or hard day or week at work. In a way, nightclubs in Lagos relieve stress.
Although there are many nightclubs in Lagos many consider their favorite spots according to their tastes, preferences, and sometimes, how well off or not they are, and some of these clubs stand out as top choices. Let us dive into the top 10 biggest nightclubs in Lagos, which offer their clients exciting leisure and a wonderful experience. You'd also find out more about the owners of these clubs, their locations, and the services they offer. The nightclubs listed below are in no particular order.
Top 10 Biggest Nightclubs in Lagos Right Now
1. Club Quilox
Owner: Shina Peller
Location: 873 OzumbaMbadiwe Road, Victoria Island
Club DJs: Dj Hazan, Classified Dj Tiami, Dj Funkybee, and Dj Debby
Best Experience: top-notch music, bar, club, and restaurant
Open Hours: unspecified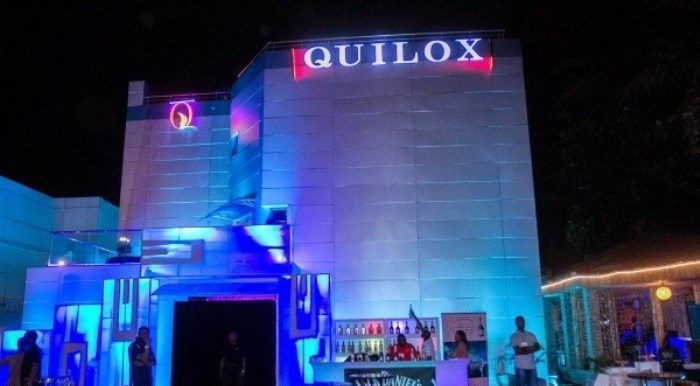 Opened in 2013, Club Quilox is owned by a Lagos socialite Shina Peller, and it is located at Victoria Island. The club ranks as one of the most expensive and biggest nightclubs in Lagos. With an appealing style and design, the club has always made each night around there come with so much life. It has a stylish and remarkable interior design of red, gold, and black. If you desire a great spot for a private night party, you may consider one of its premium VIP or soundproof VVIP rooms.
The nightclub has different activities on different days. Mondays to Wednesdays are "Night Shift," Thursday Night is "Workman's Compensation," Friday Night is "Starry Nights," Saturday Night is "Thriller Nights," and Sunday Night is "Sunday Nitro." On the last Sundays of each month, the DJ gets busy from lunchtime around 2 pm till dawn, spinning the wheels.
2. Pablo Cubana
Owner: Obi Iyiegbu (Obi Cubana)
Location: 1090 AdeolaOdeku Street, Victoria Island, Lagos.
Club DJ: Unspecified
Best Experience: lounge, club, restaurant, boutique, and valet parking
Open Hours: 24 hours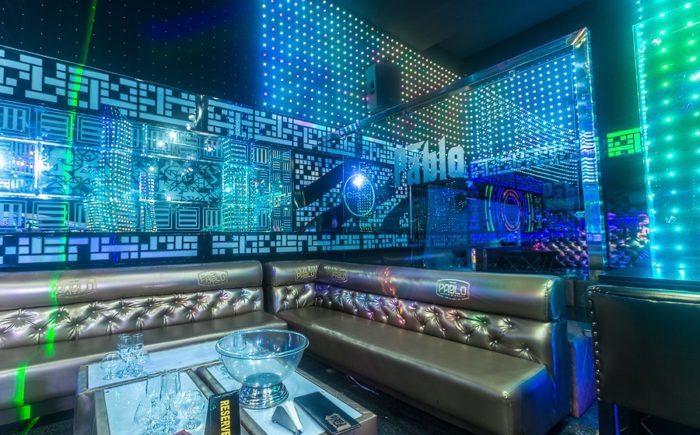 This is one of the biggest nightclubs in Lagos, also known as the 'Celebrity Club' or 'Club Pablo,' probably because it is the choice spot for the who and who of the society. Pablo Cubana boasts a top-notch facility. It has an exquisite lounge, bar, restaurant with professional chefs, and is one of the few Nigerian clubs with automated champagne service. In addition, the celebrity club also has an open bar known better as Cuban Hut 'n' Grill offering high-class services befitting the status of customers in a traditional bush bar setting. The facility also has a rooftop lounge, which gives customers a beautiful panoramic view, where you can have birthday parties or a get-together, among other things. For the convenience of customers, the club has a spacious parking space.
3. Club 57
Owner: Folorunsho Alakija's children
Location: 57 Awolowo Road, Ikoyi, Lagos.
Club DJ: Dj Prince
Best Experience: Nightlife, good music, restaurant with continental cuisine, spacious dance space
Open Hours: 24hrs
Hitherto known as the Bacchus Club, Club 57 was opened in 2014 and has been given a deserving facelift, which has made it possible to find its way into the list of the ten biggest nightclubs in Lagos. Owned by Folorunsho Alakija's children, Club 57 is a 3-floor nightclub with grand lounges and a terrace for outdoor events. It operates three times a week. It opens on Thursday, Friday, and Saturday nights, giving its customers that thriving environment, they need to let off the stress of the week and party hard to good music. It meets these needs with its restaurant that serves exquisite continental meals and cocktails, well-experienced DJ, skilled chefs, deferential waiters, and bartenders, among others.
4. Escape Nightlife
Owner: Richard Nnadi A.K.A. Duke Of Spades
Location: 234B Adeola Odeku Street, Victoria Island, Lagos.
Club DJ: unspecified
Best Experience: clubbing experience, secured environment, bar services
Open Hours: 10pm – 6am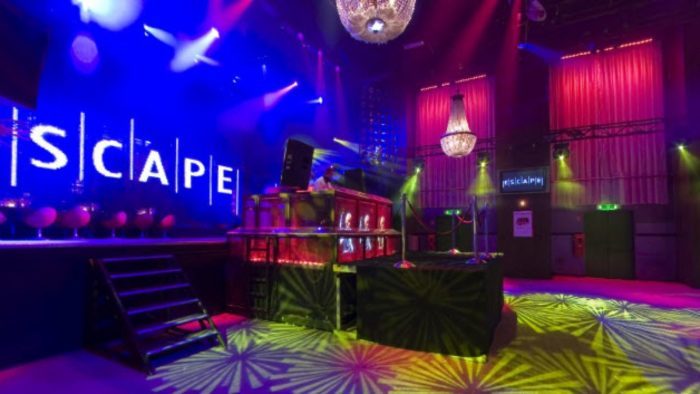 One of the biggest Nightclubs in Lagos, Escape Nightlife started in 2014, two years after construction. It is really a place to escape from the hustle and bustle of Lagos life. It is reputed to be one of the fast-rising nightlife scenes in Lagos city. The owner, Richard Nnadi A.K.A. Duke Of Spades, is not just a young entrepreneur and businessman, but he is regarded as the sexiest nightclub owner on the island. You can only imagine the touch he will always give to this club. This may also account for why Escape Nightclub should be the destination if anyone desires to party with top Nigerian celebrities and a better place for networking, as it is one of the most visited hangout places for Nigerian celebrities. More so, Escape nightclub is the go-to place for lovers of "Eko for Show," parties, hangouts, and meeting new people.
5. Club Rumours 
Owner: Innocent Idibia (2 Face Idibia)
Location: 15A Oduduwa Way, Ikeja GRA 101233, Lagos; 1st avenue Festac town and
Akin Ademola Street, Victoria Island Lagos
Club DJ: Unspecified
Best Experience: good music, good food, excellent service, game for the matured mind and guaranteed security, a luxurious hangout spot for celebrities
Open Hours: Wed, Fri, Sat, and Sun: 11 pm – Dawn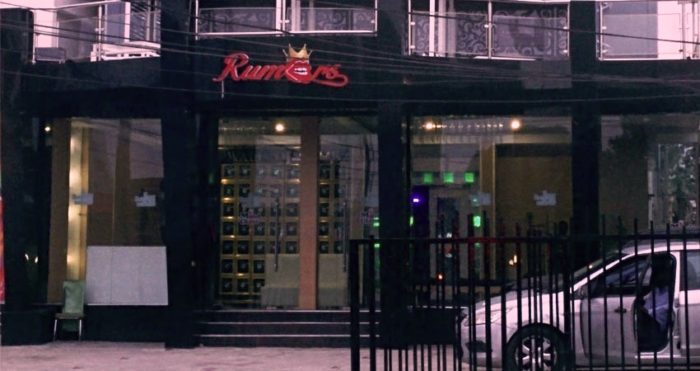 It is owned by one of the most respectable figures in the Nigerian music industry, the legendary 2Face Idibia. According to other sources, the club is also co-owned by Dotun Omotoye A.K.A Dotun Rumors. The club, which first started in 2011, is currently situated in three different locations in Lagos with the intention to expand to Port Harcourt, Abuja, Ghana, and London. Amidst the many things the club has to offer, it has a good space that is sometimes used as a concert ground.
6. Club Vegas
Owner: Rodney Ogagba (CEO)
Location:1 Sheraton-Opebi Ikeja.
Club DJ: Unspecified
Best Experience: Live Shows, Music Recording Studio sessions, Night Club Management Services, equipped bar, spacious dance floor.
Open Hours: 4:00 pm – 4:00 am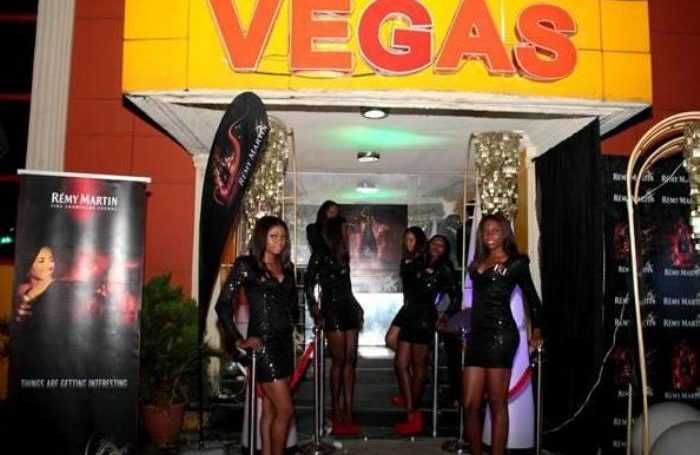 Opened in 2012, the name 'Vegas' is reminiscent of the United States city of Las Vegas. This is not only in name but also because Club Vegas tries to replicate the city's wildness and vibrancy. Located in Ikeja, Club Vegas passes as one of the hottest nightclubs on the mainland. Its strategic location on the mainland accords it the quality of being accessible. This makes it much possible and easier for people to settle for it as their favorite nightspot.
With no small consideration to the pockets and purses of their customers, Club Vegas comes across as one of the most affordable good clubs in Lagos, offering reasonably priced services that fit the bills of their customers. Usually operating on weekends, fun-seekers make their way to Club Vegas. Contrary to the saying, 'whatever happens in Vegas stays in Vegas, whatever happens in Club Vegas, stays in the memories of their customers, and they carry the experiences along with them.
7. Club Temptation
Owner: Unspecified
Location: No 55 Adeniran Ogunsanya, Surulere, Lagos.
Club DJ: Unspecified
Best Experience: Day and night services, lounge, dance hall, bar, Black Card Exclusive membership card
Open Hours: 24 hours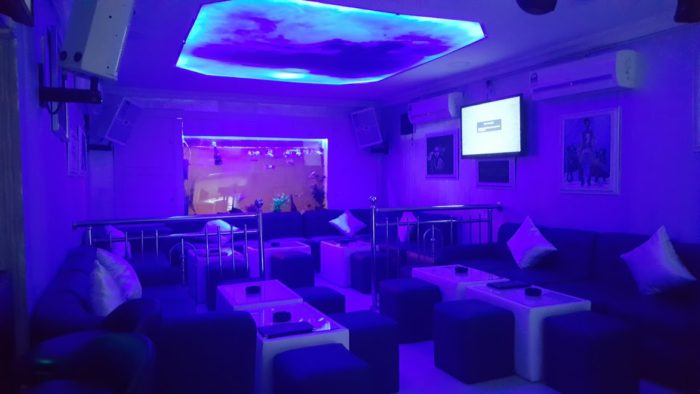 Another spot of class and luxury resting on the mainland is Club Temptation. The luxury and the classy club combines with an alluring ambiance to lure customers into coming back again and again, and to make this place their best choice for exciting nightlife. It offers a standard space for its customers to unwind, relax, enjoy, and connect with other people.
Club Temptation appeals to its customers with lovely interior decoration, personnel who are well trained, and a professional security team to ensure the safety of its clientele. If you cannot stand temptation, it will be much better if you do not try Club Temptation because you will find yourself going back until it becomes your positive addiction. If any of their customers choose to make Club Temptation a 'Positive addiction,' it makes Black Card Exclusive membership available. Simply put, there is no dull moment at Club Temptation because every day is lined up with activities to light up the lives of its customers.
The activity schedule of Club Temptation include:
Day Lounge – Opens from 12noon (All Day, every day)
Mondays – Cooperate Monday (5 pm)
Tuesdays- Karaoke Da Temptation (6 pm – 10 pm)
Wednesdays – Ladies Elite Nite (10 pm)
Thursdays – Comedy Central/Celebrity Night (5pm – 10pm)
Fridays – Baller's Nite (10 pm)
Saturdays – Karaoke Special (3 pm – 6 pm)
Sundays – Hush Vibez (2 pm)
8. Deja Vu Gentlemen's Club
Owner: Unspecified
Location: Plot 897, Balarabe Musa Crescent By 1004 Estate, Victoria Island
Club DJ: Unspecified
Best Experience: bar, striptease, erotic dances, restaurant and rooms to lodge, sufficient parking space
Open Hours: Tuesdays – Saturdays (8 pm-4 am), Sundays (8 pm-12 am)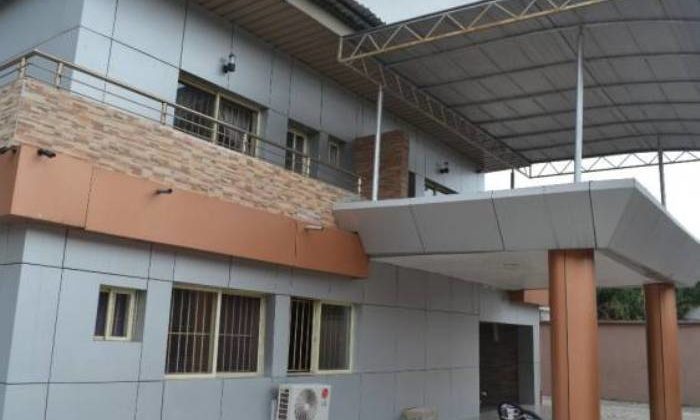 Deja vu is regarded as the gentlemen's club. It is the favorite spot for those who desire entertainment that ranges from striptease to other erotic dances. It provides adult entertainment to patrons with a good float of exotic dancers. These dancers, mostly young ladies, take turns to entertain the male audience with erotic and sensual steps, with some of the finest DJs taking charge of the wheels of steel and mixing the right sounds that will bring about the right effect. In addition, the club facility has a bar with assorted drinks, a restaurant serving exquisite delicacies, and an ample parking space in a serene environment.
9. Club Virus
Owner: Unspecified
Location: Bisola Durosinmi Etti Street, Lekki, Lagos
Club DJ: Unspecified
Best Experience: Memorable DJ services, bar, host od some parties
Open Hours: Unspecified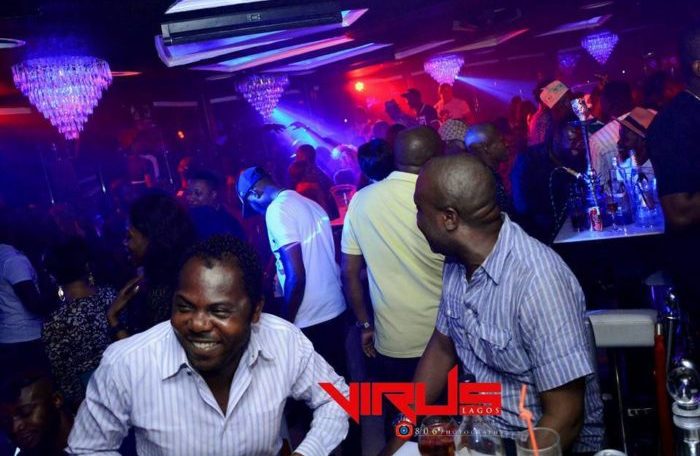 The Covid19 pandemic is leaving a very frightening memory in people across the world. For this reason, the mere mention of 'viruses should send shivers down the spines of people, yet a nightclub goes by this name. Although Club Virus was established in 2015 – way before this dreadful virus began to spread, it should stir curiosity as to what informed the choice of the name Virus for the club.
The club manager douses this curiosity when he relates in an interview that the reason for naming the club Virus is because viruses are infectious; hence, they spread, and the intention is for the brand to spread to Nigerians. It is for this reason that it has been described as the drum that keeps Lagos awake.
Since it started, club Virus has maintained a good standard of being one of the hottest spots for a worthwhile weekend in Lekki. In addition to being a cool and lovely spot, it is spacious. It has always played host to some of the hottest parties anchored by some of the hottest and best DJs.
10. Nitro Nightclub
Owner: Unspecified
Location: 14b Adeola Hopewell Str. Victoria Island
Club DJ: Unspecified
Best Experience: premium upscale nightclub, glamorous views, exquisite wines and other drinks in the bar, security
Open Hours: 24 hours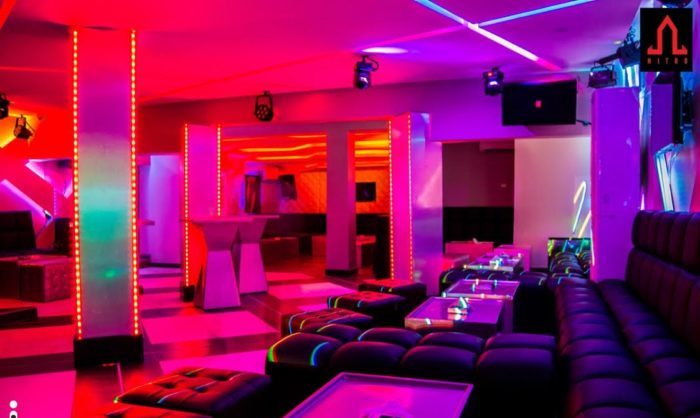 2015 Nitro Nightclub sits on the heart of Victoria Island, housed by a magnificent building, as a premium nightclub serving customers a delightful nightlife experience. It promises glamor and delivers nothing less. It offers a glamorous night every night at its lounge and nightclub with the best champagnes, spirits, cognac and cocktails, world-class music, and the best service in nightlife that Lagos serves its numerous fun-seekers. It entertains its customers with world-class decoration, lighting, and sound system.
A look at the guest list of Nitro Nightclub will leave one surprised at the never-ending names of the Lagos elites. Nitro Nightclub gives its customers exquisite VIP treats and satisfactory services from the team of professionals serving as chefs, waiters, bartenders, and security personnel.
Recap of The Biggest Nightclubs in Lagos
Club Quilox
Pablo Cubana
Club 57
Escape Nightlife
Club Rumours
Club Vegas
Club Temptation
Deja Vu Gentlemen's Club
Virus
Nitro Nightclub